Exploring Referral Rock Alternatives
Referral Rock just doesn't suit every tech company that is looking to launch into using referral marketing software. There are, however, lots of other great options out there such as GrowSurf. GrowSurf is not only the best alternative to Referral Rock for B2B and B2C tech companies but is the best referral software on the market for businesses looking to put their growth on autopilot at an affordable cost.
Company

Best for

Free Trial

Cost

Website

GrowSurf

B2B SaaS, B2C Subscriptions, Financial Services,




Online Education, Online Insurance

Free trial

$775/mo

Visit

Referral Rock

B2B and B2C companies

14-day free trial

$200/mo

Visit
Request a demo of GrowSurf
Set up your referral marketing program with software that lowers your customer acquisition cost and saves you gobs of time.
GrowSurf vs Referral Rock
| Feature | GrowSurf | Referral Rock |
| --- | --- | --- |
| Pricing | From $775/ month | From $200/ month |
| Monthly Contract | ✅ | ✅ |
| Free Trial | Yes | 14 days |
| Customer Success Manager | ✅ | ✅ |
| Ease of Implementation | Hours to Days | Days to Weeks |
| Participant Portal | ✅ | ✅ |
| Landing Page Builder | ✅ | ✅ |
| Email Marketing Automation | ✅ | ✅ |
| Custom Branding | ✅ | ✅ |
| Automated Reward Fulfilment | ✅ | ✅ |
| Analytics Dashboard | ✅ | ✅ |
| Run Multiple Campaigns at once | ✅ | ✅ |
| Fraud Protection | ✅ | ✅ |
Automation
Automation is absolutely key to the success of the growth and scaling of your business. The alternative to automation is putting in the hours and work manually. This takes up a large amount of time, resources and increases your costs dramatically as the business scales and you need to expand your team to handle the increased capacity required from your users. Automation handles this for you. Thankfully the majority of referral marketing software tools available offer extensive automation options, with manual checks as required.
At a minimum we suggest that you look out for:
Different ways to promote your campaign
Link distribution on sign up
Participant notifications when you alter rewards or incentives
Reward distribution
Reminder emails
The headline automations for GrowSurf include automatically fulfilling rewards to participants when they reach referral goals and further automation thanks to integrations through Zapier, Webhook, Integromat and more API integrations. There are also automated email campaigns across the program.
Referral Rock includes developer-friendly APIs that offer automated reward fulfillment, automated member invites, some automated rewards (Wise, PayPal, giftcards, prepaid Visa and more), plus additional automations through Zapier.
Analytics
Being able to measure, track and analyze your campaign in a number of ways is going to be important for your business going forward. Without the key metrics in place you'll not only be missing out on core growth opportunities but could also be investing your resources into areas that aren't performing well.
Most referral marketing software will have analytics integrated into them, but not all deliver equally. At a minimum you should be sure that it includes:
An intuitive dashboard that clearly displays the campaign performance as a whole.
A database that you can investigate and draw comparisons from.

Analytics that make it easy to keep track of pirate metrics

The ability to identify those participants that are performing well
GrowSurf allows participant activity tracking including sign-ups, shares, referrals, and more. The analytics section includes further data that allows you to view campaign performance, various conversion rates, plus a detailed look at channel performance that allows you to understand the effectiveness of the different avenues available to you. It's also nice to know that any data gathered is yours to keep and export at any time.
Referral Rock includes an integration with Google Analytics for those wanting in-depth information about users visiting various referral pages. Their dedicated advocate portal allows you to track results and share them with your team. Alongside Google Analytics you can also track UTMs and add your own Javascript snippets.
Link Generation
Each time that a new participant signs up to your referral program you'll want to be sure that they have a referral link associated with their account as soon as possible, this allows them to begin sharing it immediately. When this process is completed manually there can be delays and a great deal of work involved. Automating this process means that links are created instantly.
Both GrowSurf and Referral Rock automatically create referral links when participants sign up to the program. These are customizable and unique to each participant.
Incentive Distribution
Distributing incentives shouldn't be a chore when running your referral program. Manual distribution can lead to rewards being missed or delivered incorrectly which could lead to unhappy participants and, worse still, them leaving the program.
GrowSurf and Referral Rock offer a system of automated incentive distribution. GrowSurf is able to not only automatically approve and distribute rewards but also allows you to approve rewards if a participant reaches a referral goal. The rewards are automatically fulfilled through Webhooks, Zapier, and Integromat as well as Tango Card (a form of gift card). The reward management system embedded into GrowSurf allows you easily track rewards from a clear dashboard.
Referral Rock offers reward fulfillment without integration but it isn't known what type of rewards these can be. The automation is completed through a host of integrations. Reward options can be configured so that they align with your brand.
Additional Elements
Integrations

GrowSurf: 28 different platforms
Referral Rock: 27 different platforms

Customer Support

GrowSurf: Live chat support, dedicated account manager for all plans, and knowledge base
Referral Rock: Live chat support, launch support, dedicated success manager

Cost

GrowSurf from $775/mo
Referral Rock from $200/mo

Scalability

GrowSurf: Up to 75,000 participants on the Elite plan with 20 campaigns and 10 team members.
Referral Rock: Up to 10,000 participants on the Establish Business plan ($800/mo) with 5 campaigns

Setup

GrowSurf: Entire campaign can be up and running in a day
Referral Rock: Kickoff call and customer success team assistance required, time to launch unknown.
Have questions about GrowSurf?
Talk to a referral marketing expert today.
Referral Rock Review
Referral Rock is a relatively new referral program, having launched in 2014. At the time of writing they were hosting over 1,000 business' referral programs through their platform (both online and offline).
It has built a reputation on the platform itself through flexibility and comprehensive plans but is also regarded as one of the best referral platforms for customer support. Alongside its referral programs Referral Rock now also offers affiliate programs.
Suggested Reading: Affiliate vs Referral Programs: Which is best for your brand?
One of their best features is the regular reviews carried out by the dedicated customer support managers which ensure that your program is running smoothly. There is also a decent amount of automated processes and a host of integrations.
Referral Rock Pros
The plan levels available appeal to businesses at various stages of their growth and development. While $200 per month isn't cheap, the plan offers enough for it to be appealing to startups and bootstrapped businesses.
The platform does scale well across their plans meaning that it will be a while before you outgrow the platform.
Referral Rock Cons
A number of users feel that the system isn't the most up-to-date or user-friendly when in the development stage. Whilst automation is great, there are a number of places where the functionality does quite flow as one would hope it to.
You might find yourself in contact with the dedicated customer support team more regularly than you would hope to be, some of the setup and integration is complicated and requires assistance from the team.
Users in timezones outside the US (mainly in Australia) have commented that support is hard to come by at times.
Top 3 Referral Rock Alternatives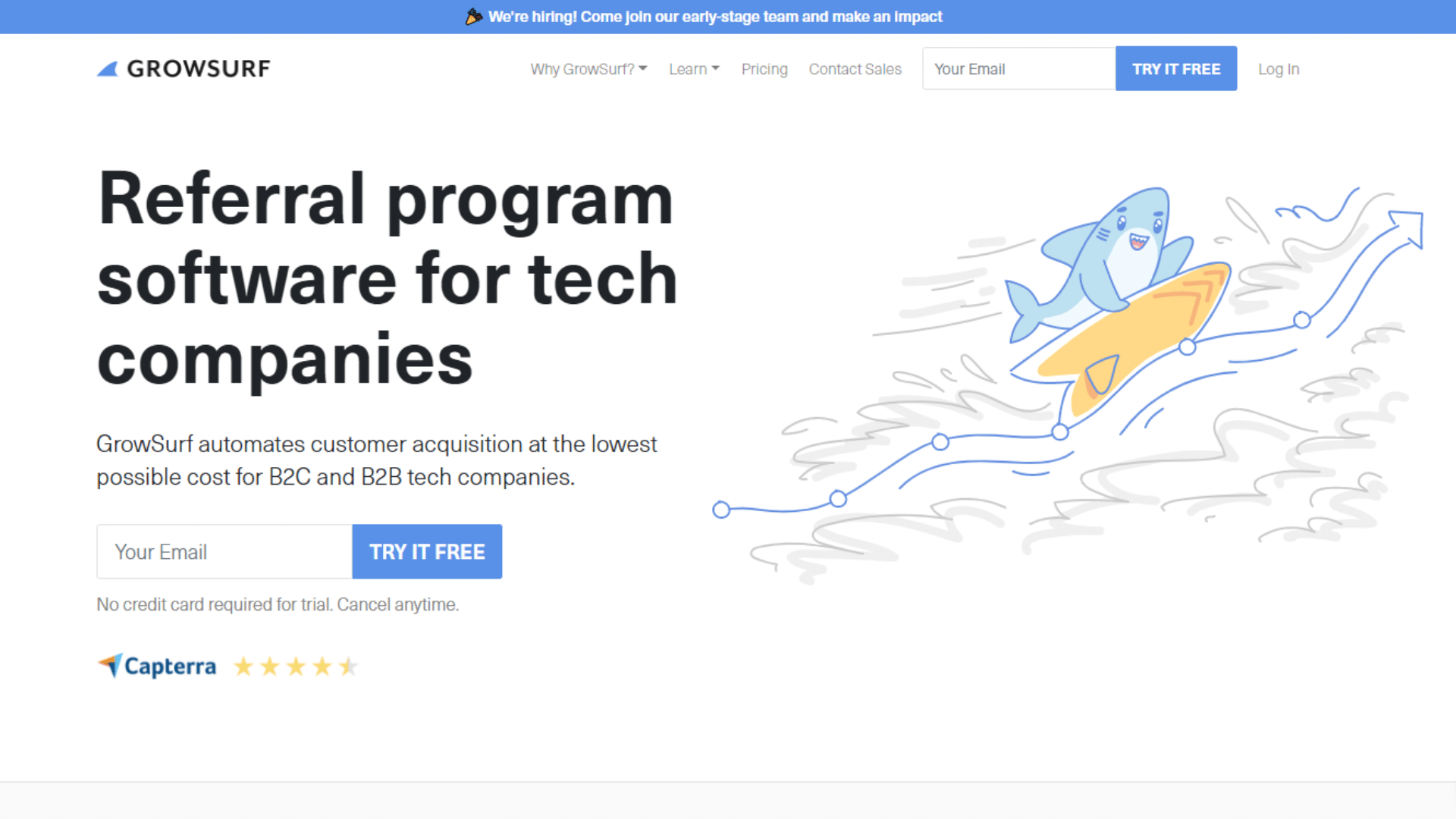 GrowSurf allows the automation of customer acquisition at the lowest cost available for B2C and B2B tech companies. If you're looking to acquire new customers not only affordably but consistently, GrowSurf is an excellent choice. Setup is incredibly straightforward and offers a plug and play solution for B2B SaaS, B2C subscriptions, financial services, online education and insurance, and more. The library of integrations, incredibly quick setup time, transparent pricing (with affordable plans at scaling levels), extensive automation, and white-labeled service make for an all-round great customer experience.
Features
Referral links are generated automatically
The option to embed any element of the software into your own website
The software automatically detects forms
Automated incentive fulfillment
Automated emails
Reward management
Detailed analytics with dashboard
Comprehensive customer support
Managed service available
Pricing 
Growsurf offers three paid plans:
Startup ($775 /mo, paid annually) that supports up to 10,000 participants
Business that supports up to 25,000 participants
Elite that supports up to 75,000 participants
Request a free demo to learn more.
Viral Loops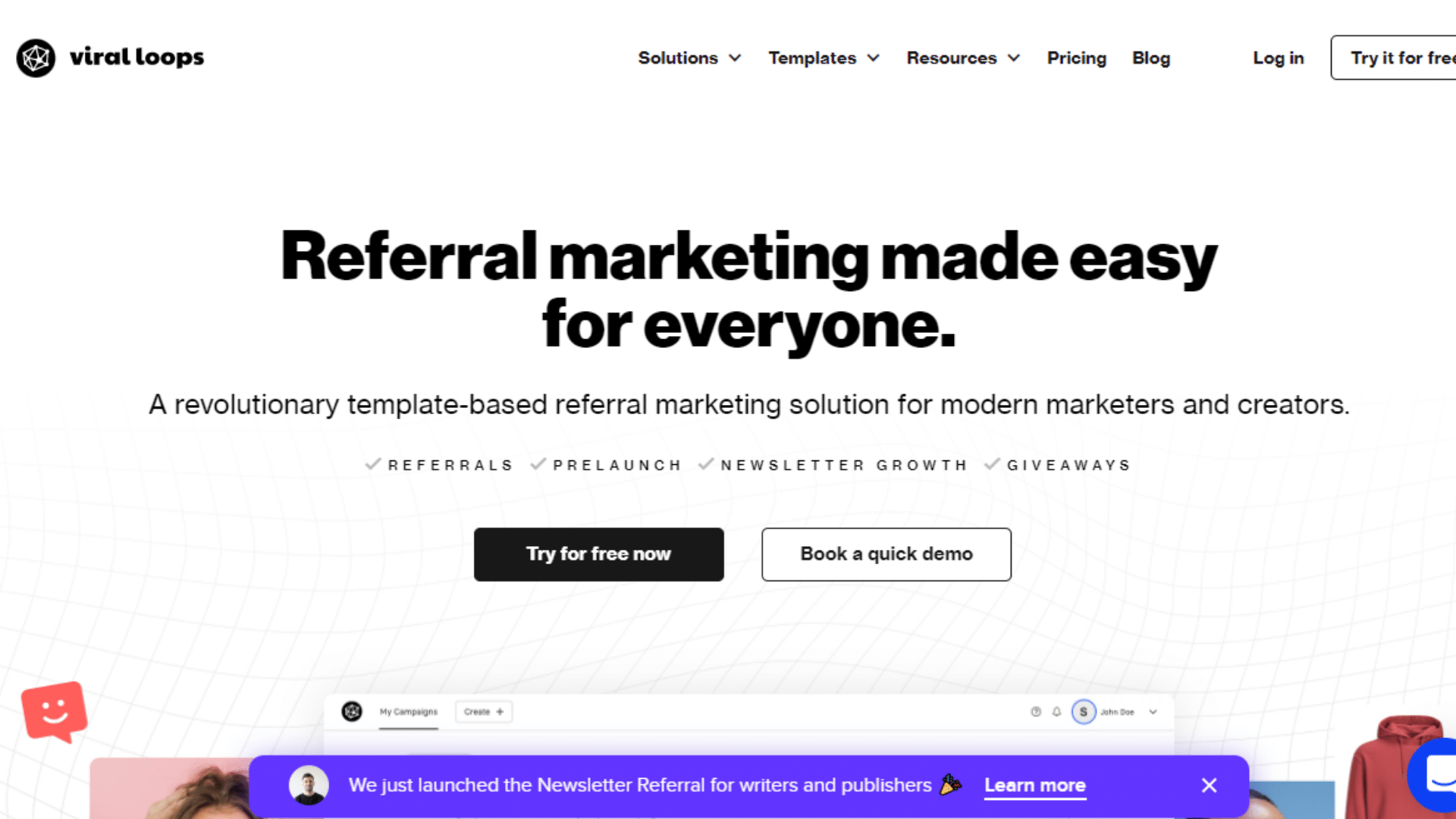 Viral Loops focuses on offering templates for referral marketing, with a largefocus on content creators. Their launch time is quick (within minutes) plus they have a handy two-click invite and sharing option. The integrated Campaign Wizard makes the step by step process of referral system creation very easy. The landing page templates include options such as: The Startup Prelaunch and Refer a Friend.
Features
Quick campaign launch
Two Click invite and sharing
Powerful campaign templates inspired by winning companies
Customizable campaign widgets
Landing page creator
Clear campaign performance overview
25 integrations
Pricing 
Viral Loops offers three paid plans:
Start-up ($34 /mo) that supports up to 1000 participants
Growing ($69 /mo) that supports up to 3000 participants
Power ($208/mo) that supports up to 25,000 participants
There is a 14-day free trial available for up to 100 participants.
Extole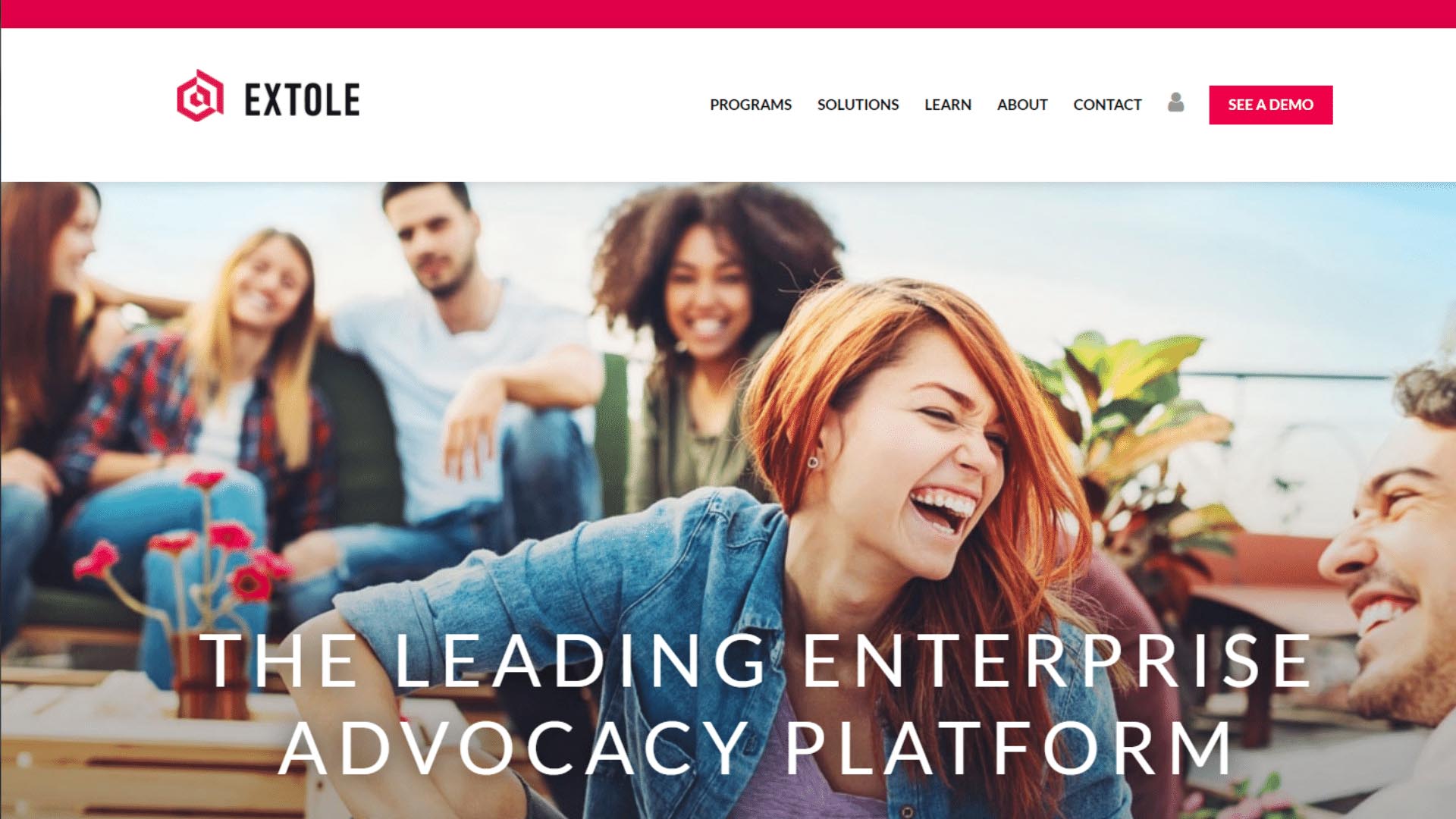 Extole aims to focus on enterprises for the customer advocacy platform. They offer a turnkey SaaS which assists businesses in turning their current customer base into brand advocates. They have a history of working with some of the biggest brands with a reward system that works well for retail and financial services, as well as offering a loyalty and membership program. Their referral programs can include refer a friend systems, influencer, and ambassador programs, and a complete stack of analytics.
Features
Pre-built, branded referral templates
Personalized links and codes
Language localization
Robust reward system
Profiles for participants
Integrated analytics
Library of webhooks and APIs
Pricing 
It's not possible to see the pricing of Extole on their website, demos can be booked through the website where a sales person will share the platform and pricing. No trial was visible.
Which Referral Rock alternative is best for you?
Comparing our three suggestions (GrowSurf, Viral Loops, and Extole), there are a number of solutions that might appeal to your brand over Referral Rock. The host of features and integrations offered by all 3 mean that they'll likely offer a great solution for your business:
Platform

Referral Rock

GrowSurf

Viral Loops

Extole

Cost

From $200/month

From $775/month

From $34/month

Not Available

Free trial

14 days

Yes

14 days

Not Available

Setup Assistance

Yes

Yes

Campaign Wizard

Unknown

Integrations

15 platforms

28 platforms

25 platforms

Unknown

Customer Support

Live chat, customer support manager, email support, knowledge base

Live chat, customer support manager, email support,

knowledge base

Live chat, Email support

Email support

Rating (overall)*

4.5

4.7

4.5

4.7
* Capterra rating
The best solution for B2B and B2C tech companies is GrowSurf.
It's an easily scalable, easy to set up, and expansive referral program software that is at an affordable level. If you'd like to find out more about how GrowSurf can help your business grow then book a call with our sales team. They'll talk you through everything you need to know and explore your business in detail.
If you're ready to get started, sign up now and your referral program will be running tomorrow!
Request a demo of GrowSurf
Set up your referral marketing program with software that lowers your customer acquisition cost and saves you gobs of time.