Image source: "Young positive multiethnic women working with laptop and smartphone", by Alexander Suhorucov, licensed under Free to Use

Customer retention is the foundation of your business.
You want your customers to keep coming back and possibly tell others about your business. But to make that happen, you need to make an effort and show your appreciation.
Luckily for you, there are many amazing ways of showing appreciation. Even if your budget is tight, customer appreciation doesn't have to be anything elaborate and expensive. A simple thank you note can positively impact a customer's perception of your business.
Short of customer appreciation ideas? We're here to help!
We pulled together a list of the 12 best customer appreciation ideas—financial and emotional—to delight your loyal customers.
But first, let's see what customer appreciation is and why it is so important, especially for smaller businesses.
What Is Customer Appreciation? 
Customer appreciation is the act of making your customers feel seen, heard, and valued. You're showing your gratitude because they chose to do business with you and have trust in your brand. By showing customers your appreciation, you're delighting them in the short term but investing in their loyalty in the long term.
Why Customer Appreciation Is Important—Especially for Small Businesses
We live in a world of fierce competition. Thousands of new businesses appear every day, some of which are offering the same services as yours. At the same time, you're competing with big Silicon Valley giants with limitless budgets.
How the heck will you win over customers when it's between your business and theirs? 
But you have a trick up your sleeve: 
Customer experience.
These two words can make or break a business. It's simple: businesses that provide a great customer experience have more loyal customers, gain more new customers, and enjoy better customer retention.
And the best thing is you can provide a good customer experience without spending a ton of money. Customer appreciation is the cornerstone of a good customer experience.
In the next section, we'll discuss the two main types of customer appreciation ideas and explain the perks of each one.
Types of Customer Appreciation Ideas
Customer appreciation ideas or strategies can be divided into two main groups: financial and emotional.
Financial customer appreciation strategies are self-explanatory. You're offering something of financial value to the customer to show your gratitude and thankfulness. Some examples include gift cards, discounts, referral programs, free subscriptions, upgrades, etc.
On the other hand, emotional customer appreciation strategies involve offering something of emotional significance. This is an amazing way for customers to form an emotional bond with your brand. Some examples include thank you notes, personalized emails, listening to customers' feedback, giving early access to a new feature or product, etc.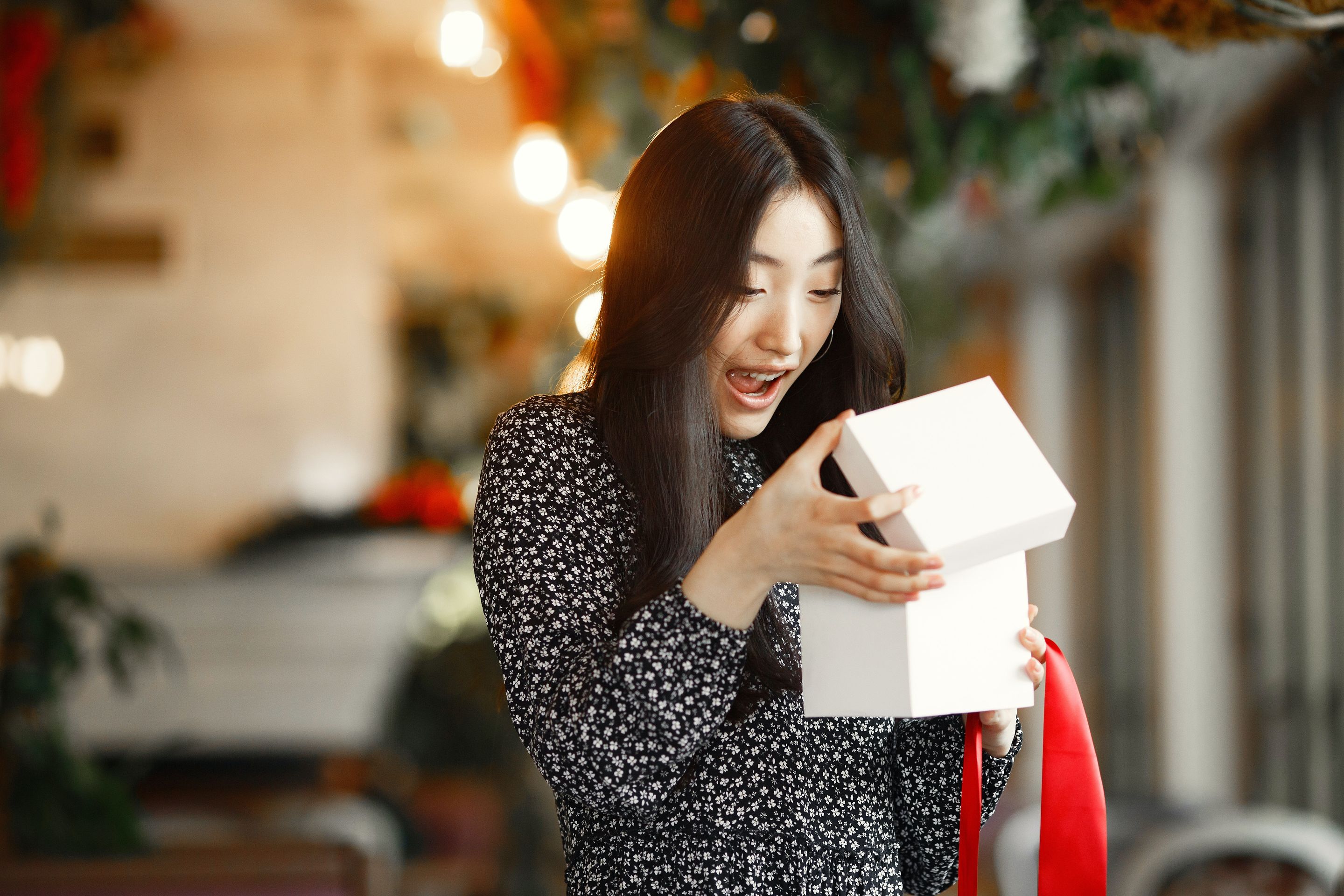 Image source: "A Woman Opening a Gift Box", by Gustavo Fring, licensed under Free to Use
Financial Customer Appreciation Ideas
Let's discuss some of the best financial customer appreciation ideas that can delight your customers:
Introduce a Customer Referral or Loyalty Program.  
One of the major differences between loyalty and customer referral programs is their purpose. Loyalty programs are a strategy for driving repeat purchases from existing customers, while customer referral programs attract new customers and encourage repeat purchases.
Most loyalty programs offer rewards through point systems, rewards cards, and punch cards through loyalty program software. Customers earn points on every purchase they make and get a reward after collecting a specific number of points.
On the other hand, referral programs use existing customers to promote a brand by sharing the good word to their friends and family. The referrer usually receives their reward when the referred person completes a purchase (e.g., subscribe to a paid plan).
Request a demo of GrowSurf
Set up your referral marketing program with software that lowers your customer acquisition cost and saves you gobs of time.
Gift a Surprise Subscription or Upgrade. 
If your pricing model works on a subscription basis, consider gifting your most loyal customers a free subscription or an upgrade. For example, let's say a customer is subscribed to one of your monthly plans. Give them one month free as a gift for believing in your brand. Another option is to give them a free upgrade to a higher-tier plan for a limited time.
Give Them a Discount. 
This is a similar strategy, but instead of giving a free one-month subscription, you track down your loyal customers and apply a discount on their purchases or subscription.
For example, let's say you're a Fintech company and a customer is subscribed to one of your monthly plans.
Consider giving them a one-month or a few-months discount on their subscription. Whether it's for a customer appreciation day or a bonus for being with you for a year, a discount code is a great way to express appreciation. You can also use discounts as an incentive for your customer referral program.
Send Out Branded Gifts. 
T-shirts, water bottles, fashionable socks, hoodies, coffee mugs, travel mugs, notepads, and backpacks are all great ideas for surprising your most loyal customers. They won't break the bank and, at the same time, have a heartwarming touch.
It's the thought that matters.
Don't forget to feature your company branding on the gift so that the customer is reminded of your appreciation towards them every time they use the product.
Make sure the gift is of high quality—you want to make sure your customers actually use the gift. Low-quality gifts will only end up in the trash can. And to make matters worse, your customers might have a change in perspective and start thinking about your brand as unprofessional and untrustworthy.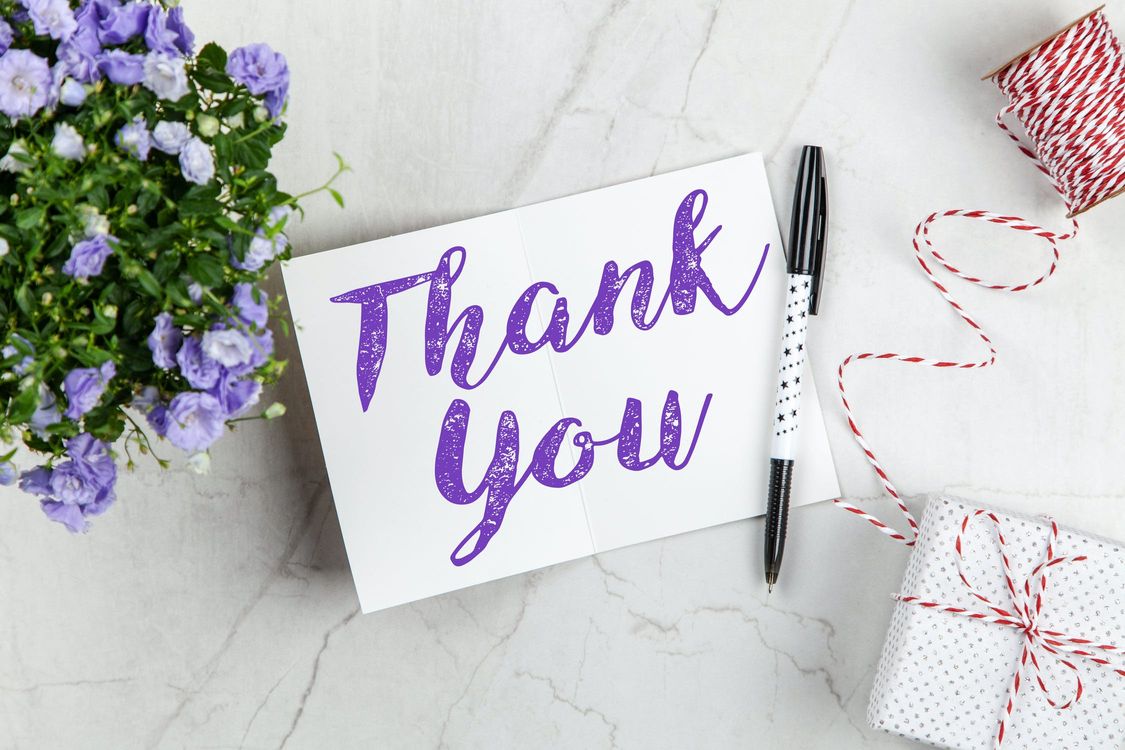 Image source: "Thank You Signage", by George Dolgikh, licensed under Free to Use
Emotional Customer Appreciation Ideas
In some cases, emotional customer appreciation ideas can be even better than financial ones. Let's mention a few:
Send a Welcome Video for New Customers. 
Break the ice with new customers by sending them a welcome video. It's a great way to establish a more personal relationship with new customers where you'll introduce your brand and thank them for choosing your company. Make sure to personalize it and speak directly to the customer for maximum effect.
Make Them Feel Special by Sending Them a Birthday Message. 
Add a bit of joy to your customer's life by wishing them a happy birthday—it'll make them feel special. You can even go the extra mile and give them a free gift, discount, upgrade, or anything else that's within your budget.
A simple email will do the trick. Don't forget to include the customer's name in the email or subject line. If you have any information about your customer's hobbies or interests, you can use this to personalize the email even further. You can send these emails out before or on their birthday.
Feature Customer Reviews on Your Website. 
Another way of showing your customers you care is by featuring their reviews somewhere on your website. You can choose a few customer reviews and feature them prominently on your homepage.
Another idea is to showcase all reviews in one easy-to-find location, such as on a single landing page. You may also share them with your followers on social media. With this simple act, you're letting customers know you respect them for taking the time and effort to leave a review.
Write a Personal Note. 
Although this tactic is as old as time, it still works like a charm. In fact, according to various reports and studies, personalization can help advance customer relationships.
The main aspect of this gift or gesture is to make sure the note is handwritten and not printed text. Customers will be impressed and flattered you took the time to write a handwritten note. It's a cost-effective strategy for providing something extra. Consider sending a personal note for a customer's birthday, when they reach a certain milestone, or as a surprise gift to make them feel more valued.
Connect With Customers on Social Media.
As social media becomes more popular in the digital world, companies must learn how to communicate with customers on these platforms. In fact, communicating with customers on social media is a unique way to connect with customers on a personal level.
For example, if they mention your brand in a post, reply back in a comment, thanking them for sharing the good word. If someone posts a question or concern on your page, reply back and answer their question.
Act On Customer Feedback.
Asking for feedback doesn't end with customers giving you feedback. If you want to show you care about their feedback, you have to act on it. The last thing you want to do is say to your customers, "thank you so much for this advice," and then do nothing about it. Take what they're saying into consideration.
For instance, let's say you have an online education platform, and a customer asks for a specific feature to be added to the product. If more than one customer is requesting the same feature, this is certainly something you need to consider and ultimately implement.
Let Them Be the First to Test a New Feature or Product. 
Giving early access to a new feature or product is another fantastic customer appreciation idea. Loyal customers are already fans of your product or service, and chances are they would be interested in getting early access to another one of your features or product/service in development. They will feel flattered that you thought to involve them and be more invested in the success of your product.
Spend Time Together. 
If you're visiting a city where many of your customers are located, a good idea would be to organize a small event where you'll get to meet in real life. It can be a lovely opportunity to learn more about your most loyal customers, and at the same time, you would make them feel special by attending the event you organized for them.
Three Customer Appreciation Examples to Get You Inspired 
Loom Saves the Day
In 2020, when the world was devastated by the COVID-19 virus, some companies went above and beyond to help their customers. One of these companies was Loom, a popular video recording tool.
Instead of profiting from the misfortune of their customers, they decided to help organizations and schools collaborate remotely. So, they removed the recording limit on their free plan, doubled the length of their paid product trials, and cut the price by 50% on their monthly plans. On the plus side, they also offered free paid plans to students and teachers.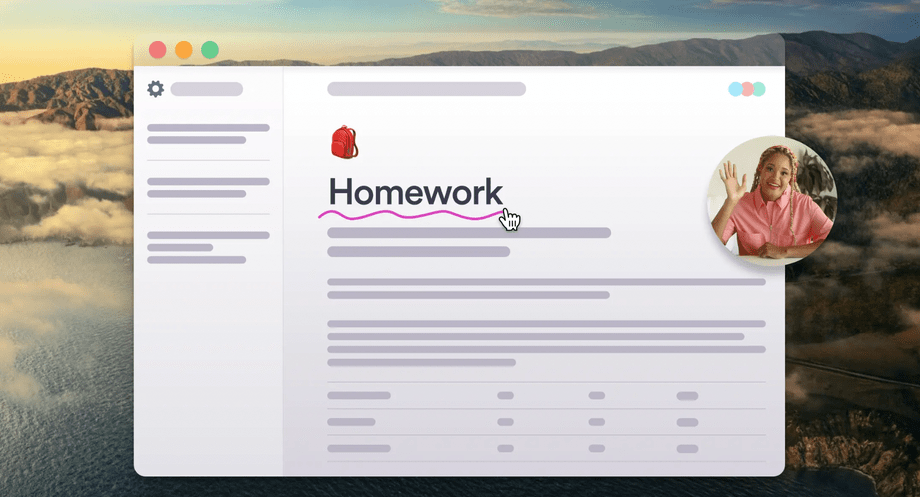 Image source: "Loom for Education", by Loom
Dropbox and Their Customer Referral Program
Dropbox has one of the most popular customer referral programs in the history of referral programs. The Dropbox referral program was successful because it was a two-sided program where both the referrer and the referred were rewarded with free storage space.
Here's how Dropbox's two-sided reward structure works:
Refer a friend and you get 500MB of free storage.
The friend who receives the referral also gets $500MB of free storage.
Keep sending referrals until you reach 16GB.
Dropbox still has a fully-functional referral program even today, even though it's already an established brand in the industry.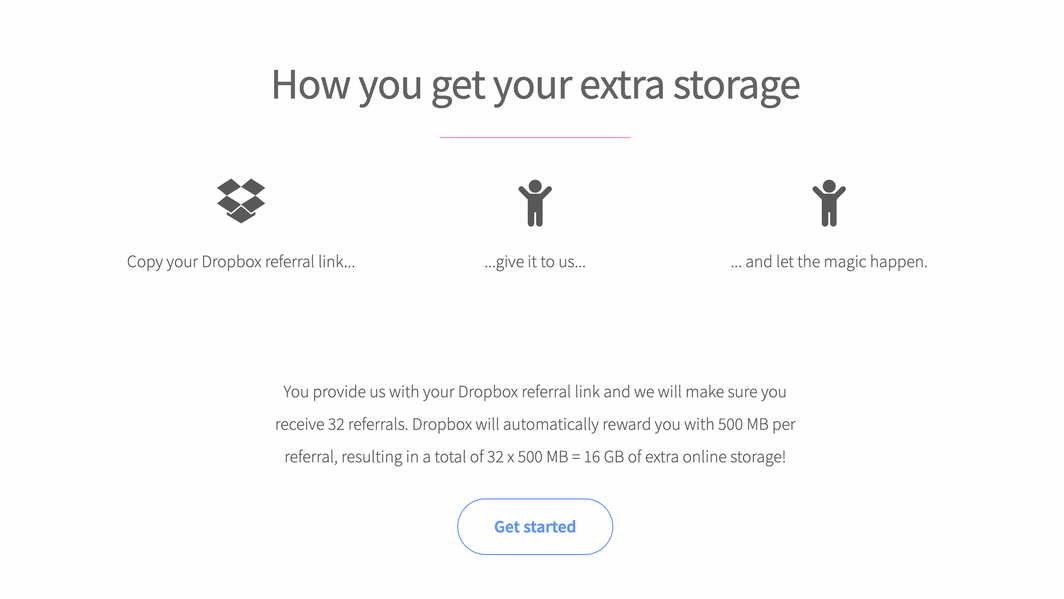 Image source: "Dropbox referrals", by Dropbox
Pinterest and the Holiday Season
Pinterest shows its appreciation for its clients by sending out gifts during the holiday season. They send out holiday gift packages that contain high-quality items. The gift box includes luxury candles, sweet treats, branded stone coasters, and gourmet nuts. The gifts also feature logo gift tags and branded holiday notecards with a custom message from the company.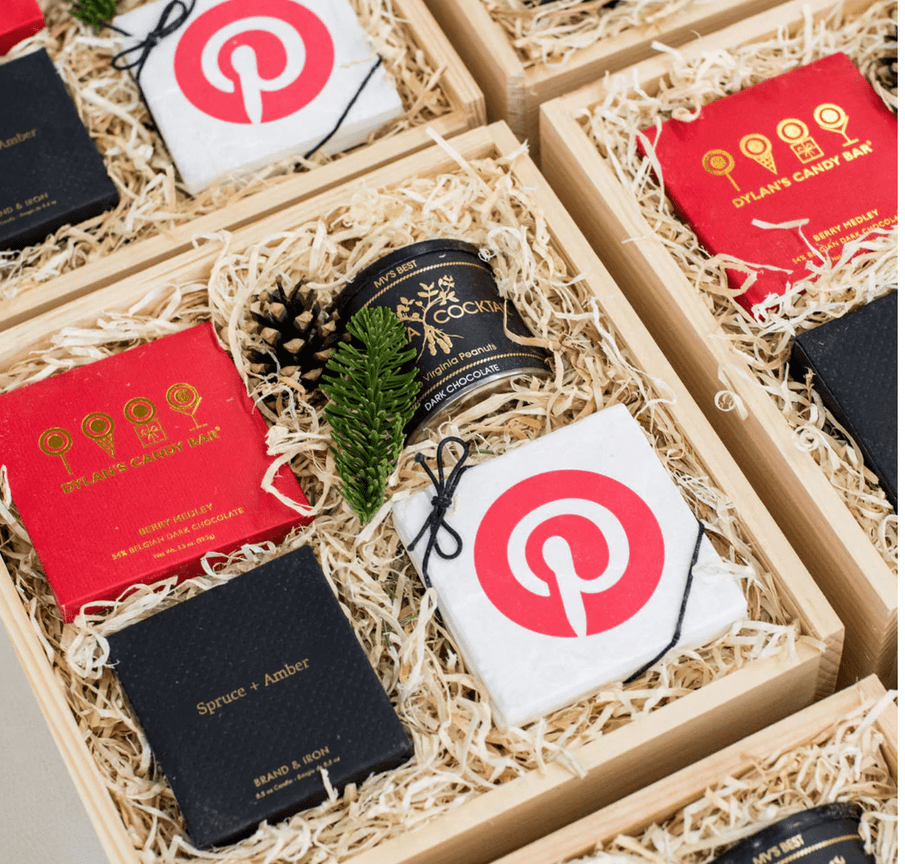 Image source: "Client Appreciation Gift Box Designs", by Marigold & Grey
Ready to Implement These Customer Appreciation Ideas?
Now that you know what customer appreciation is and its importance for building loyalty, you can start thinking about how to implement the best customer appreciation ideas we discussed in this post. Not only will these customer appreciation ideas delight your customers, but they'll also boost your business's brand visibility and ultimately increase sales. So take time today to think about what kind of customer appreciation ideas would work best for you and ensure you incorporate them into your marketing strategy.
Request a demo of GrowSurf
Set up your referral marketing program with software that lowers your customer acquisition cost and saves you gobs of time.