Marketing is ultimately a battle for attention and awareness. But in a digital market that's getting more crowded by the day, brands have to work harder to get the attention they need to thrive.
What's more, customers are not just expecting more for brands, but they're also desiring more connected journeys.
How do you generate demand in such a volatile and noisy environment?
Try demand generation.
What is Demand Generation?
Demand generation is a marketing strategy that aims to generate awareness and interest for your brand using data-driven solutions or strategies.
The keyword there is "data." By using data to your advantage, you can get a deeper understanding of your target audience's buying behavior—from prospect to buyer to raving advocate.
Demand generation is about helping your target audience identify a problem, reaching out to them with helpful information at the right time, and at the right channels—so that you can grab their interest and position yourself as the best solution.
In other words, demand generation warms your prospects to your brand and your offerings, making it easy for your sales teams to guide them towards taking the next step—becoming a paying customer.
Demand Generation vs Lead Generation
Let's get one thing clear: demand generation and lead generation are not the same.
But too many marketers get confused with the two terms and use them interchangeably as a result.

Lead generation, on the other hand, turns that interest and awareness into names and contact details (leads) so your sales team can follow up with them.
As already mentioned, demand generation generates awareness and interest for your brand and offerings. It helps you create demand for your brand.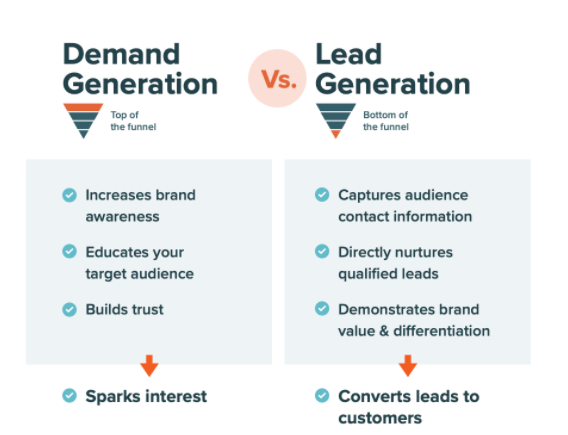 3 Benefits of Demand Generation
Here are the 3 main benefits of demand generation.
1. Increase brand awareness
At the end of the day, demand gen is about leveraging "intent data." By gathering data about your target audience's purchasing behavior, you can put out relevant content that positions your brand as a thought leader capable of solving their problems and making their lives easier.
But what makes demand generation powerful is how it uses intent data to capture the attention and interest of a target market.
And since you're using intent data to guide your efforts, it's easier for you to consistently deliver personalized and customized experiences. That consistency, over time, makes your brand resonate all the more, instilling brand loyalty and helping you cut through the noise.
2. Generate qualified leads
Demand generation is beneficial not because it generates demand, but because it generates demand from qualified prospects and leads.
You don't need me to tell you this, but qualified leads are a big deal. They boost conversion rates and increase return on investment. They also allow you to develop a scalable process for your entire marketing and sales team. If you want to supercharge your company's growth and generate word of mouth, qualifying your prospects is a good place to start.
Demand generation helps you do that because of its focus on acquiring and using intent data. By using customer data to your advantage, you can refine your marketing message across channels, resulting in personalized and customized experiences that draw the attention of your target audience.
3. Increase revenue
By generating awareness and interest from qualified prospects, your sales teams will have an easier time converting leads into sales. As a result, you don't have to waste your time and resources marketing to audiences who don't need or want what you're offering.
Demand generation helps you tell better stories and deliver great experiences simply because "the shoe fits." And if there's anything stories and great experiences do well, it's to inspire brand advocacy. Brand advocacy encourages word of mouth and referrals, which translates to more revenue.
6 Demand Generation Strategies for High-Quality Leads
You now know what demand generation is and how it can benefit your brand. But how do you actually implement it in ways that deliver results?
Here are 6 demand generation strategies that can fill up your pipeline with high-quality leads.
1. Focus on LinkedIn
As the "world's largest professional network," LinkedIn has been a powerful tool for demand generation, especially for B2B brands.
How so? For starters, 52% of buyers name LinkedIn as the most influential channel during their research process. 80% of B2B leads are also generated on LinkedIn.
LinkedIn pulled this off because their targeting is niche-specific, allowing you to narrow your search by industry, company name, job title, and more.
Besides, LinkedIn is a platform well suited for demonstrating your thought leadership. By consistently publishing thought leadership LinkedIn content, you can position yourself as an expert and leading resource people go to when they want information.
In other words, it helps you build a reputation. Continue to keep building that reputation and people will find you and your brand.
With that said, if you want your LinkedIn content to fuel your demand generation efforts, make sure you're gaining attention from the right people. You need to diversify your efforts, publishing organic and paid content and using the platform's sophisticated targeting options to ensure you're reaching your target audience.
Use LinkedIn's objective-based advertising to launch a targeted and streamlined campaign based on your goals. The platform has many ad formats (such as carousel ads, conversation ads, event ads, etc.) well suited to the task.
For a deeper dive on how to increase brand awareness via LinkedIn, check out this in-depth resource
2. Create content for each sales funnel stage
Let's face it—no prospect is going to wake up one day and decide they want to buy your product or offer without knowing much about it.
Before they get to that point, they need to have a problem that needs solving. Or a desire they want to fulfill. And chances are, they're going to search the web for answers.
Did you know 87% of shoppers will search on digital channels to find answers to their questions?
If you publish the type of content that addresses their pain point, whether it's a blog post, a podcast episode, a video, chances are they're going to at least check out what you have to offer.
It's a good start, but that first touchpoint won't translate to a sale immediately. If you want to gently nudge them towards becoming a customer, you need to create content for each stage of the sales funnel. After all, the average customer engages with 3-5 pieces of content before talking to a sales rep.
To increase transition smoothly from prospect to lead to advocate, make sure your content strategy aligns with your sales funnel.
Here are the 3 stages of the sales funnel and the types of content most effective for each (via Lucidchart).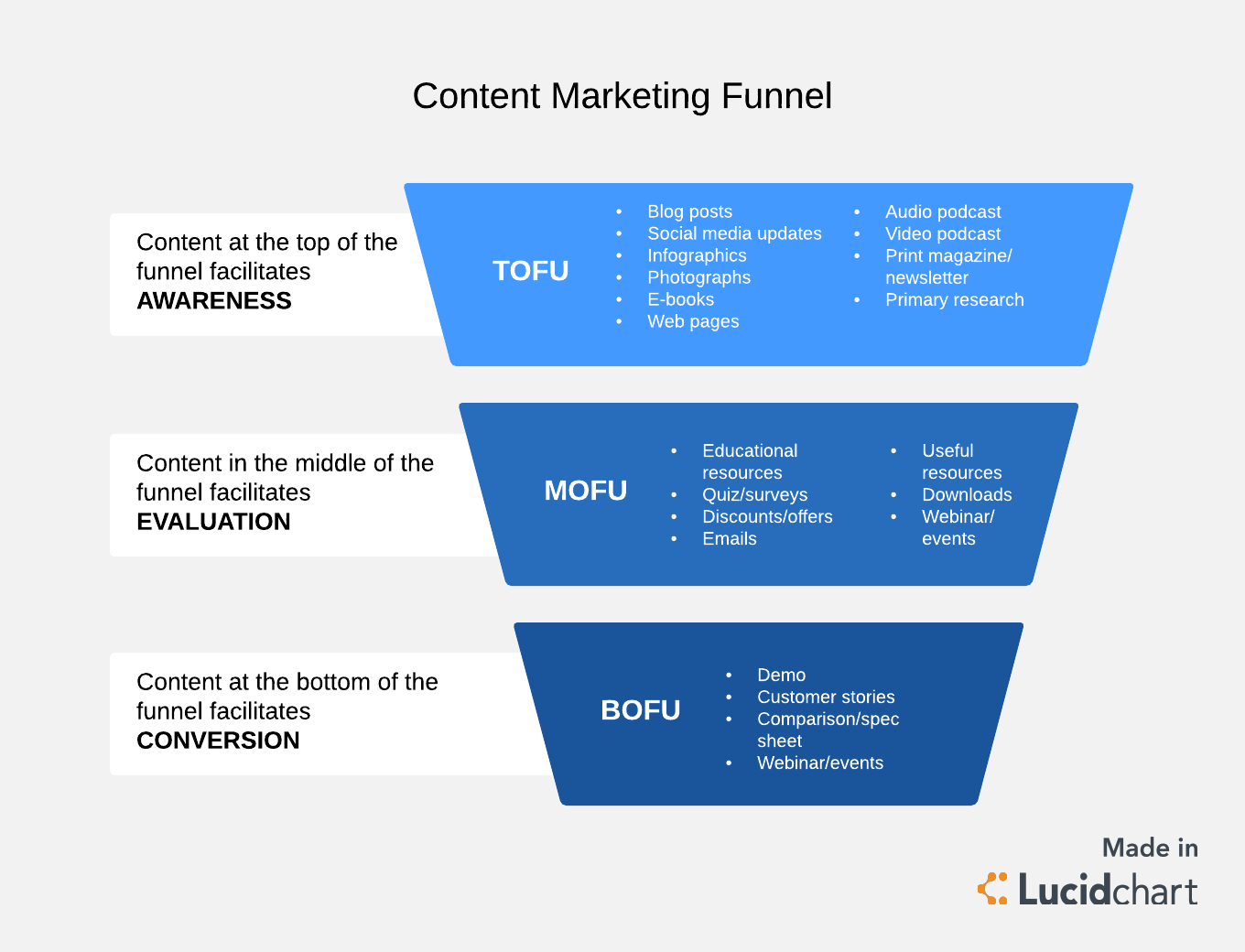 3. Implement Account-Based Marketing
Demand generation goes hand in hand with account-based marketing.
While demand generation is focused on generating awareness and interest, account-based marketing (or ABM) aligns marketing and sales to target high-value accounts to generate the most value.
Account-based marketing works big time. In fact, 87% of B2B marketers report their ABM initiatives outperformed their other marketing investments in terms of ROI.
While ABM encompasses the entire sales funnel, it's instrumental in generating qualified leads because it examines closely how your target accounts engage with your on-site and off-site content.
It answers the following questions:
Is your content aligned with the needs of your target audience?
Is it engaging enough to make your message resonate?
Is it aligned with the goals of your marketing campaign?
ABM is well suited to answering all of the above because it allows marketing and sales to have a conversation on how to reach specific target accounts. Through their combined knowledge and expertise, you can create more refined buyer personas, allowing you to create custom experiences that will attract the attention of only the most qualified prospects and leads.
For a deeper dive on ABM, check out this guide by Ahrefs.
4. Implement Omnichannel Marketing
If you want to have a profitable relationship with your target audience, engage them every step of the way. You have to meet them where they are, regardless of what channel or device they're using.
The problem? Prospects are a constantly moving target. How do you provide them with a unified brand experience if they won't sit still?
This is where omnichannel marketing can help. After all, omnichannel marketing is a strategy that helps you leverage multiple channels to create a cohesive customer experience.
Bear in mind that omnichannel marketing is not the same as multichannel marketing. Multichannel marketing is simply the use of more than one channel to communicate your brand message to customers. These channels are not integrated with each other.
Omnichannel marketing, on the other hand, focuses on creating a cohesive brand experience while communicating with customers across multiple channels.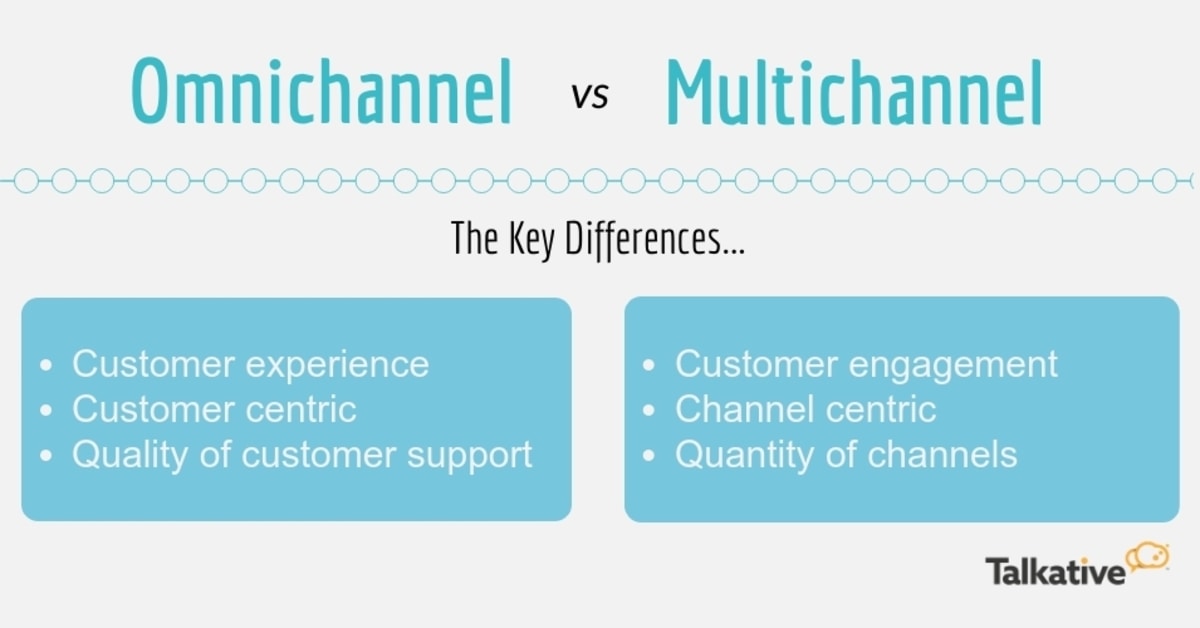 Why is omnichannel marketing essentiall? For starters, 90% of customers expect consistent interactions across channels. What's more, omnichannel shoppers have a 30% higher lifetime value than those who shop using only one channel.
So, how do you track and keep up with your customers as they go from one touchpoint to another across different channels and devices? Creating and maintaining a single source of truth (or something close to it) for customer data is a big step in the right direction.
Tools that can help you pull this off include:
Social media management
Ad combinator
CRM
Operations management
To learn more, read our Omnichannel Marketing Strategies guide.
5. Improve User Experience
Here's a heads up: 88% of online customers are unlikely to return to a website after a bad experience.
Which begs the question: What elements or characteristics of a website or an app will keep customers coming back?
If you think providing them with a comprehensive (and overlong) feature checklist will do it, think again.
If you want prospects to keep coming back, remember this: the experience makes the product, not the features.
Want to create experiences that will win your prospects over? Improve your UX (user experience).
Sounds vague? Here are the seven key factors to a solid UX according to Semantic Studios (also conveniently illustrated as the UX Honeycomb).
Useful
Usable
Desirable
Findable
Accessible
Credible
Valuable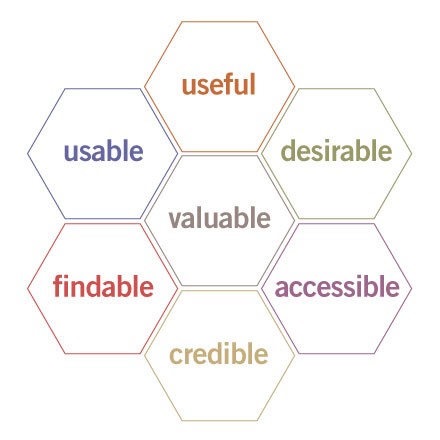 Some tips to improve UX:
Employ user testing (test your website or app with real users in realistic conditions)
Use a minimalist approach (stripping everything down to its essentials allows your brand message and identity to shine through).
Plan and test your user journey (test each element of your website or app and run it through the perspective of your buyer persona)
Improve readability (using a responsive layout can help)
6. Launch a Referral Program
Here's a heads up: Referral marketing can be your most powerful demand generation channel.
Why? Because your most loyal customers are the best demand generation partners you could ask for.
Here's why:
Customers trust each other more than they trust you (referral marketing generates 3x- 5x higher conversion rates than any other channel)
Customers bring in qualified leads (loyal customers will only refer people who are more likely to benefit from your offerings)
Referrals have a higher customer lifetime value (referred customers have double the LTV of non-referred customers)
A referral program could be your most powerful and cost-efficient customer acquisition channel, but only if you design and implement it the right way.
Here are a few tips to help you launch a referral program successfully:
Make your brand referral worthy.
Develop and nurture your customer relationships.
Time your referral messages right.
Choose your rewards wisely
Decide on a reward structure
Make your referral program easy to share
Promote your referral program
Get your referral messaging right
Automate your referral program
Check out our guide for a deeper dive on how to build B2B referral programs.
Referral Program Example: the news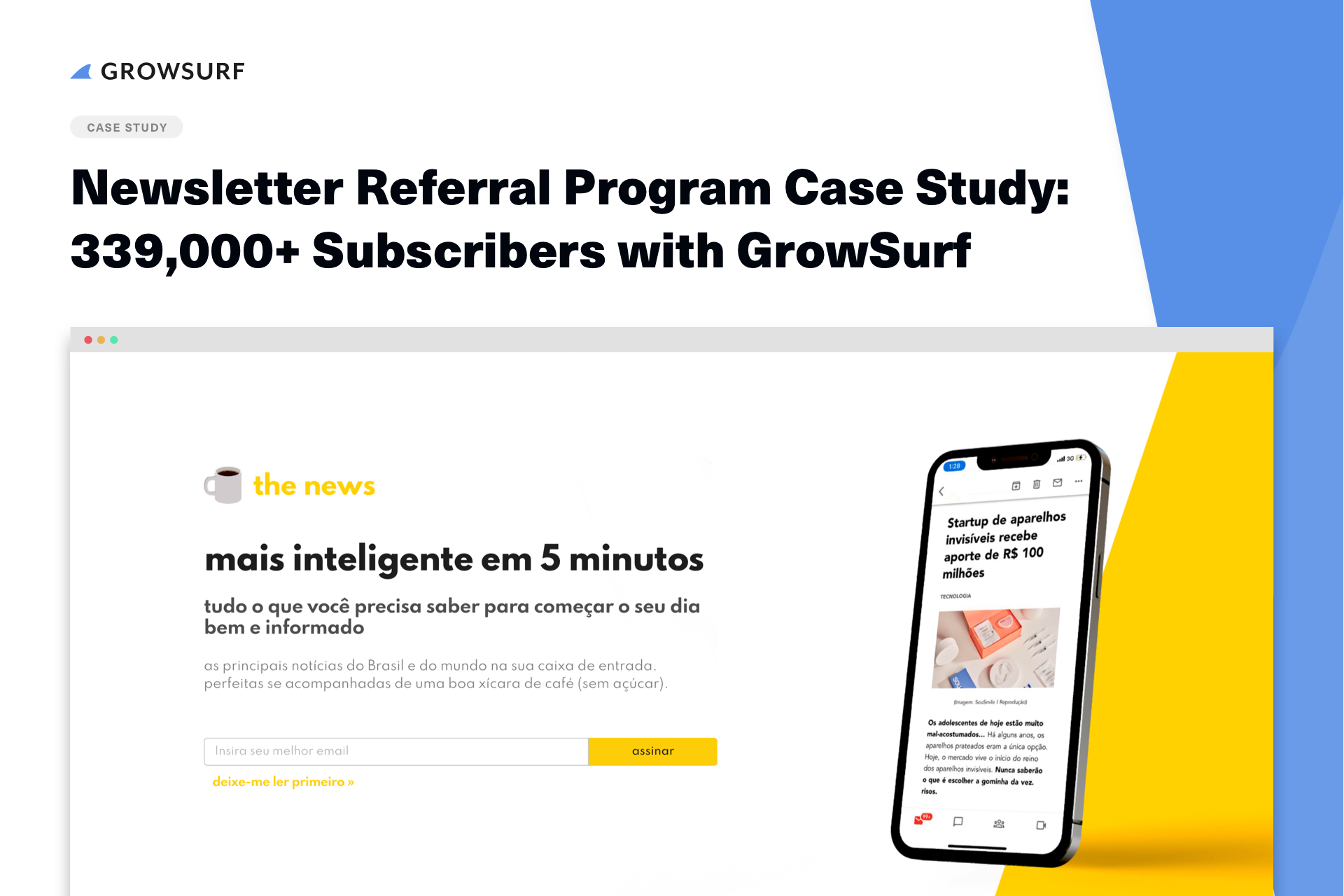 the news (thenewscc.com.br), a Brazilian tech and finance newsletter, is a fine example of how to use a referral program to acquire qualified leads.
In fact, the newsletter publisher's referral program was so successful it helped the company acquire 339,000+ subscribers.
We even published a case study about it. Here are a few takeaways:
Subscribers were already recommending the news to their friends even before the company had a formal referral program. The publisher company knew there's a huge opportunity to leverage word of mouth for faster growth but didn't have a formalized system to measure their results and optimize performance.
The company tried out the Upviral referral program. But due to the lack of branded URLs (and the bad connotation that comes with the word "viral"), the referral program flopped.
In March 2021, the news became a GrowSurf customer.
With GrowSurf's end-to-end referral marketing platform and Campaign Monitor integration, the news was able to put their referral program on autopilot, from referral link generation to rewards fulfillment to embedding the referral program to emails, etc.
This gave the news the flexibility and resources needed to gamify their referral program via a leaderboard reward system, which became a big hit with subscribers (and referral prospects).
GrowSurf's Campaign Monitor integration allowed the company to track revenue generated from referrals
With GrowSurf's tracking capabilities and robust analytics, the news got the visibility they needed to optimize their marketing and promotional strategies.
Doesn't hurt that GrowSurf referrals have a 3x cheaper CAC than signups from Facebook and Google ads.
To view the entire newsletter referral program case study, click here.
Wrap Up
At the end of the day, demand generation is about delivering valuable experiences to prospects and leads to earn their trust. You'll often hear the term "data-driven" every time the topic of demand gen is brought up. But if you want your data to earn you highly qualified leads, you must be intentional in your approach to marketing. As Seth Godin writes in This is Marketing , "You can't be seen until you learn to see."
To sum up:
Demand generation's aim is to generate awareness and interest for your brand using data-driven solutions or strategies.
Lead generation is used to turn that interest into leads so your sales team can step in to guide them towards taking the next action: becoming a paying customer.
Demand generation has three key benefits: increase brand awareness, generate qualified leads, and boost revenue.
Use intent data to your advantage.
Diversify your approach and focus on what works.
Subscribe to GrowSurf
Get our weekly newsletter for our latest referral marketing guides.
Error subscribing! Please try again.