What Is Omnichannel Marketing?
Omnichannel marketing is a strategy that uses multiple channels to create a cohesive customer experience.
Omnichannel marketing helps brands build stronger relationships with their audiences by providing customers with consistent messaging across all channels. It also offers more opportunities for SaaS businesses to cross-sell products and drive up conversion rates.
Excellent customer experience is no longer sending well-timed emails to customers or offering a great mobile experience. Instead, it's all of that and so much more.
Omnichannel vs. Multichannel Marketing
Omnichannel vs multichannel marketing—they pretty much mean the same thing.
Not exactly.
Although the two terms are often used interchangeably, there's a fine distinction between them.
Explained in simple terms, multichannel marketing means customers have access to different communication options, like social media, email, and website. Companies use these channels to engage with customers, but they are not necessarily synced with one another.
On the other hand, when a company invests in omnichannel marketing, it means that customers have access to a variety of communication options that are perfectly connected. Customers can seamlessly hop from one channel to another, or between platforms, without any roadblocks.
For instance, a company can have a perfectly functioning website, great app, and active Facebook page. This is multichannel marketing. But when all these channels work together, enabling customers to move across devices and platforms, that's when we can safely say that a company has done a great job with its omnichannel experience.
Many companies use omnichannel marketing software that helps them connect with customers on the channels they prefer.
Benefits of Omnichannel Marketing Experiences
While being present on multiple channels isn't bad, companies should always aim for connecting those channels together. Once they do that, they can expect the following benefits: 
Increased Profits.
Omnichannel means your company will be available on different channels and platforms. In other words, customers will find it easier to find your product and make a purchase. Offering an omnichannel experience also makes it easier for customers to renew their subscription or make another purchase of your product, which translates into an increase in revenue.
Improved Customer Experience and Satisfaction.
Your customers will be more satisfied in the long term as they can reach you on multiple channels and platforms. Regardless of whether they're using their laptops or mobile devices, Facebook or Twitter, they can easily purchase your product. This will significantly increase customer satisfaction. And a happy customer means a loyal customer. According to studies, focusing on customer loyalty can lower your customer churn rate by 5% and increase your profitability by 25% to 125%, depending on your industry.
It's Great for Brand Consistency.
By implementing a seamless strategy across different channels and platforms, customers will learn to quickly identify your brand image and tone. Brand consistency is the idea that every aspect of your company, from logos to advertising, reflects your brand. Consistency is vital for branding because it creates a cohesive image in customers' eyes, and it can help you create a strong brand identity.
How to Design an Omnichannel Experience for B2B SaaS
Think about this for a moment:
In 2000, the average consumer used two touch-points when buying a product. Today, the average consumer uses an average of six touch-points.
And check this out:
Companies with weak omnichannel customer engagement retain around 33% of their customers, compared to 89% for companies with strong omnichannel customer engagement.
What's more, omnichannel shoppers have a 30% higher lifetime value than those who shop using only one channel.
But how the heck can B2B SaaS companies create the best omnichannel experience for their customers?
Stick with me here as we look at five steps for creating an omnichannel marketing strategy:
Know Your Customers
Your customers are the backbone of your business.
They drive your revenue, they make you money, and they keep you afloat.
But how much do you really know about them?
Understanding your customers is key to any successful business. It doesn't matter how great your product or service is if you don't understand the people who would actually buy it.
This involves the following things:
Creating buyer personas 
Identifying your target audience
Understanding your customers' wants, needs, behaviors, preferences, and demographics
Once you categorize your customers, you'll be equipped with the proper knowledge to target them right. The ultimate goal should be to improve the interaction between you and your customers.
The perfect example of a company that understands its customers and has always been focused on listening to customers' feedback is Slack.
The Slack team considers in great detail how different size companies use their product to create a product that meets customers' needs.
According to Fareed Mosavat, Slack's Lifecycle Product Manager, "You need to really understand your target customers. Not only who they are, but also what kinds of plans will be right for them."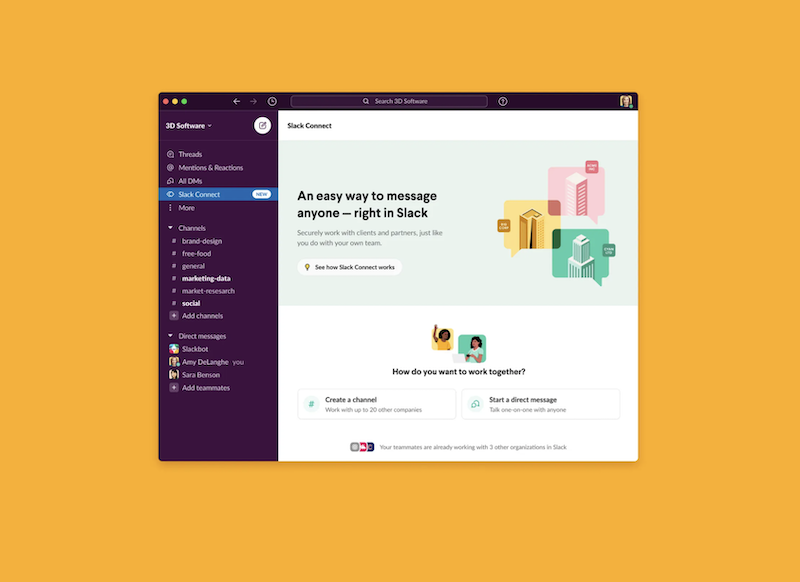 Invest in Email Marketing
Today, you hear a lot of buzz about social shares, likes, and tweets. But this doesn't mean that email is going away anytime soon.
In fact, it's quite the contrary.
Email marketing has been around for decades and is still one of the most effective ways to reach your customers.
Email marketing allows you to target your audience in a personalized manner that is more individualized than other forms of marketing. It's also cost-effective and has a huge ROI.
Get this:
For every $1 you spend on email marketing, you can expect an average return of $42.
Here's something else interesting:
Around 81% of SMBs use email as their primary customer acquisition channel, and 80% of them rely on email for customer retention.
Not to mention that the average email open rate is 20.81%. Personalized emails generate 50% higher open rates.
It seems like a no-brainer: investing in email marketing is definitely worth it!
Your ultimate goal should be for customers to like you and think you care for them. And what a better way than sending them personalized emails straight to their inbox.
Have you ever wondered how Asana onboards its customers?
When customers receive their first email, they're informed this is 1 of 4 emails in the "Getting Started Series." This lets customers know what to expect from the company.
The onboarding emails are intended to teach customers how to use a specific feature and contain a clear CTA that invites customers to try that feature instantly.
For example, customers receive an email teaching them how to create a task and how to add details to that task. At the end of the email, there's a CTA that says "Create a Task," which directs them to a page where they can practice what they've learned.
Even better, these onboarding emails are sent two days apart from each other. This is a great emailing schedule that avoids overwhelming customers and keeps them interested.
But that's not all!
After the initial onboarding emails, Asana continues sending emails to its new customers that explain the more advanced features of the platform.
And get this:
New customers even receive an email from the Sales Department at Asana, offering them a demo of Asana Premium/Business.
It might not seem like much, but this can make customers feel more valued.
And you know what they say: "A valued customer is a happy customer."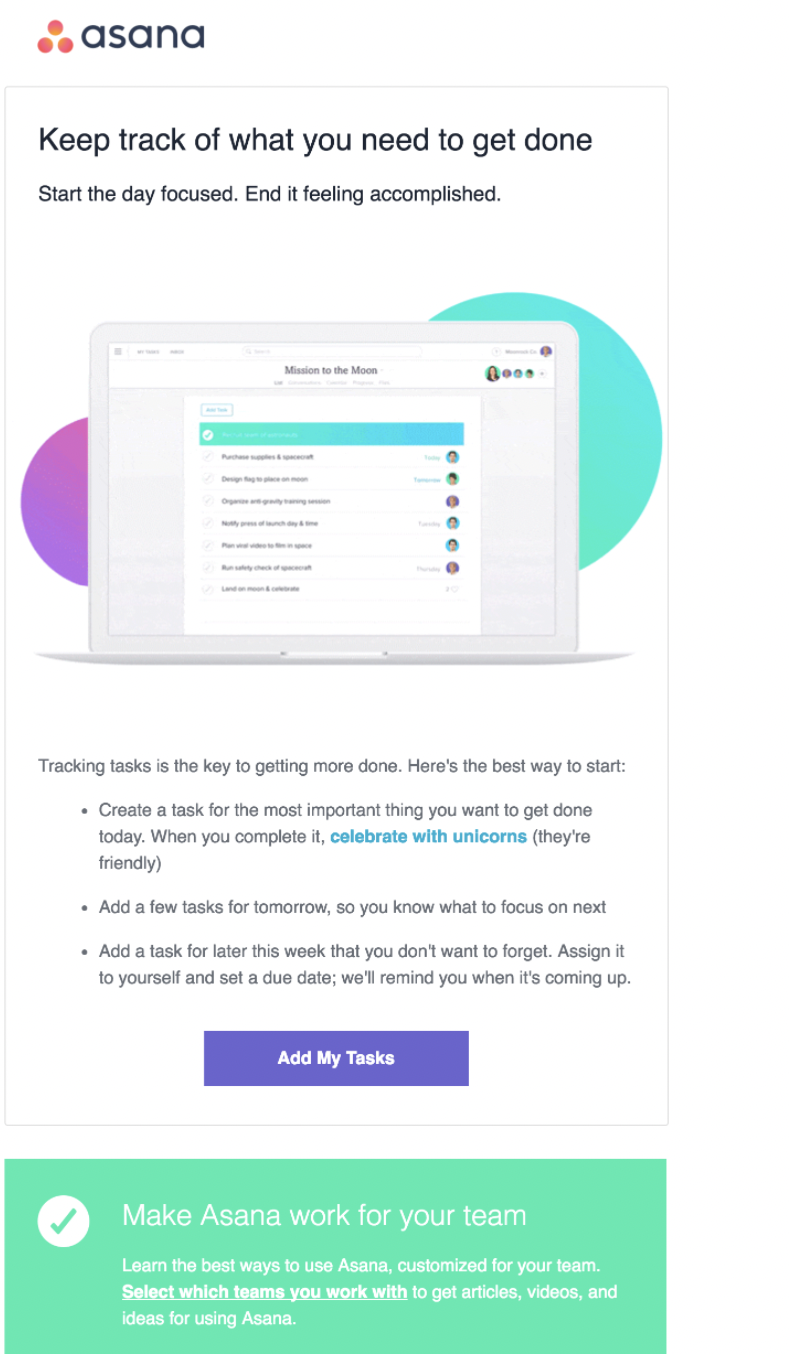 Incorporate Live Chat Into Your Website
There's a saying in the marketing and sales world that goes something like this:
A great customer experience is meeting your customers where they are.
There's one channel where the majority of your customers are, and that's live chat.
Consider these statistics on live chat:
Around 69% of US shoppers want live chat features.
About 73% of customers consider live chat as the best form of communication with a brand.
Millennials are 20% more likely to use live chat.
Visitors who chat are 82% more likely to convert.
Customers who use live chat spend up to 60% more per purchase than customers who don't.
Customers of the 21st century want to communicate with brands like they do with their friends. They don't want to be treated like a ticket but want quick, effortless help from someone that makes them feel human. The best companies are aware of this fact. Their marketing, sales, and support teams have been using live chat messaging to create better conversational relationships with customers—and they see a considerable return on investment.
It's simple:
If you want to connect with customers more personally, you should install live chat on your site and start communicating with people. You'll be able to offer a more efficient and enjoyable experience for customers across the entire customer lifecycle.
Here's how SleekNote uses live chat to help customers and potential customers find the answers they're looking for without even leaving the page they're on.
It gives people the option to ask any questions about Sleeknote right in the chat box or call the company. Visitors are asked whether they're existing customers so they're connected to the right customer support team.
Offer Great Mobile Experience
Check this out:
There are currently 6.4 billion smartphone users worldwide. In other words, 80% of the human population has a smartphone.
What's more, the average US adult spends 2:55h on their smartphone every day.
And get this: 
51% of customers report using smartphones to discover new brands and products.
According to Google, roughly 50% of B2B queries today are made on smartphones.
What does this all mean?
It means that if you want to reach customers, you have to invest in offering a great mobile experience.
But here's the thing: Investing only in a mobile-friendly website won't suffice. You need to create an engaging, user-friendly mobile experience.
Because if you don't, you're risking losing a great portion of potential customers. Around 46% of people say they would not buy from a brand if they had an interruptive mobile experience.
But what's a great mobile experience?
In short:
Your mobile site should be easy to navigate and use
Your mobile site should have a fast load speed
Visitors shouldn't zoom in and out in order to find their way around
Let's take a look at how the SurveyMonkey website looks on mobile and compare it with its desktop version: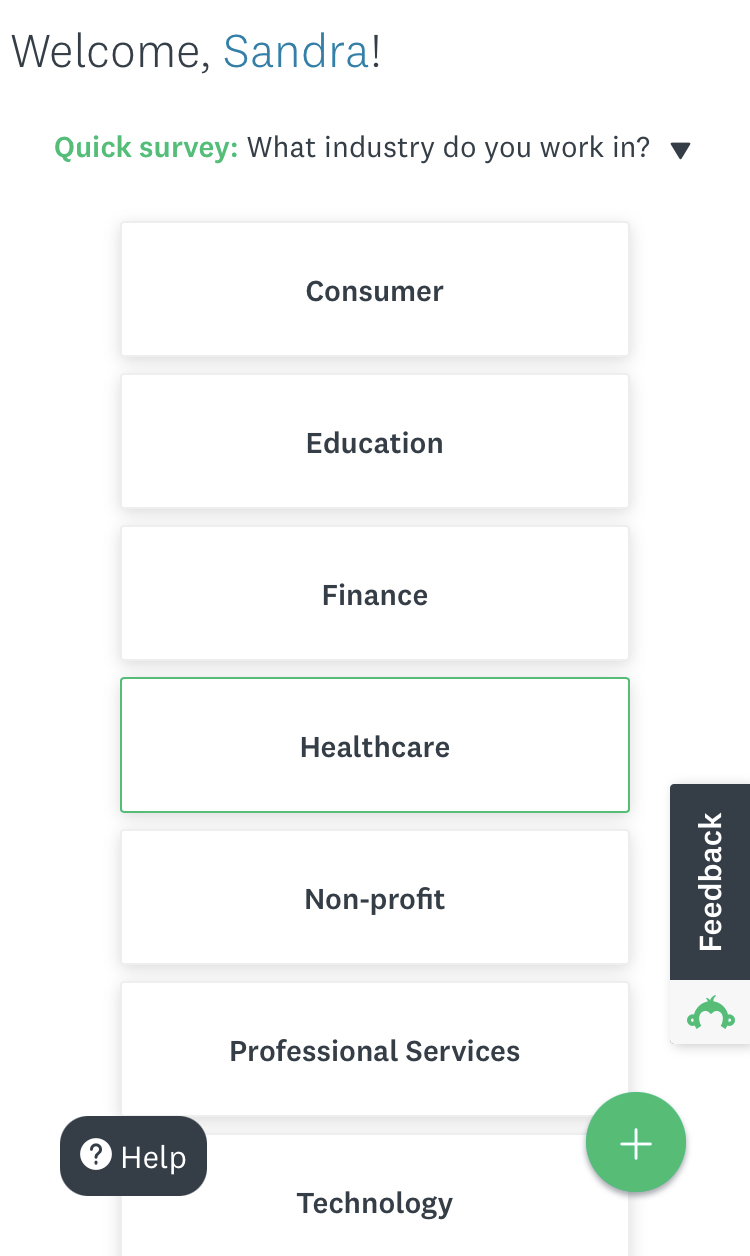 Notice how there's no need to zoom in or zoom in. The website works perfectly fine on both devices without causing any stress in your eyes. Both sites are responsive, well-designed, and easily navigated.
Subscribe to GrowSurf
Get our weekly newsletter for our latest referral marketing guides.
Error subscribing! Please try again.
Deliver Seamless Synchronization
The ultimate goal of an omnichannel marketing strategy should be to deliver seamless synchronization across all devices and channels (think: web app, desktop app, mobile app).
Customers agree! A whopping 83% of mobile users say that a seamless experience across all devices is very important.
One example of seamless synchronization is ClickUp. The company not only has a web app, a desktop app, and a mobile app but these apps are perfectly synchronized.
For example, if you're tracking time on the web app, the mobile app will also show this. The same thing happens if you open the desktop app.
All of your tasks and comments appear in every app, along with notifications, reminders, and calendars.
Best of all, there's almost no variation in the user experience. Every app works seamlessly, letting the user find their way around with ease.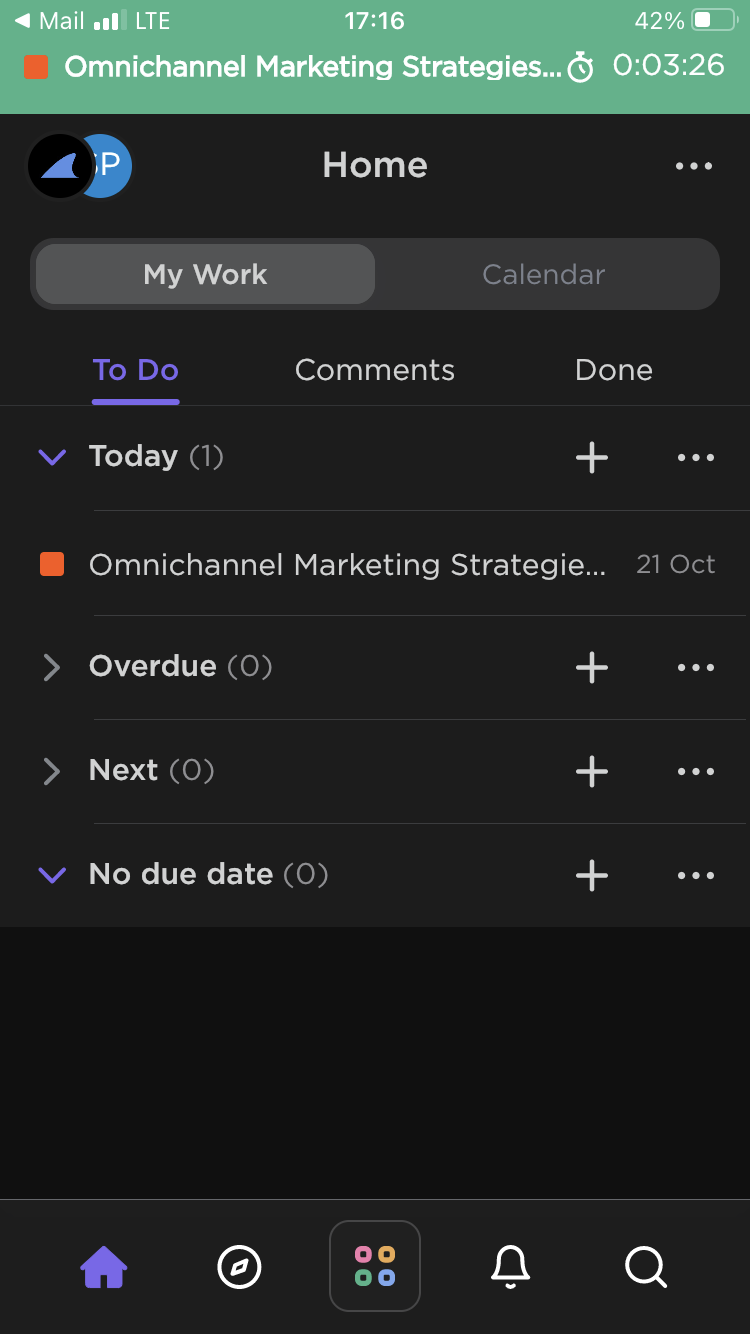 Omnichannel Referral Marketing
Here it goes again, that foreign-sounding term that we talked so much about in this post.
But now we'll be exploring it in a different context: referral marketing.
By now, you must be thinking:
What the heck is omnichannel referral marketing? Is it some type of word-of-mouth marketing ? 
Let me explain:
Omnichannel marketing involves offering a seamless customer experience on all channels and platforms. Well, omnichannel referral marketing makes it as seamless as possible for people to join and share your referral program.
Let's imagine the following scenario:
A customer notices your referral marketing program on social media. They share it with a friend through email, and that friend opens the referral program on their laptop.
Regardless if they're using social media, email, or your website, the referral program is easily found and shared.
Let's look at four ways how you can incorporate omnichannel referral marketing into your strategy: 
Create a Referral Program Landing Page
The landing page is the most important aspect of your referral program.
This is where people will go when they see your program on social media or receive an email from a friend.
It should be the place where people learn about the conditions of your referral program, the rewards you offer, tips for sharing, and other details.
But what should the perfect referral program landing page contain?
Explain the reward : tell visitors what your referral program offers. Is it brand swag or subscription credit? Discounted services or free upgrade? 
Explain the conditions of the referral program : what actions should the referrer and referred perform in order to be eligible for a reward? Is there an expiration date for the reward? Is there a limit to the number of people you can refer? Explain the conditions of the program as clearly as possible to avoid confusion.
Have a clear CTA : without a clear CTA, your customers won't know what they should do on your page. If they don't find the needed information in a few seconds, they're likely to quit and go to a different website.
Include Your Referral Program in the Email Footer
Here's one great idea for making your referral program more visible:
Include it in your email signature! 
Simply adding a link to your program into your email signature will help you promote the referral program to thousands of subscribers. It's subtle and not as obvious as other tactics—customers won't feel pressured to sign up.
On the plus side, it's incredibly easy to do—simply set it and forget it.
Make It Visible on Your Site
If you want your program to be easily discoverable, you must make it visible on your website.
Visitors who are unaware of the existence of your referral program might never hear about it unless they notice it while browsing your site.
Simply add a link to your referral program in your website's navigation bar. Doing so ensures that your program is always visible, no matter which pages your customers are visiting.
Another option is to add a link to your referral program on the footer of the home page.
Promote It On Social Media
According to the latest statistics, the average person spends 145 minutes on social media daily.
It sounds like an opportunity too good to pass up, don't you agree?
Simply find out which platforms your target audience frequents the most and start sharing your program there. Doing so ensures your program will yield the best results.
Paid social media ads are another great idea. Promoted Tweets and Facebook Ads make it almost certain that your target audience will hear of your program.
Here's another tip:
Include a link to your referral program in social media bios.
Social media bios are an easy and visible way for your customers to get the link to the program. For example, let's say you include your referral program in your Twitter bio.
So now, every time a visitor lands on your profile, they'll see the link to the program. Some visitors may even click on it!
The best thing is that it won't cost you anything, and on the plus side, it requires zero effort.
Now let's see how omnichannel referral marketing looks in action.
The first example is from Todoist's referral program.
If we go to Todoist's website and scroll down to the footer, we can see they have included a link to their referral program.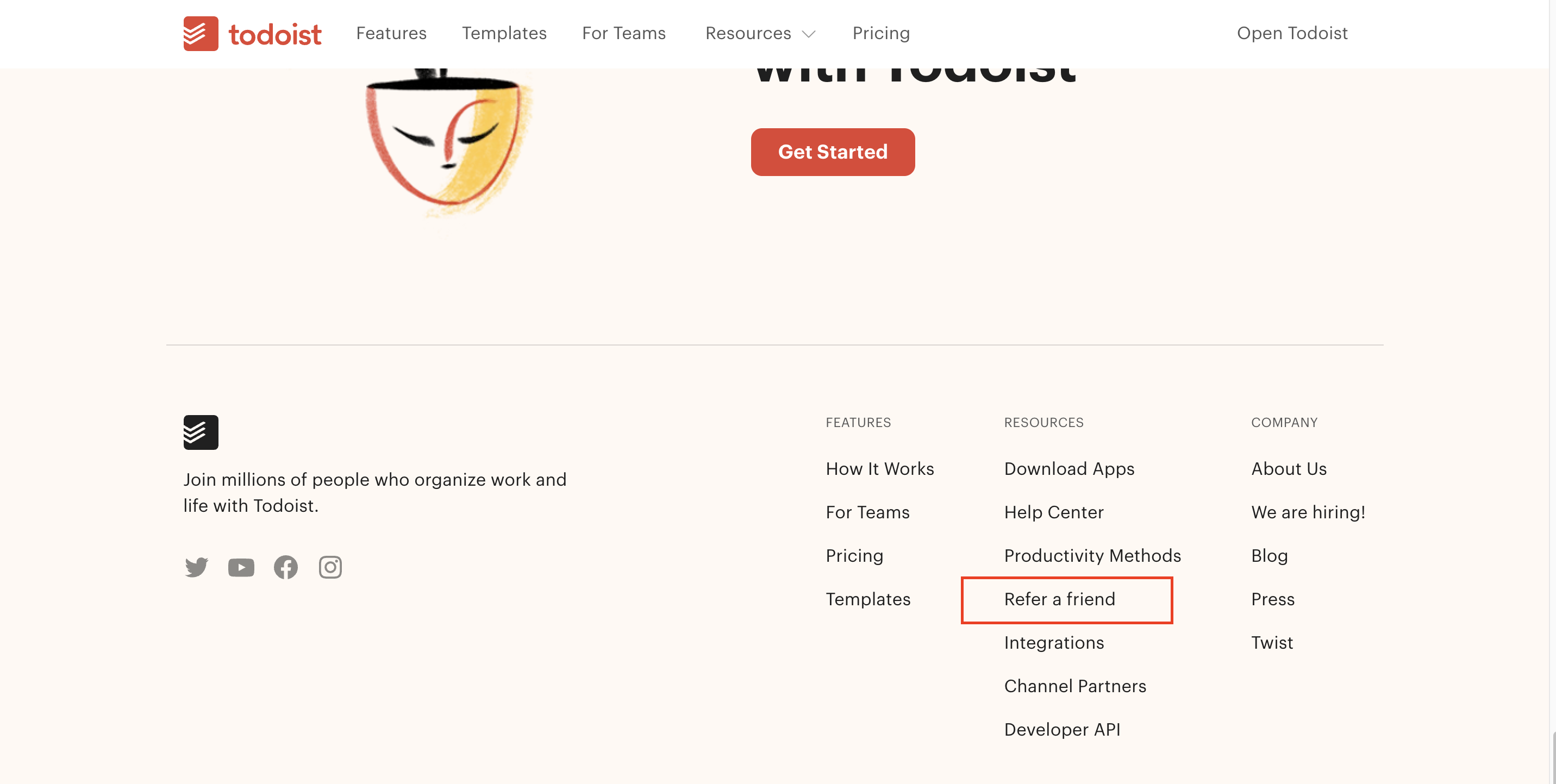 Clicking on that link takes visitors to the referral program's landing page that contains an easily sharable link – visitors only need to copy-paste the link and send it to whomever they wish.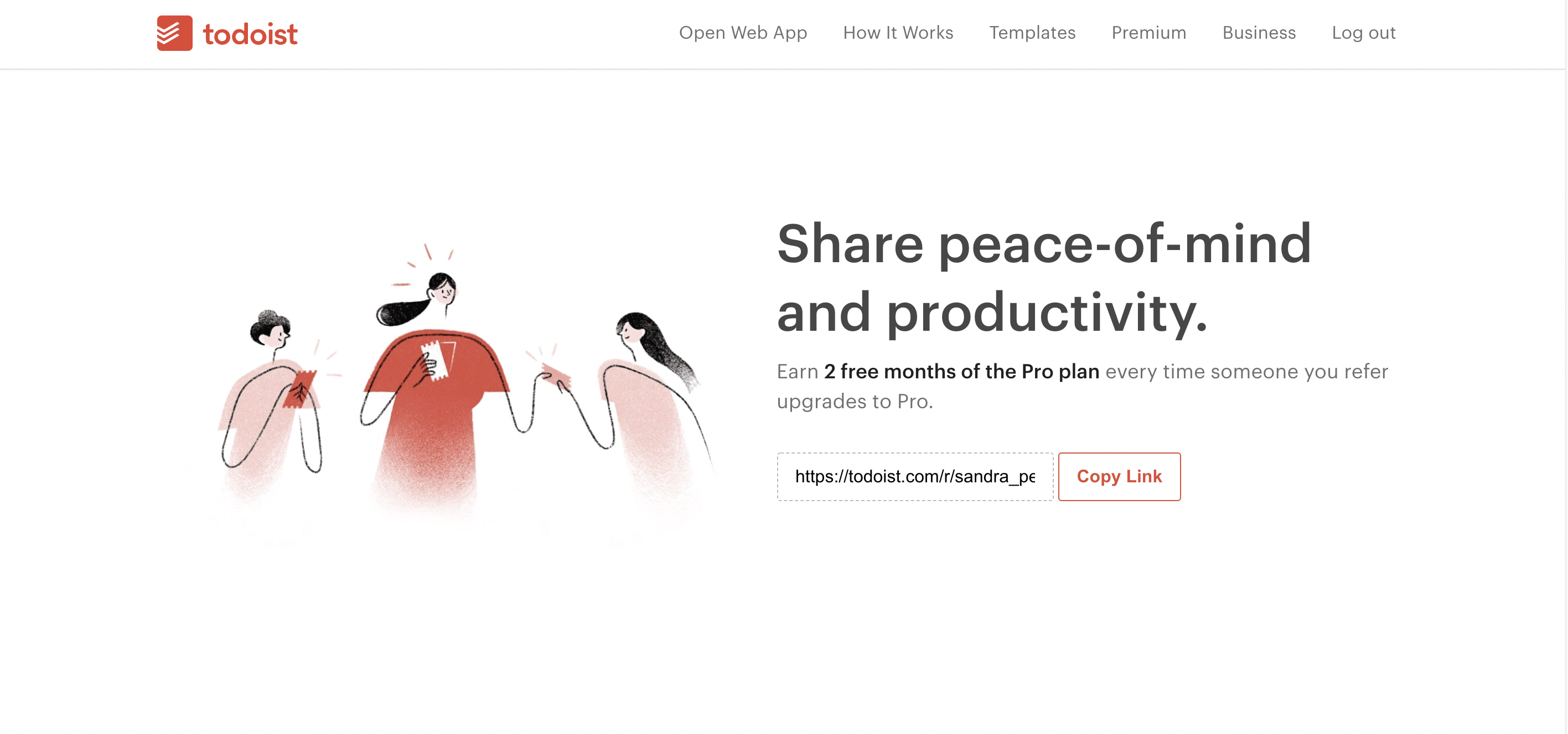 The landing page also contains a FAQ section that answers the most commonly asked questions by customers.
On top of that, when they rolled out the referral program in 2018, the company wrote a blog post that promoted this new feature.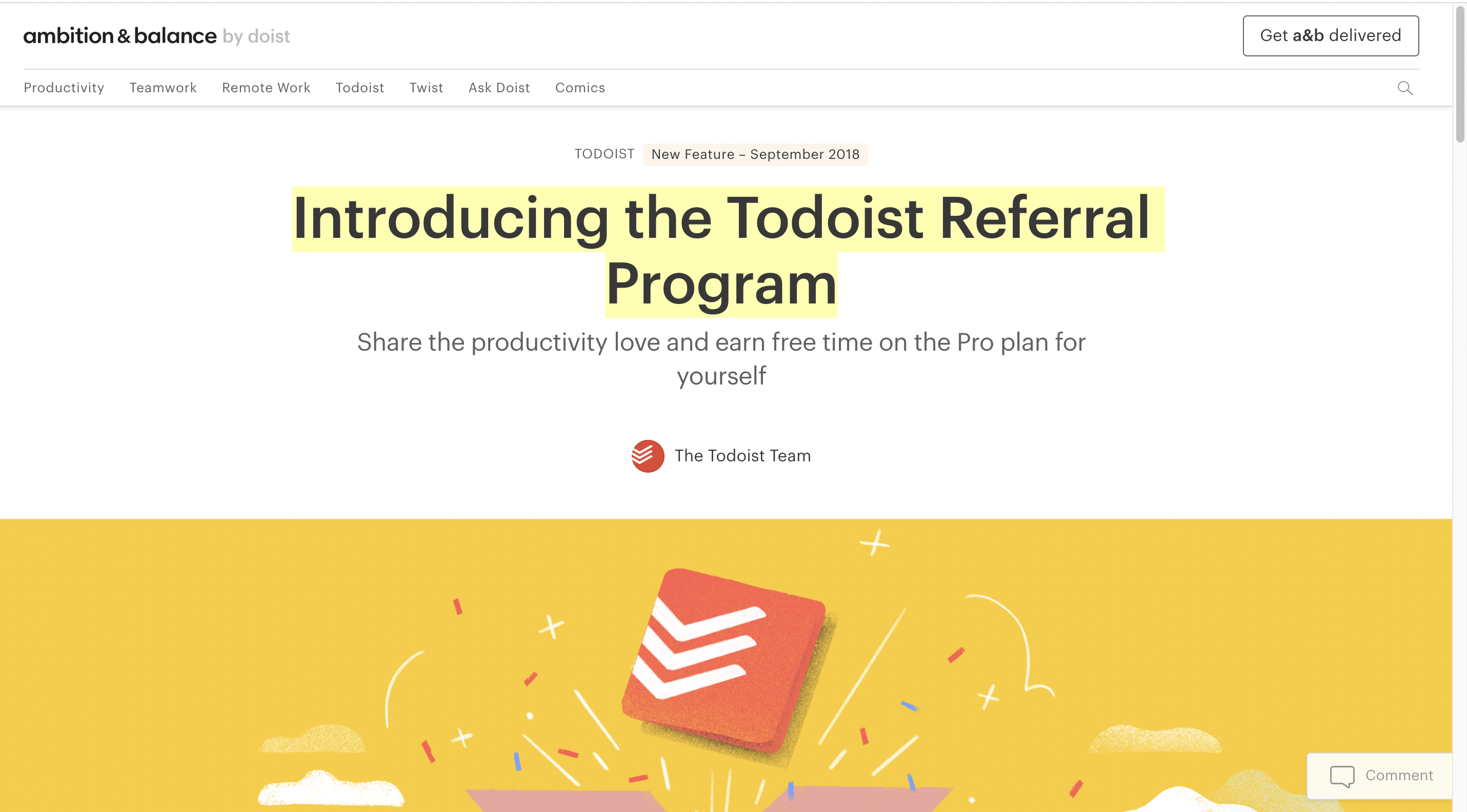 Another example comes from Coinbase. Their help center contains a FAQ section in which the company explains how the referral program works.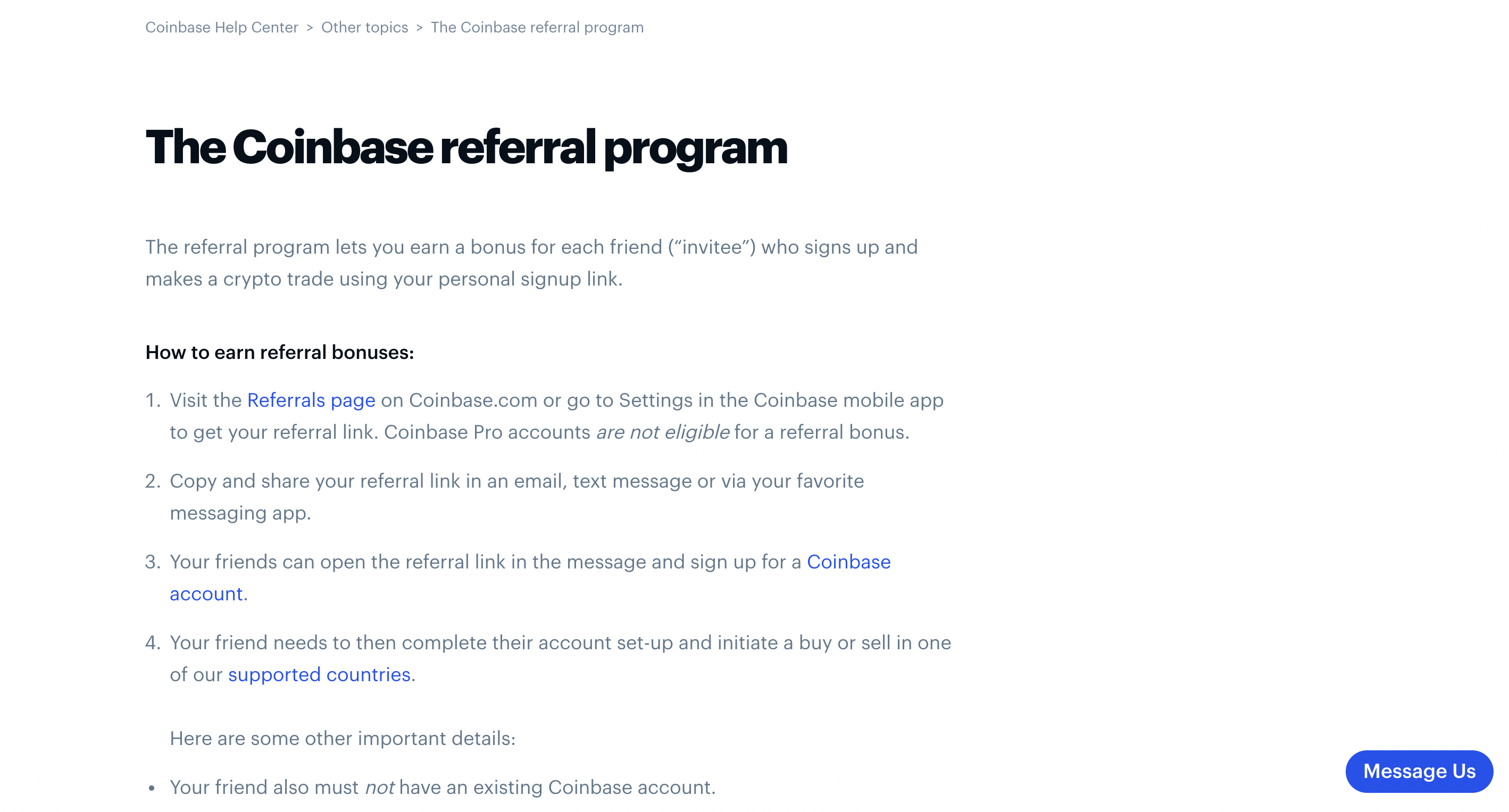 When a customer logs into their account, they can see a link to the program in their dashboard on the right.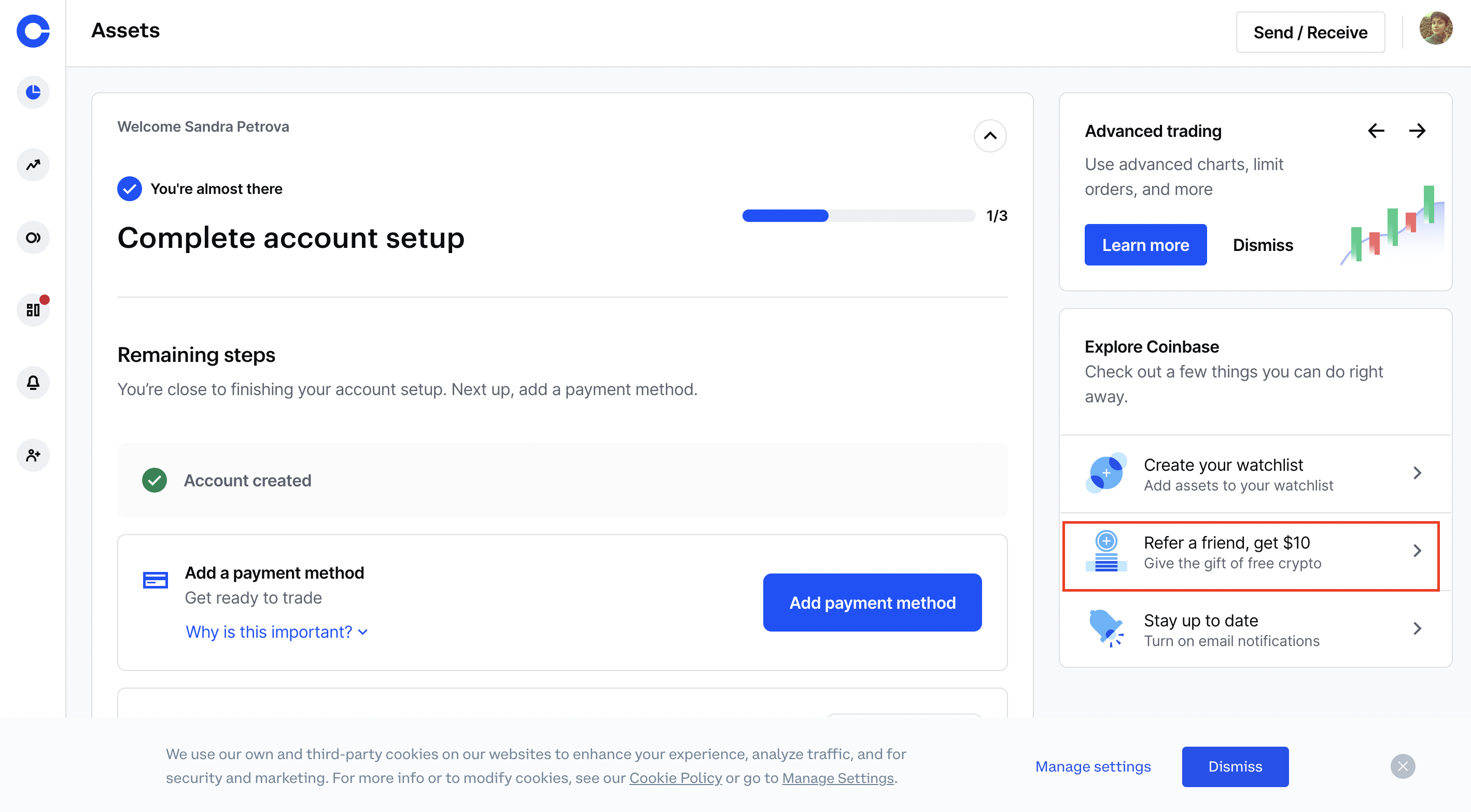 The link leads to a landing page that contains a customized sharing link that customers can send to their friends.
Alternatively, they can also share the link on social media or send a direct invite to their friend's inbox.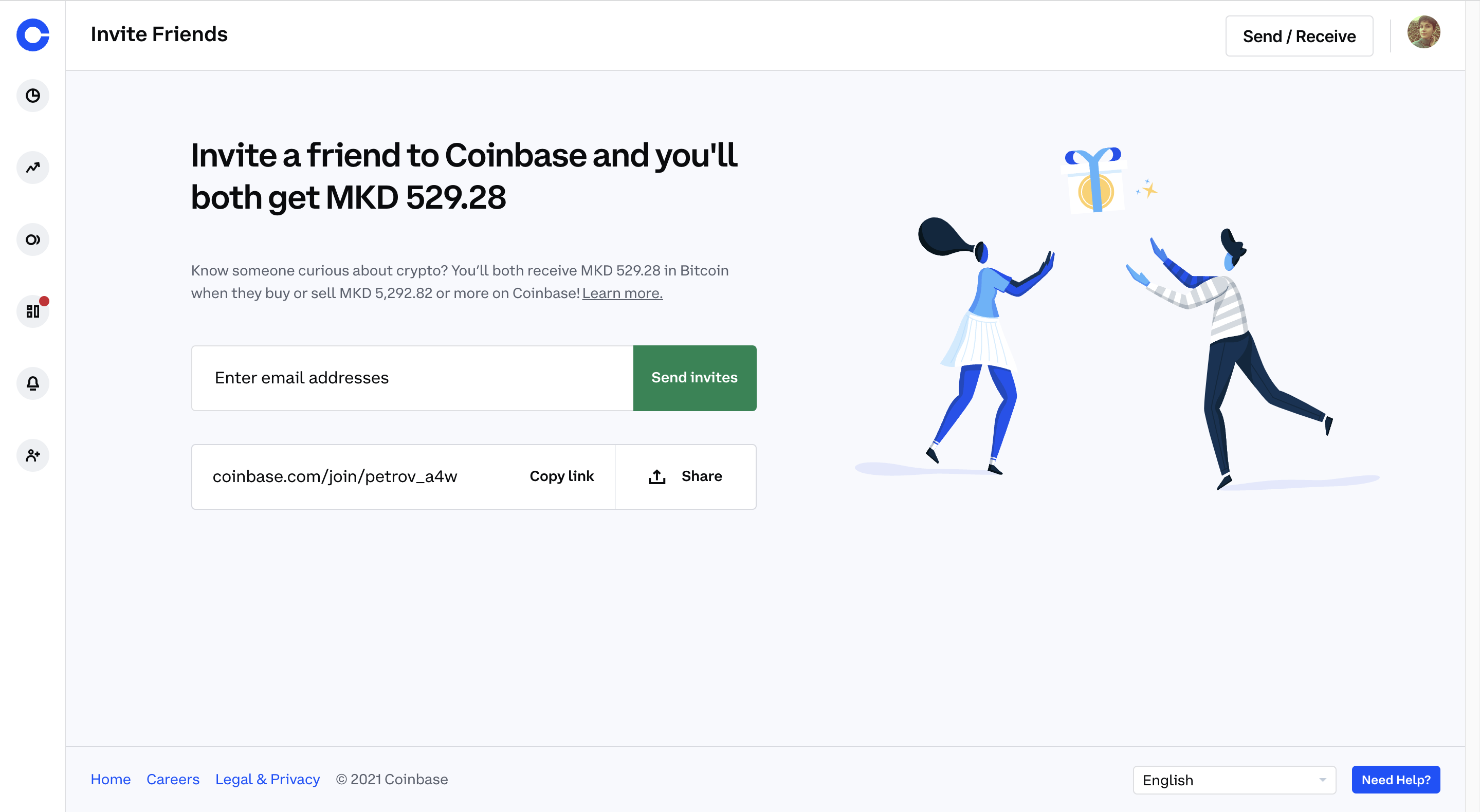 But that's not all! 
They also promote the referral program via email.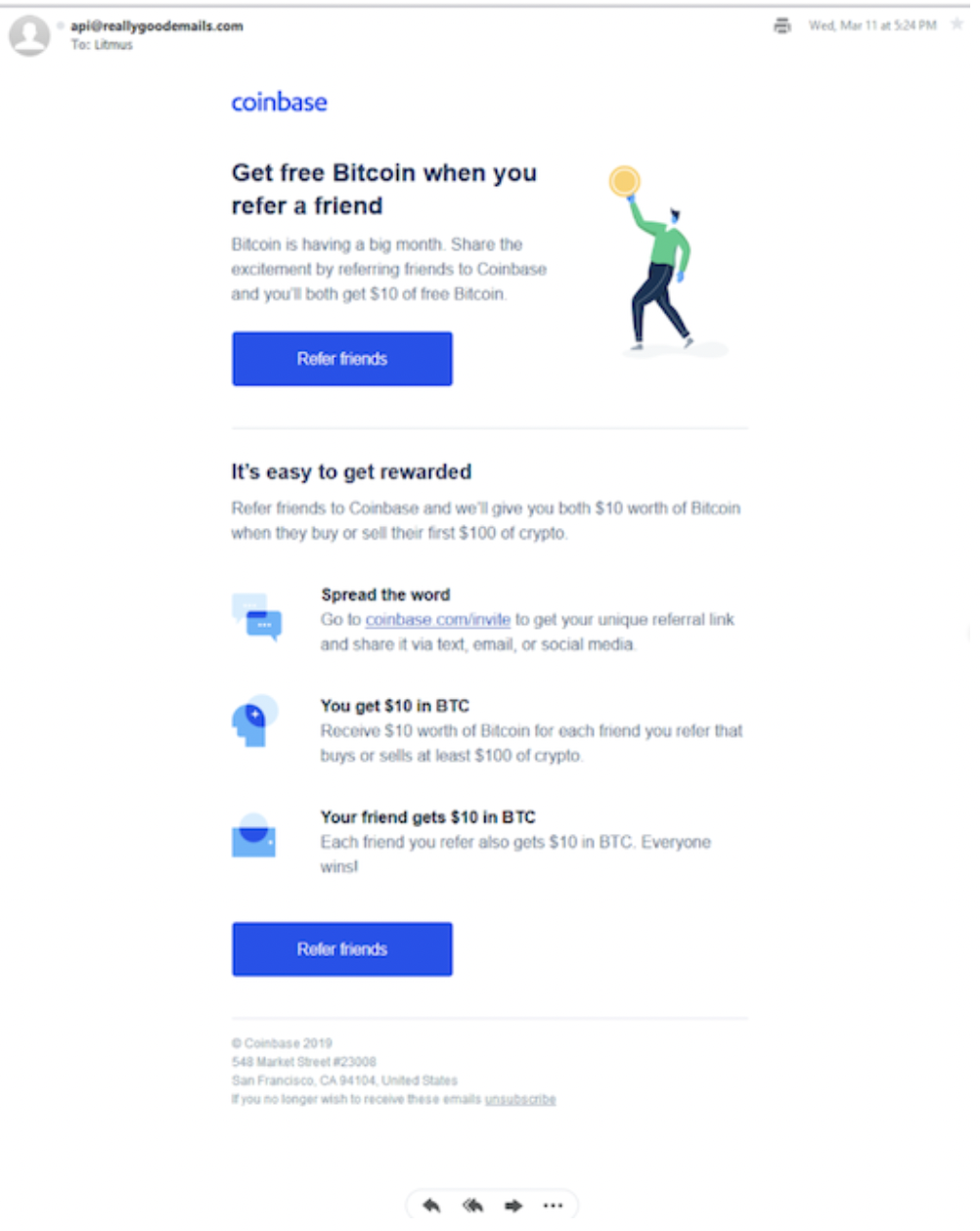 Key Takeaways
Companies like Amazon and Google have set high expectations when it comes to customer experience.
They've put the customer first, ensuring a positive, consistent, and seamless experience on each channel.
Other businesses must follow suit.
It's no longer about offering a great desktop experience, mobile experience, or tablet experience. Instead, it's all about taking the omnichannel approach to make sure customers have a first-class experience with your brand on every channel and across every device.
To sum up:
Omnichannel marketing is a strategy that uses multiple channels to create a cohesive customer experience.
The most notable benefits of an omnichannel marketing strategy are increased profits, brand consistency, and improved customer satisfaction.
When designing an omnichannel marketing strategy, businesses should first invest in knowing their customers.
Email marketing, live chat, great mobile experience, and seamless synchronization between devices and platforms are great omnichannel marketing tactics.
Omnichannel referral marketing makes it as seamless as possible for people to join and share your referral program.
The best strategies for omnichannel referral marketing include making the program visible on your site, social media promotion, and a referral program landing page.
Subscribe to GrowSurf
Get our weekly newsletter for our latest referral marketing guides.
Error subscribing! Please try again.