Image source: "Group of Person Sitting Indoors", by fauxels, licensed under Free to Use

Companies have traditionally focused on growth through sales and marketing optimization. Today, businesses of all sizes are increasing their focus on growth through partnerships to meet and exceed future growth goals.
A recent study by Forrester Consulting found that partnerships contribute an average of 28% of overall company revenue for high-maturity companies, while low-maturity companies receive about 18% of their revenue from partnerships.
But what is partner marketing? And why should your company invest time and resources into it? 
Keep reading to find out more about why and how you can make your business grow together with other businesses in your niche.
What Is Partner Marketing?
Partner marketing is a form of marketing in which businesses partner with other companies to promote and sell their products or services.
Partner marketing often involves various forms of jointly created content, such as promotional videos, webinars, or blogs. Partner marketing can take many forms, but in general, it is about two or more organizations coming together to help each other out.
Contrary to what some people believe, partner marketing is not just putting a partner's logo on your website. It's about how you tell your brand story and communicate your company's values with and to partners.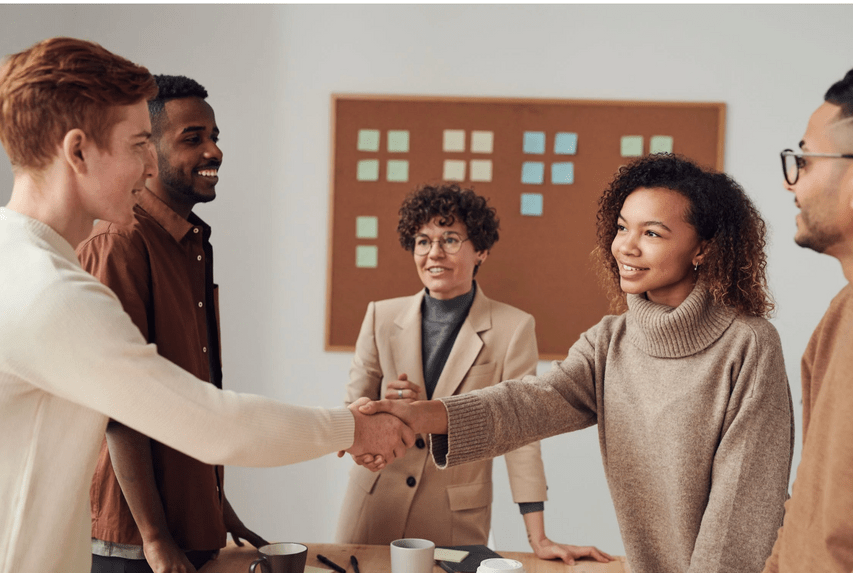 Image source: "Photo Of People Standing Near White Wall", by fauxels, licensed under Free to Use

The Main Types of Partner Marketing
Let's start with the basics before we dive into the best partner marketing strategies. The following section will look at the most common types of partner marketing.
There are three main categories of partner marketing types:
Channel partnerships: referral partners, agencies, affiliates, resellers, value-added resellers (VARs), indirect sellers, go-to-market (GTM) partners, and more.
Technology partnerships: integrations, marketplaces, app stores, plug-ins, add-ons, and extensions.
Strategic partnerships: joint ventures, industry alliances, and strategic alliances.
Channel partnerships are when other entities sell, manage, and/or deliver your product. They might act as advocates for your product or service and try to make a sale on your behalf. This type of partnership allows you to avoid employing more sales reps. Your channel partners are not without a benefit. They can earn money through referral fees, taking a percentage of the total sale, or selling their own services that complement your product. In fact, 95% of Microsoft's revenue flows through its partners.
Technology partnerships, on the other hand, are when two or more companies integrate their products or services with one another. Technology partners are sometimes called "integration partners." For example, Gmail and HubSpot have an integration that allows Gmail users to quickly log emails in HubSpot, use HubSpot templates in Gmail, and track opens.
Strategic partnerships are long-term agreements that align the efforts of two or more companies with a big-picture vision in mind. It can involve long-term product roadmapping and integrations, mutual advocacy and co-branding, financial investments, year-over-year campaigning, and more. Let's take the partnership between the e-signature platform SignEasy and Apple as an example. They've been partners since 2019. SignEasy even plans its product roadmap to align with Apple's iOS releases. The company does this to be the first to market with capabilities for the latest features on iOS devices.
How to Create an Effective Partner Marketing Strategy in 2022
Now that we discussed the most common types of marketing partnerships, here are the six best practices to ensure a successful partner marketing strategy. You can apply these best practices regardless of the type of partner programs you end up launching.  
#Start by Choosing the Right Partner 
When choosing which partners to work with, it's important to choose partners that will complement your brand rather than partners that can help boost sales. The goal is to create mutually beneficial relationships that will last over time.
There are a few key criteria to consider when finding the right partners. First, you want to partner with companies with products or services that align with your brand. For example, if you're a B2C SaaS company whose product is a ride-sharing app, a possible partnership would be with an app that offers driving directions based on live traffic updates.
Next, select partners with an established user base. You don't want to go with a company that's still early in its development and doesn't have an established user base. Make sure you do thorough research before you sign an agreement.
Finally, partners should be relevant to your target audience and profitable for your brand. With these three criteria in mind, finding the right partners should be easy!
Additional tip : Ensure the company is not your direct competitor and targets the same audience as you. Do your research ahead of time by reviewing the company's website in detail, reading online reviews and testimonials, or even talking to their clients, if possible.
#Start Small, and Then Work Your Way Up
There are different types of marketing partnerships, as we previously discussed. For instance, affiliate partnerships are simpler than strategic partnerships. If you're a newbie to the world of partner marketing, consider starting with a simpler partnership and moving up to a more involved agreement if the partnership yields positive results.
You can start by agreeing to co-promote or co-produce webinars, conduct a new piece of research together, or build do-follow links on relevant blog posts. As your partnership evolves, gradually work your way up to more involved agreements with them. For example, you might start recommending each other's products.
#Agree on the Terms Before Moving Forward 
Once you find the right partner, the next is to sign a partnership agreement. In short, a partnership agreement is a document that outlines the partnership terms and conditions. This document ensures both parties are aware of their responsibilities within the partner and the consequences if a partner strays from the agreed conditions.
A partnership agreement can contain the following elements:  
Mutual goals of you and your partner.
Incentives.
How you will promote each other's products.
Benefits and resources each partner brings to the table.
Responsibilities of each party.
The consequences if any party breaches the contract.
Another thing to note is that different types of marketing partnerships require different agreements. For example, a simpler partnership may contain fewer sections than, let's say, an integration partnership as it's way more complex.
Both you and your partner must sign the agreement before you can move forward with putting the partnership in motion.
#Determine the Goals of the Partnership and Define the KPIs
Another great partner marketing practice is determining the partnership's goals and defining the KPIs you'll be measuring to ensure the partnership is yielding results.
Does your company want to increase brand awareness, drive more sales, or increase customer retention? Once you know what you're trying to achieve, it'll become much easier to know that your company and your partner are a good fit.
Here's the thing:
Without measuring, you won't know if the partnership is a success and how much return of investment it provides.
Make your goals SMART: specific, measurable, attainable, relevant, and time-bound. For instance, some of your goals might be to:
Increase monthly revenue by X%.
Acquire X new customers in the (geographical area) per year.
#Track the Efficiency of Your Partnership
Now that you've identified your goals, it's time to think about how you will track your campaigns' success. This step involves setting up systems for tracking your campaigns and reporting outcomes.
Doing so will help you identify which leads come from which partners, particularly if you signed a lead-sharing or revenue-sharing agreement.
One way of tracking which leads come from which sources is by adding UTM parameters to your URLs. You can use tools like Google's Campaign URL Builder to generate a unique UTM parameter for each of your partners. Google can then tell you how many leads come from different URLs.
Investing in partner relationship software (PRM) is a good idea if you're managing several partnerships. This software is built to help you simplify the process of onboarding, monitoring, and managing relationships with your partners.
Here are some of the ways how a PRM software can assist you:
Tracking each sale associated with a partnership.
Automatically rewarding partners.
Automating repeated tasks.
Finding suitable partners
Communicating with partners via email, Slack, video calls, and social media.
Tracking and measuring the success of each partnership in real-time.
#Optimize Your Partnerships 
If a  partnership is delivering plenty of visitors that end up converting, this is a sign of a high-quality partnership that you should invest in in the future. If this is the case with one of your partners, consider refining the agreement where your partner will be rewarded for the value it brings your business. Optimize your partner mix, and ensure that a diversity of partnerships exist that contribute value throughout the customer journey.
Partner Marketing Examples to Inspire Your Next Partnership
There are thousands of excellent partner marketing examples we can share. But we'll keep it brief and mention three outstanding examples to inspire you.
Starbucks and Spotify's Music Partnership
In 2015, Spotify and Starbucks signed a partnership agreement to integrate Spotify's streaming with Starbucks' mobile loyalty program, My Starbucks Rewards. Through this initiative, Starbucks employees in the US could get a Spotify premium subscription, allowing them to curate playlists that would be played in Starbucks shops.
These playlists would be available through both the Starbucks and Spotify apps. Customers who purchased Spotify's streaming packages were eligible to earn more rewards points, which could be redeemed for free beverages.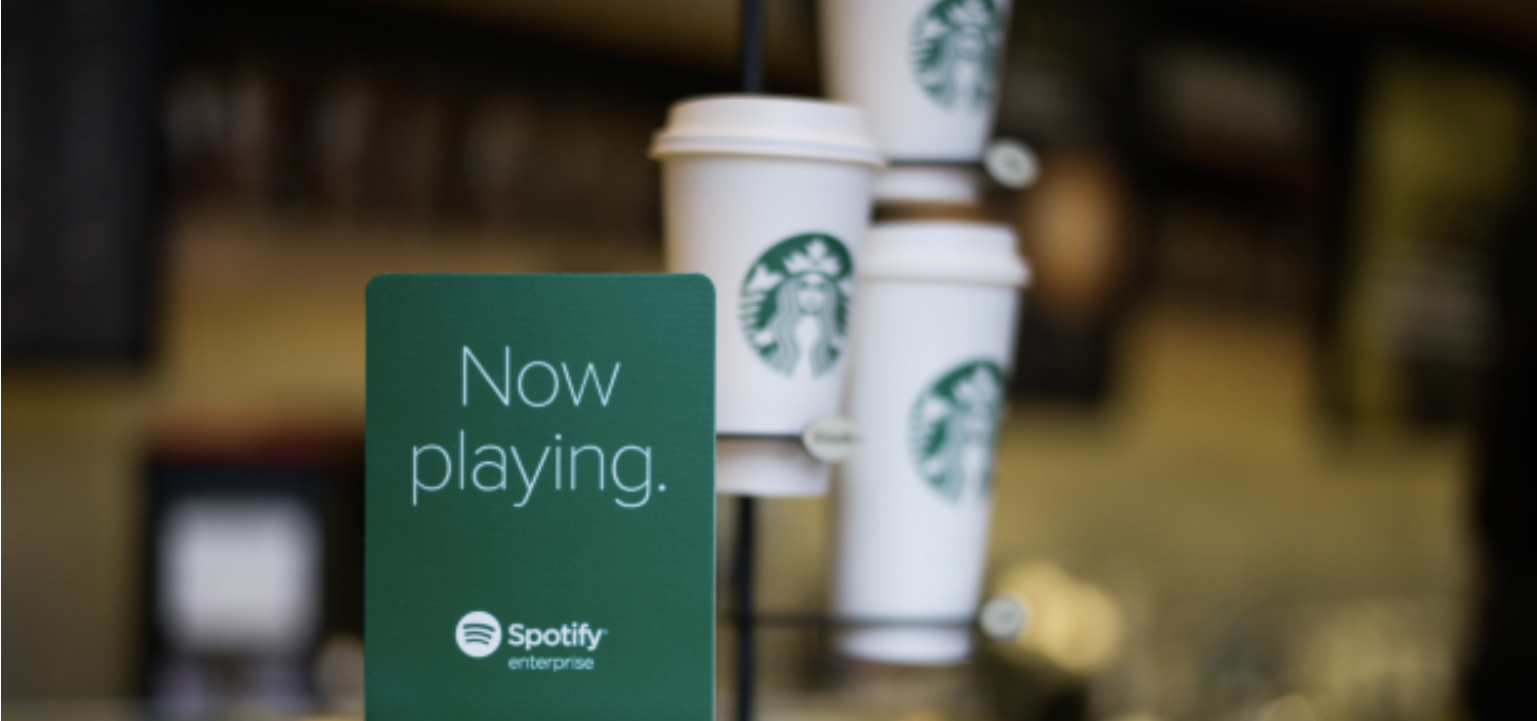 Image source: "Spotify For Business", by Techcrunch
Apple and MasterCard's Partnership: Apple Pay
In 2014, Apple announced Apple Pay which will enable MasterCard cardholders to use their iPhone and iWatch devices for everyday purchases. By partnering with MasterCard, Apple enabled secure transitions that allow consumers to use their cards when, where, and how they want, without physically having the card with them. With this, MasterCard became the first credit card company to allow users to store their credit and debit cards on Apple Pay. By 2016, Apple Pay had 67 million users, but that number rapidly grew to a massive 507 million users by 2020. Today, with a 43.9 % share, Apple Pay dominates the US mobile payment market.
Lyft and Google's Waze Partnership
In 2016, Lyft announced it would integrate with Google's Waze to pick up passengers faster than Uber. The partnership was done to compete with what was at the time the more popular and better financed Uber. Lyft integrated Waze's Transport SDK into its app, allowing drivers to update their routes in real-time to reduce traffic and improve routing. The end goal was to improve the efficiency of pick-ups and drop-offs. Drivers could switch back and forth between Lyft and Waze using a "Return to Lyft" button.

Image source: "TechCrunch", by TechCrunch
Conclusion 
Partner marketing is a too good growth tactic to ignore. Although you shouldn't expect ground-breaking results overnight, you can undoubtedly achieve faster growth, increased visibility, and grow your customer base by choosing the right partners and implementing the partnership in the right way. Partner marketing appears in different forms. The trick is to find the one that fits your particular business. Start small and then gradually work your way up to more involved partnerships. Agree on the terms before moving forward and determine the goals and KPIs you'll be tracking. Good luck!
Request a demo of GrowSurf
Set up your referral marketing program with software that lowers your customer acquisition cost and saves you gobs of time.