Image source: "Woman in White Long Sleeve Shirt Using Silver Laptop Computer", by Andrea Piacquadio, licensed under Free to Use

Could you do with some extra marketing buzz around your latest product launch, software release, or special promotions? Whatever the purpose, buzz marketing is one of the best ways to get people talking about your business.
Buzz marketing generates hype around your brand. Whether it's from launching new products, promoting special offers on existing products and services, hosting events with special guests, or anything else, the idea is to get everyone talking about you.
With social media platforms now central to marketing strategies, buzz marketing just got easier. Reports indicate there are now over 4.5 billion social media users in the world; that's more than half the global population. This means there's huge potential for word to spread quicker and further than ever before.
Not only this, social media platforms are accessible to both small and large businesses alike, meaning buzz marketing can be performed by any business, no matter the size.
Understanding where to start may feel overwhelming, but it simply requires good planning and know-how. That's why we've put together this guide that gives you three effective tips to ace buzz marketing.
What Exactly Is Buzz Marketing? 
Buzz marketing is a viral marketing technique that maximizes the word-of-mouth potential of your brand's products, services, and more.
Buzz marketing gets consumers, influencers, and marketers talking about your brand, either in conversations between friends and family or across a wider audience on social media platforms. Essentially, buzz marketing is word-of-mouth in the digital age.
When executed correctly, this  marketing strategy has the potential to increase website traffic, follower counts, and ultimately, leads and conversions. These results won't come instantly, but with patience and effort, you'll reach your marketing goals.  
Why Is Buzz Marketing Important for Your Business? 
Image source: "white printing paper with Marketing Strategy text photo", by Campaign Creators, licensed under Free to Use

Buzz marketing puts a spotlight on your business and encourages hype to spread amongst your potential customers. This should be a top priority, and the hope is that the hype created by your marketing efforts will increase leads and conversions.
It doesn't matter what type of business you are; you could be a sports brand promoting a new line of gym gear, or a cloud-based provider releasing new stock management software. The point is this: buzz marketing is a viable marketing strategy for all.  
Here are three reasons the excitement created by this marketing technique is important for your business:
Content Across Multiple Channels
Most marketing efforts focus on single channels and miss the opportunity for expansion across multiple channels.
For example, marketers may choose to focus on email marketing in one campaign, but the problem is this neglects other common touchpoints where leads can be generated. With buzz marketing, you can put out a single piece of content across multiple channels simultaneously to generate word-of-mouth.
It's all good having a solid email marketing piece, but why stop there? The digital age we live in gives us multiple options when it comes to advertising. So, spread the buzz further by releasing it across your socials, on your website, and anywhere else it will get seen.
In 2023 and beyond, failing to exist across multiple channels might as well mean not existing at all. Don't waste the opportunity to get your brand out there across all the available channels.
FOMO
The fear of missing out (FOMO) is a universal feeling that derives from a fear of being left out while everyone else is in the know.
Buzz marketing utilizes FOMO to panic people into action. As more and more join the hype and become involved and engaged in the conversation, the bigger the buzz becomes. Many would rather make an impulsive purchase driven by the hype over completely missing out, so use buzz marketing to take advantage of this.
There are several FOMO marketing techniques that can increase a prospect's fear of missing out and spark a reaction. Some of these include: 
Techniques like those above will leave your prospective customers feeling like they're missing out by not buying your products or services.
Baader-Meinhof Phenomenon
Have you ever come across a word or song for the first time but then suddenly kept coming across it? This is known as the Baader-Meinhof phenomenon.
For example, perhaps an IT trainee hears about exploratory testing techniques for the first time. Next thing they know, it pops up everywhere. They notice blog posts titled, "what is test automation" and adverts for hiring new software testers, and on YouTube, they come across videos like, "how to become a self-taught software tester."
Also known as frequency illusion, this effect can be evoked from buzz marketing. The more a consumer hears about your brand and becomes aware of it, the more they will notice it in their day-to-day lives. Eventually, the brand becomes embedded into their minds, making them more likely to seek out your brand and, hopefully, make a purchase.
In essence, you're making it as easy as possible for the consumer to make a purchase by ensuring they're constantly surrounded by the buzz of your brand.  Next time your customer needs one of your products or services, the idea is that they'll be instantly drawn to your brand thanks to your marketing efforts and the resulting Baader-Meinhof phenomenon.
To maximize awareness of your brand, get your whole workforce onboard and transform your employees into brand ambassadors. What better way to maintain the buzz? Brand ambassadors will keep your business at the tip of the tongue and fresh in people's minds.
3 Effective Tips to Ace Buzz Marketing
Now that we've explored what buzz marketing is and why it's important, it's time to look at three effective tips you can use to ace buzz marketing for yourself.
Remember, it pays to get this right, as the rewards of word-of-mouth marketing are potentially huge. Testament to the power of referrals comes from the fact that 93% of people trust their family and friends about brand recommendations.
Think of buzz marketing as a snowball rolling down a snow-covered hill. The further it travels, the bigger it gets. Your job is to get that snowball rolling so that the buzz can grow.
Identify Your Ideal Customer and Find the Social Channels They Use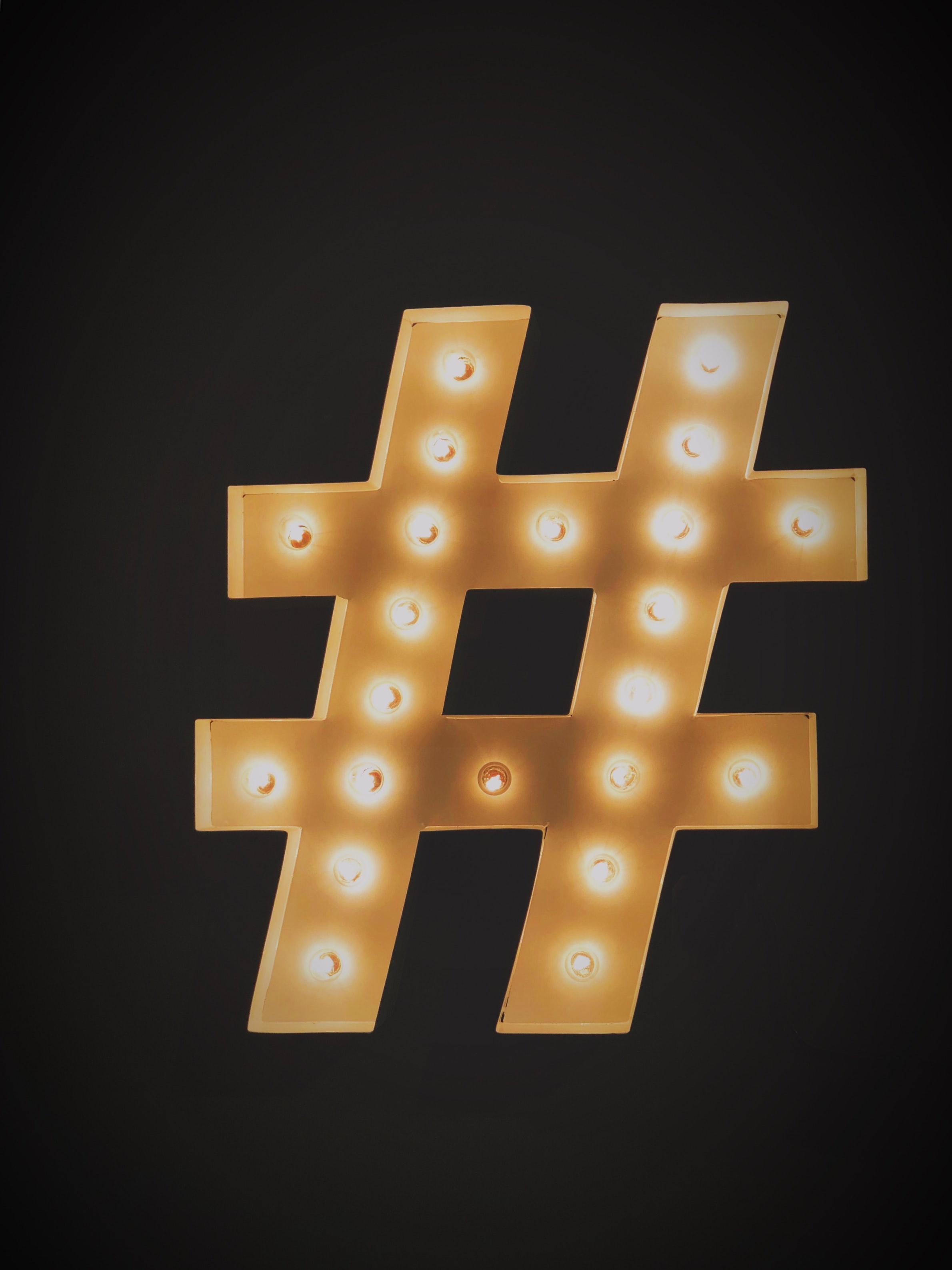 Image source: "number sign photo", by Jon Tyson, licensed under Free to Use

Before you can create effective marketing that generates a buzz, you need to know who exactly your ideal customer is and where they spend their time. Failing to do this could see your efforts wasted from the start.
Some things to consider when creating an ideal customer persona include: 
Once you've started filling in answers to these questions, you'll have a much greater idea of who your ideal customer is and where you can find them.
For example, a business selling a new portable speaker may find their ideal customer is between 18-25; they're usually students or hold junior work positions and still spend much of their time in leisurely activities. This group may be more likely to frequent TikTok and Instagram and like brands that have a cool image and popular name.
On the other hand, if you're offering training for software developers who are older professionals, you may want to focus on platforms like LinkedIn or Twitter. These platforms are also great for starting a hashtag to get people talking about your services. Hashtags can also be searched, which is great for added exposure. In this case, you could add hashtags like 'what is ci' or 'Best SaaS landing pages' to reach out to the right people.
Bonus, a marketing strategy that uses hashtags allows you to easily collect measurable feedback data afterward.
Get Influencers on Board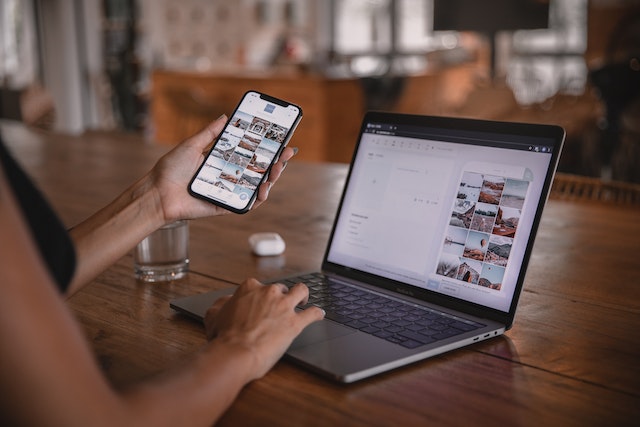 Image source: "Woman Using Smartphone and Laptop", by Plann, licensed under Free to Use

Influencers are an integral part of social media platforms today. Asking them to get on board with your brand could be the best way to generate a buzz and spark interest.
The marketing power of influencers is the reason why 75% of brand marketers have a budget for influencer marketing in 2022. People pay attention to influencers, especially the younger generations, and that's what makes them perfect for buzz marketing. They're called influencers for a reason.
After identifying the social media platforms frequented by your target audience, it's time to find influencers who can promote your brand.
Some key considerations when looking for influencers include: 
Don't simply target popular influencers because of a high follower count. You need to make sure they're right for your brand and intended audience. You wouldn't want a hair and beauty influencer for first-party data mobile app marketing.  
Once you've located some potential influencers, you'll need to weigh up the best options for your budget and content needs. From here, you can begin reaching out to the influencers that can help with your buzz marketing strategy.
Obtaining the help of influencers could be huge for your business. For this reason, it should be one of your top priorities, so make sure to follow the above advice to give you the best chance of landing the perfect influencers for your brand.
Spark Some Controversy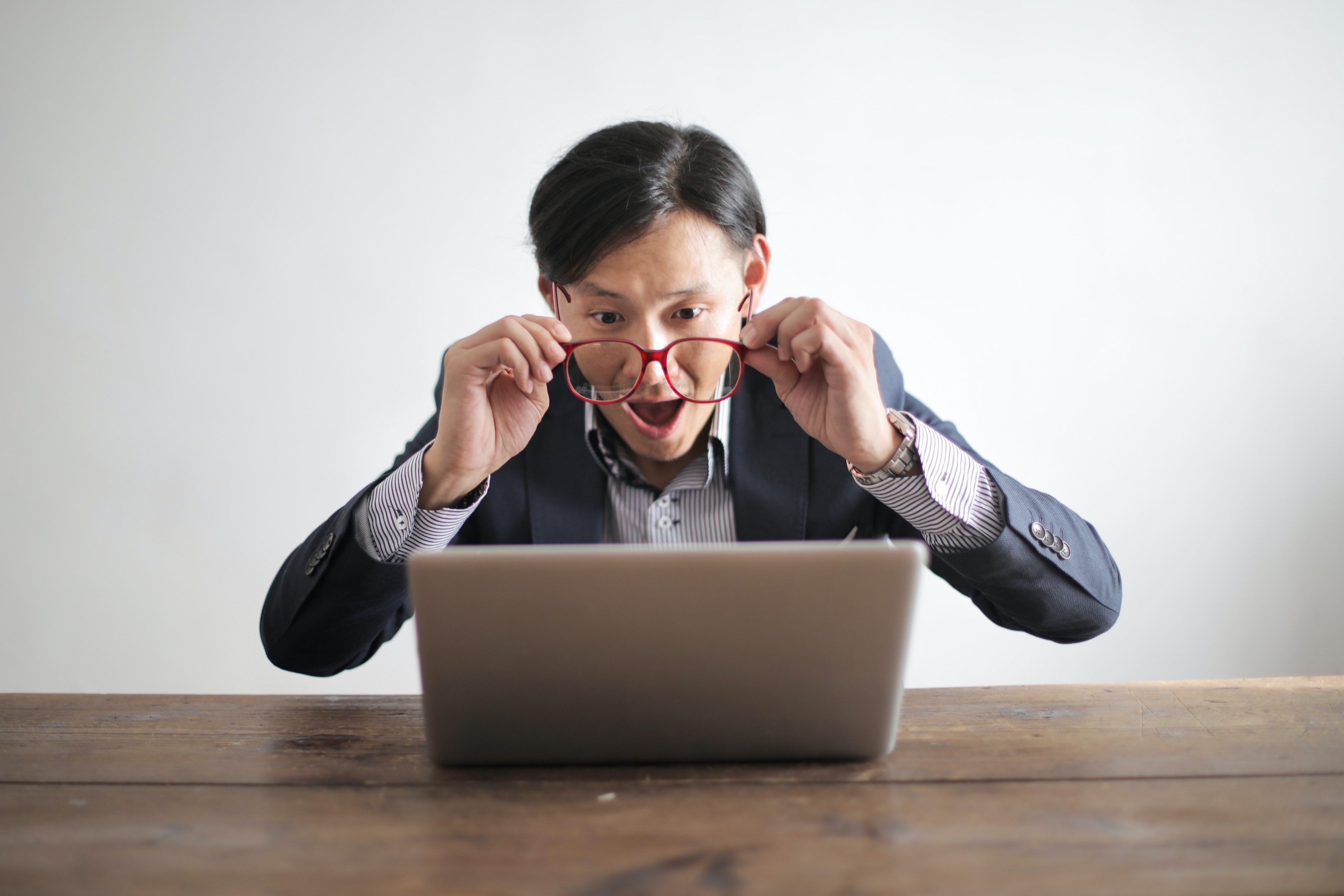 Image source: "Amazed formal male looking at laptop screen", by Andrea Piacquadio, licensed under Free to Use

Yes, you read that right. People love to talk about controversial topics and stories, which makes controversy a great way to get the word spreading fast.
Of course, an element of care must be taken when producing content of this kind. There's a fine line between generating a healthy debate and overstepping the mark.
A good technique is to inject some gentle humor into your content. For example, perhaps a company for helping new businesses has written a business guide on key principles that will accelerate innovation. Suddenly, a key rival pops up with a similar guide that looks just like yours. They even take it further by offering a discount on their latest training course.
How can you shift the tide back in your favor? You could poke some gentle fun at them with content that refers to their copycat behavior. You could ask users on socials whether they consider their material to be 'innovative' at all.
Remember to conduct thorough research before sparking any controversy. Today's savvy social media users will shoot you down if they find a lack of evidence or disagree with you.
Also, make sure you monitor any comment sections and remove anything that could be offensive or false. Comment sections have become a breeding ground for negativity and misinformation, so failing to monitor them could be catastrophic.
By keeping on top of this, you'll be able to spark some gentle controversy without the fear of an unwelcome backlash from your intended audience.
Final Thought
Buzz marketing is a must-have for businesses in 2023. Creating a buzz and allowing consumers to jump on the bandwagon is a great way to boost awareness, engagement, and generate leads. It's also a great way to win back lost customers.
The affordances of the digital era we live in have made it easier than ever to spread the word across multiple channels all at once. The added benefit of popular influencers means there's never been a better time to supply your target audience with enjoyable content that leads back to your business.  
Hopefully, this guide has enhanced your knowledge of this marketing technique and given you some pointers to consider when you implement it in your next marketing campaign. Good luck starting your new buzz marketing campaign today.
Request a demo of GrowSurf
Set up your referral marketing program with software that lowers your customer acquisition cost and saves you gobs of time.