Marketing Strategies for Online Insurance Companies
Millennials and Gen Z are changing the game for online insurance companies.
It's estimated that 71% of millennials regularly shop online via their smartphones. Around 32% of Gen Z transactions happen on a mobile device.
As older Millennials are heading into their peak earning years, they are starting families, buying homes, and making more complex buying decisions.  
It doesn't come as a surprise that Millennials are more likely than older generations to buy insurance online. They would never walk into a bank if they could finish the job online. You'll rarely see them working with an insurance agency in person instead of simply going online.
What's more, 41% of consumers say they will likely switch their insurance companies in favor of a more digitized one.
This opened a world of opportunity for InsurTech startups that offer more digitalized solutions to consumers than legacy insurance companies. In fact, InsurTech startups' funding hit a record high in 2020 at $7.12 billion.
The competition is fierce. In order to get new leads and ultimately new customers, tech-enabled insurance providers and InsurTech companies must come up with more innovative lead generation tactics to drive more conversions.
In the next chapter, we'll explore 12 insurance marketing strategies you can try today and have leads pour into your business in the long term.
12 Insurance Lead Generation Tactics You Can Try Today
Here's the deal:
Cold calling and TV ads won't convince tech-savvy individuals to purchase insurance. Most insurance consumers start their journey online, and this is where you should focus your marketing efforts.
Let's break down some of the most effective insurance marketing strategies so you can optimize your efforts to attract more leads and turn them into prospects.
Produce SEO-Friendly Blog Content
Blog content is still king when it comes to lead magnets that bring traffic to your site and motivate visitors to leave their contact details.
In order to get more people to read your blog, you must optimize it for SEO, which means optimizing the content to make it organically rank and easily searchable.
The end goal should be to position yourself as a reliable and trusted source of information in the online insurance industry. This requires publishing regular and unique content in your niche that will educate and inform your target audience.
By positioning yourself as an authority in the field, visitors will be more likely to become loyal customers.
Once you start driving traffic to your blog, you must ensure that your site offers an incredible customer journey. This means that customers should easily navigate the site and find the right information that will help them advance along the purchasing path.
Here's how Coya manages its blog: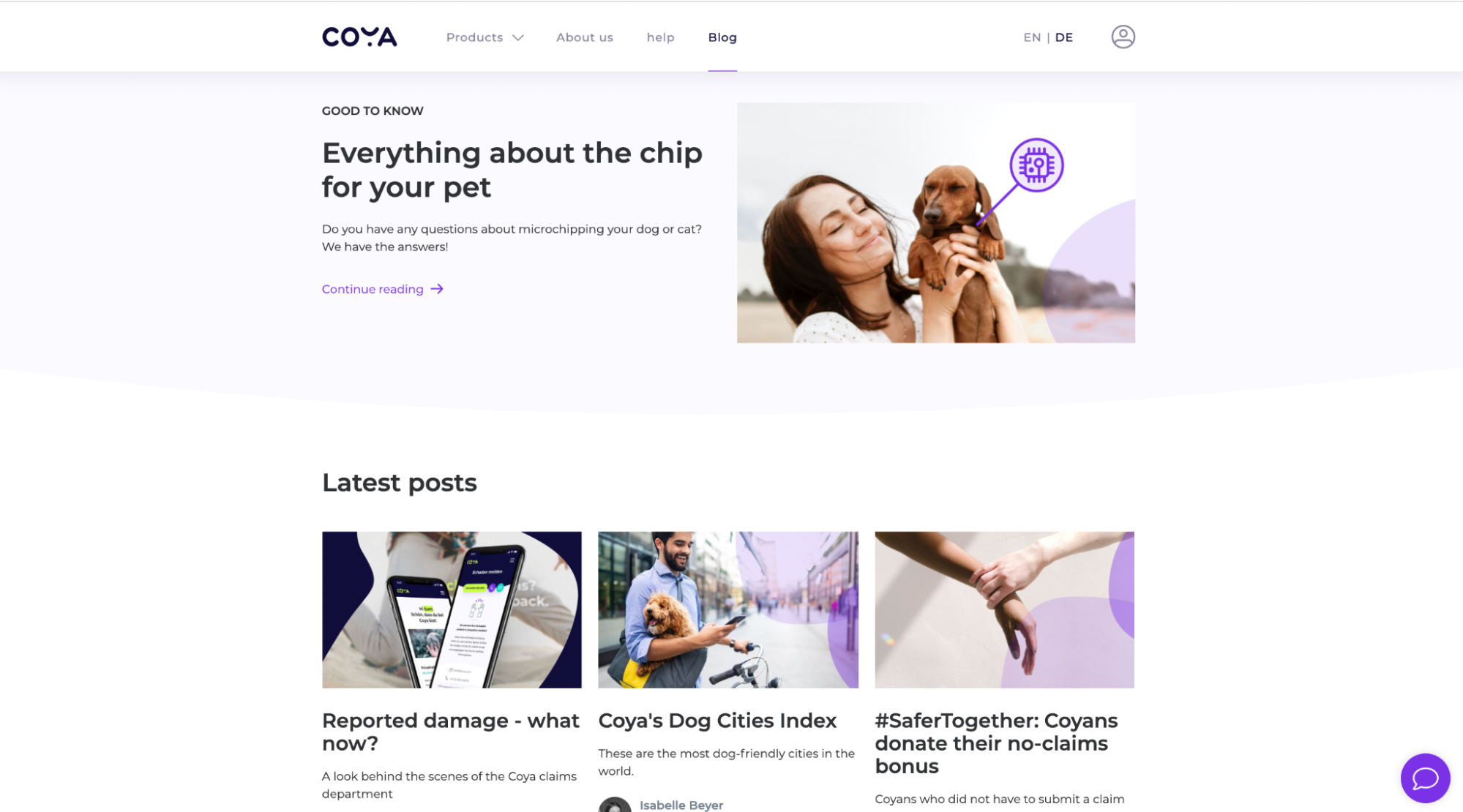 Publish Case Studies
Case studies are a common insurance lead generation strategy that can bring your business a bunch of new leads.
So, if you have a client that you worked with and helped them reach their goals, tell your client's story in a nicely packed case study. Keep in mind that you need your client's permission in order to include their story in your case study.
Once you get their approval and write the content, gate the content behind a form that visitors must fill out with their contact information in order to get access.
These high-intent leads are exactly what your business needs. Simply add their info to your CRM system to nurture them through the buyer journey.
Invest in Email Marketing
With the staggering cost of advertising via PPC or on social media, email marketing provides a cost-effective way to reach your target audience and increase your leads list.
Get this: 
For every $1 you spend, you can expect a return on your investment of $51!
What's more, the average email open rate across all industries is 18%.
Investing in email marketing in order to get more leads seems like a no-brainer.
Here's something equally interesting: Emails with personalized subject lines are 26% more likely to be opened!
With this in mind, consider collecting your visitors' email addresses by adding an email form on your blog, landing pages, social media, or anywhere else.
Once you grow a sizable email list, it's time to create email campaigns where you'll target your leads by:
sending them welcome emails
sharing discounts
promoting your most popular content
informing subscribers on some important company news
Here's how Lemonade collects its visitors' email addresses:

Launch a Referral Program
Email marketing, gated content, and PPC advertising probably come to mind when you think about insurance lead generation.
But did you know that referral programs are a goldmine for generating leads?
That's right! 
Existing customers can be your best brand advocates. Studies show that referral marketing can increase conversion rates by up to 70%. They help you foster relationships with customers and motivate word-of-mouth. Even better, referred customers have a 37% higher retention rate than non-referred customers.
The trick to managing effective referral programs is choosing the right referral software for your business. A software like Growsurf will track every step of your customer referral program, from shares and clicks to successful conversions.
You can offer a reward that makes sense for your online insurance business, such as cash rewards, discounts, branded swag, account credits, etc.
Even better if you offer two-sided rewards, in which case both your referring clients and new leads get something.
One example of how referral programs can help online insurance companies is Emma Life Insurance. Before automating its referral program with Growsurf, the company had to spend $10,000 to $20,000 for a custom-coded referral program. Growsurf helped them lower the costs of running a referral program, and referrals now make up 5% of their sales.

Join us for an on-demand webinar
A demo showing how GrowSurf works with helpful referral program best practices for success and more!
Host Educational Webinars
Hosting an educational webinar, whether live or pre-recorded, can be a great way to showcase your expertise and reach an audience that would not have otherwise been accessible.
Webinars offer a valuable learning experience for your attendees while also providing you valuable information about your target market.
And they're a great opportunity to offer interesting content in exchange for people's contact information.
For example, you can host a webinar where you'll get attendees up to speed about your services and the benefits associated with them.
Alternatively, you can also discuss a relevant topic related to insurance that can educate attendees on critical topics such as choosing the best insurance policy or the importance of life insurance.
PPC Advertising
PPC ads are one of the most effective insurance marketing strategies. The best thing is there are many platforms to choose from to run your ads, including:
Google Ads
Microsoft Ads
Facebook Ads
Twitter Ads
Linkedin Ads
Instagram Ads
Youtube Ads
AdRoll
Even better, you can optimize the ads to target a specific location and demographic that is more likely to convert.
If we do a quick Google search for online life insurance new york, this is what comes up: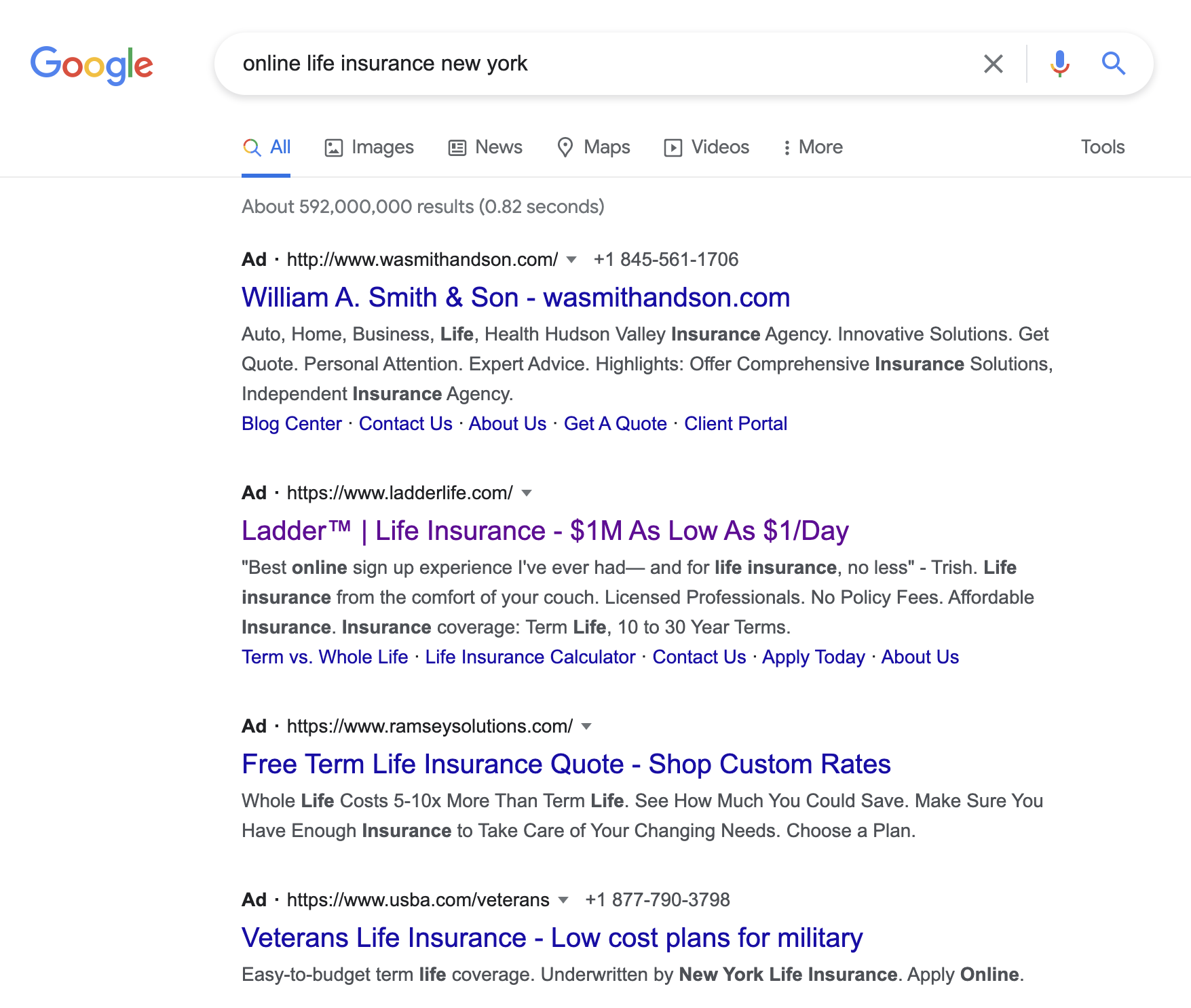 The companies that you see that appear first in search results as ads are the ones that have invested in PPC on the abovementioned keyword. The trick is to choose the keywords you want to rank for and invest in effective copywriting to entice people to click on the ad. Otherwise, you'll end with a hefty invoice and no relevant leads.
Online Chats/Help Center
Customers of the 21st century want to communicate with businesses as they do with their friends—quickly and effortlessly. And what a better way to chat with a business than through online chat.
And according to experts, by 2022, 70% of all customer interactions will involve tools like chatbots, machine learning, and mobile messaging.
If we look at real numbers, they tell us that chat landing pages convert 3 to 4 times better than traditional landing pages.
An alternative to online chats is help centers which are great for customers finding quick answers to their questions and solutions to their problems.
Simply add chat/help center functionality to your site and start collecting information. In most cases, people enter their contact information before they get connected to an agent. You can then segment your leads using CRM software and retarget potential customers through email marketing.
Here's an example from Goose: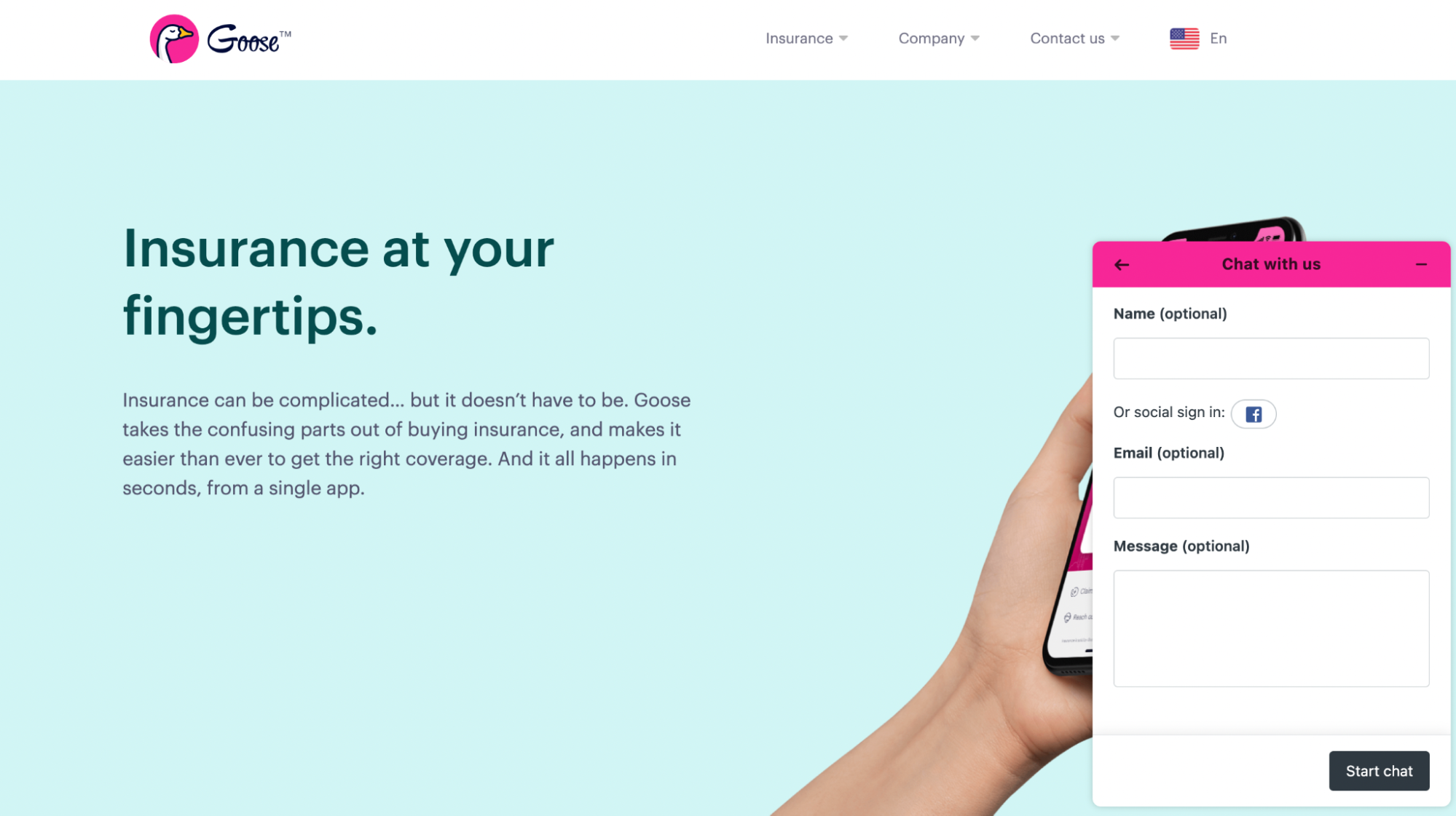 Advertise on Relevant Podcasts
The podcast industry is booming.
According to Statista, 57% of US consumers listened to audio podcasts in 2021. On average, podcast fans listen to 8 podcasts during the course of a week.
No wonder podcasts are in high demand by advertisers looking to up their insurance lead generation game. Podcast ads, or sponsor messages, are brief announcements that promote or sell products or services. They're usually read by the host of the show and last no more than 30 seconds each.
But how the heck do you know which podcasts your target audience is listening to?
The trick is to find a podcast series that relates to your industry or niche. This is an effective strategy as listeners who are listening to a topic related to your industry might have a need for your services or have a pain point that needs to be solved.
For instance, let's say that you place an ad about your online insurance company on a podcast that discusses the topic of preparing to have a child. As new parents want to provide their child with protection in case the worst happens, listeners might be interested to hear about whole life insurance packages.
Offer Free Custom Quotes
Free quotes are a great way to entice visitors to leave their contact details on your website. It's a two-sided reward: the visitor gets a clear cost for the product/service, and you get their contact information that you can use in your marketing efforts. What's more, when a customer asks for a quote, it means they're seriously considering doing business with you.
Here's how Root Insurance does it: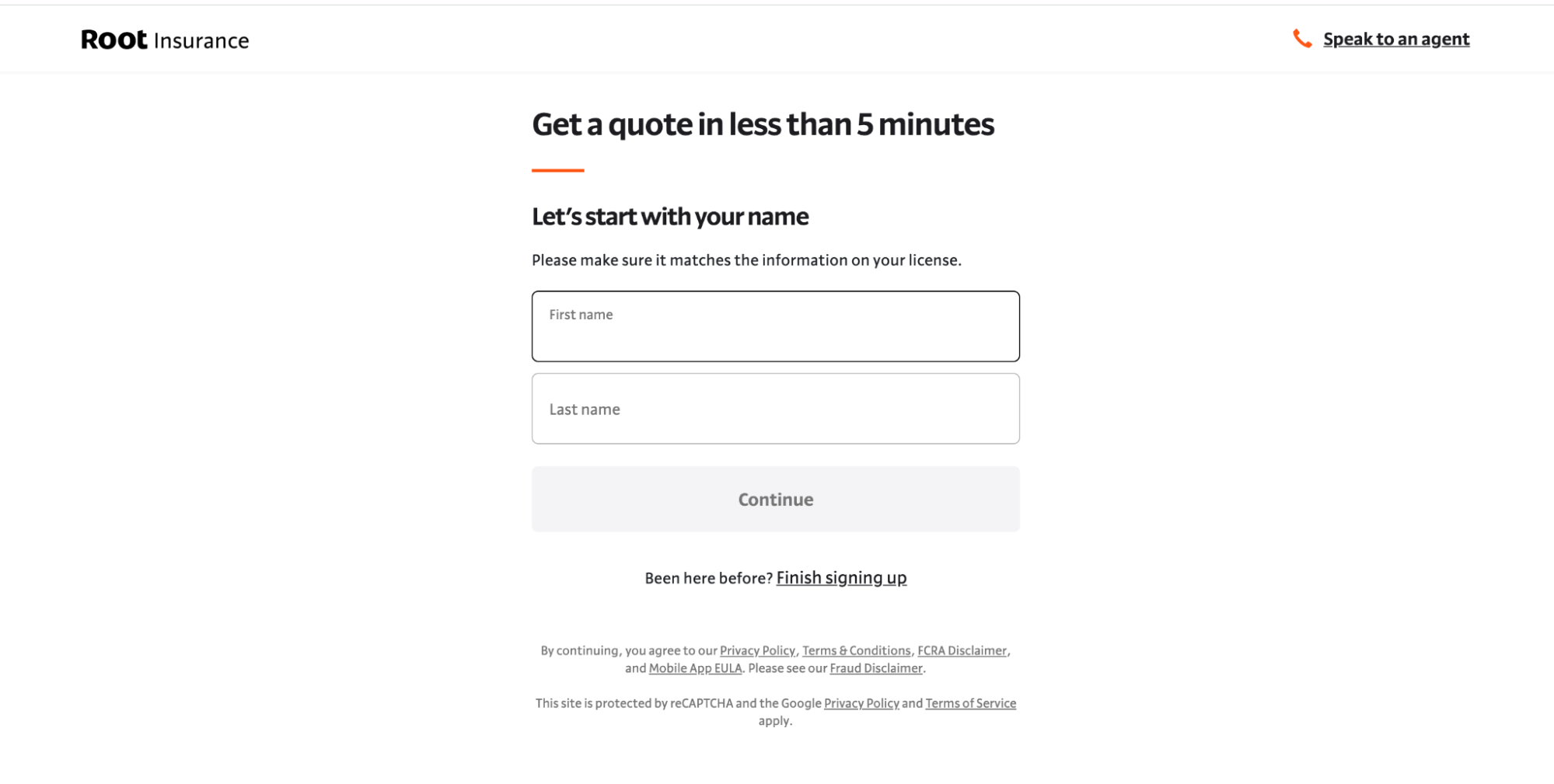 Invest in Reviews
Get this:
92% of customers read online reviews before buying, while 72% say positive testimonials and reviews increase their trust in a business.
Using customer testimonials ensures customers that the service/product they're getting has been tried and tested by others before them.
And when people trust your business, they're more likely to give you their contact information.
Here's how Ladder has done it on their website:
Join Waitlist
Here's one tactic on our list of insurance marketing strategies that's suitable for businesses that are just starting out.
In short, you're creating a sense of exclusivity by inviting people to join your waitlist. By joining the waitlist at Walnut Insurance, people get early access to budget-friendly plans, instant coverage, and benefits from world-class brands.
Additionally, Walnut has formed partnerships with some of the leading brands in the world of mental and physical health, like Headspace and Classpass. Customers who subscribe to a Walnut plan will also gain access to these services.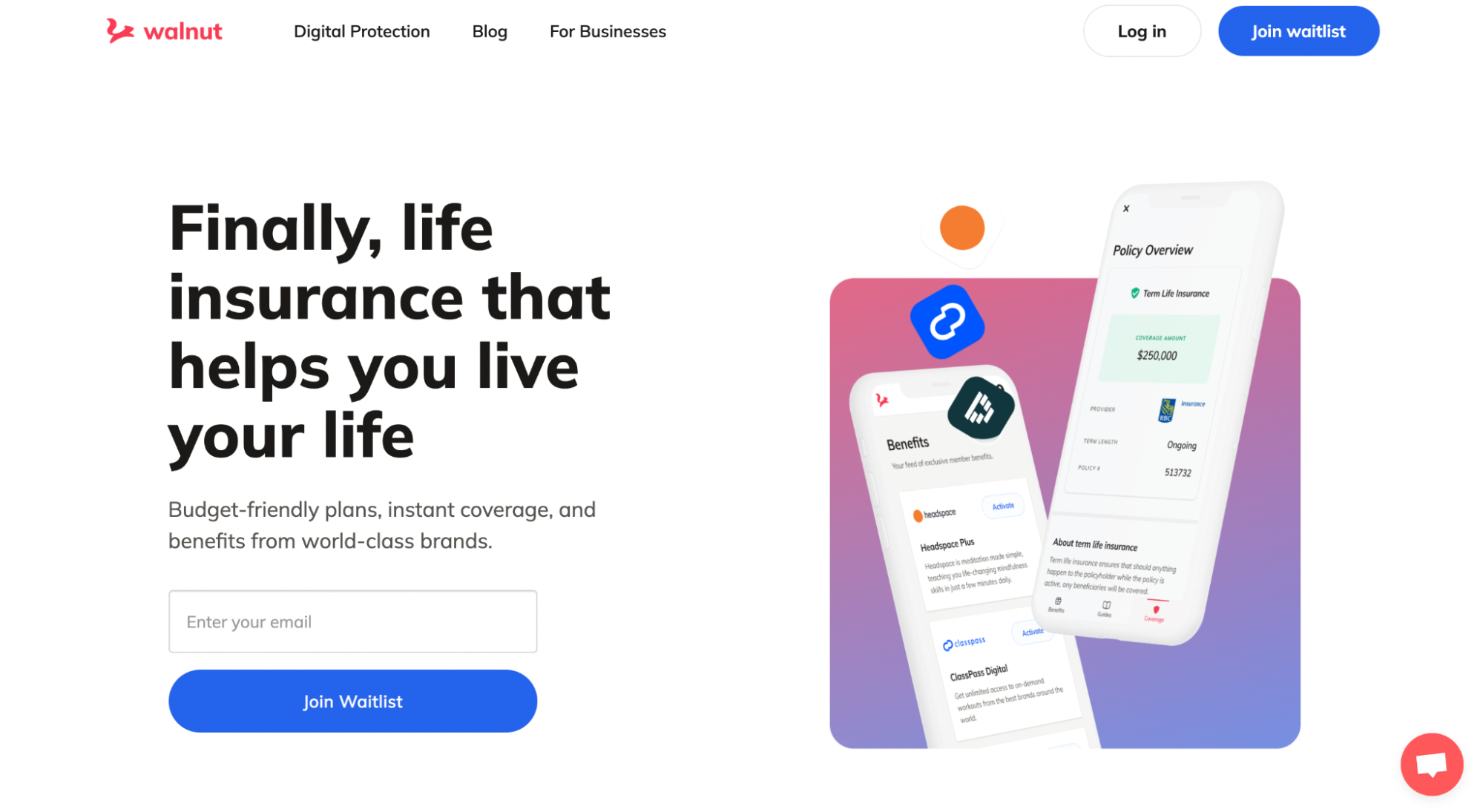 Create an App
We arrived at the last tip on our list of insurance marketing strategies.
Smartphone apps are a fantastic strategy for generating more leads. These apps allow potential customers to find, quote, and buy affordable insurance policies, all from their smartphones, without the need to speak to an agent or visit an insurance office.
That's how Goose entices visitors to leave their contact information: by asking them to download the smartphone app.
Visitors on the website leave their phone number and get a link to download the Goose app via SMS. Once they sign in to the app, they can ask for a free quote, purchase a policy, and more.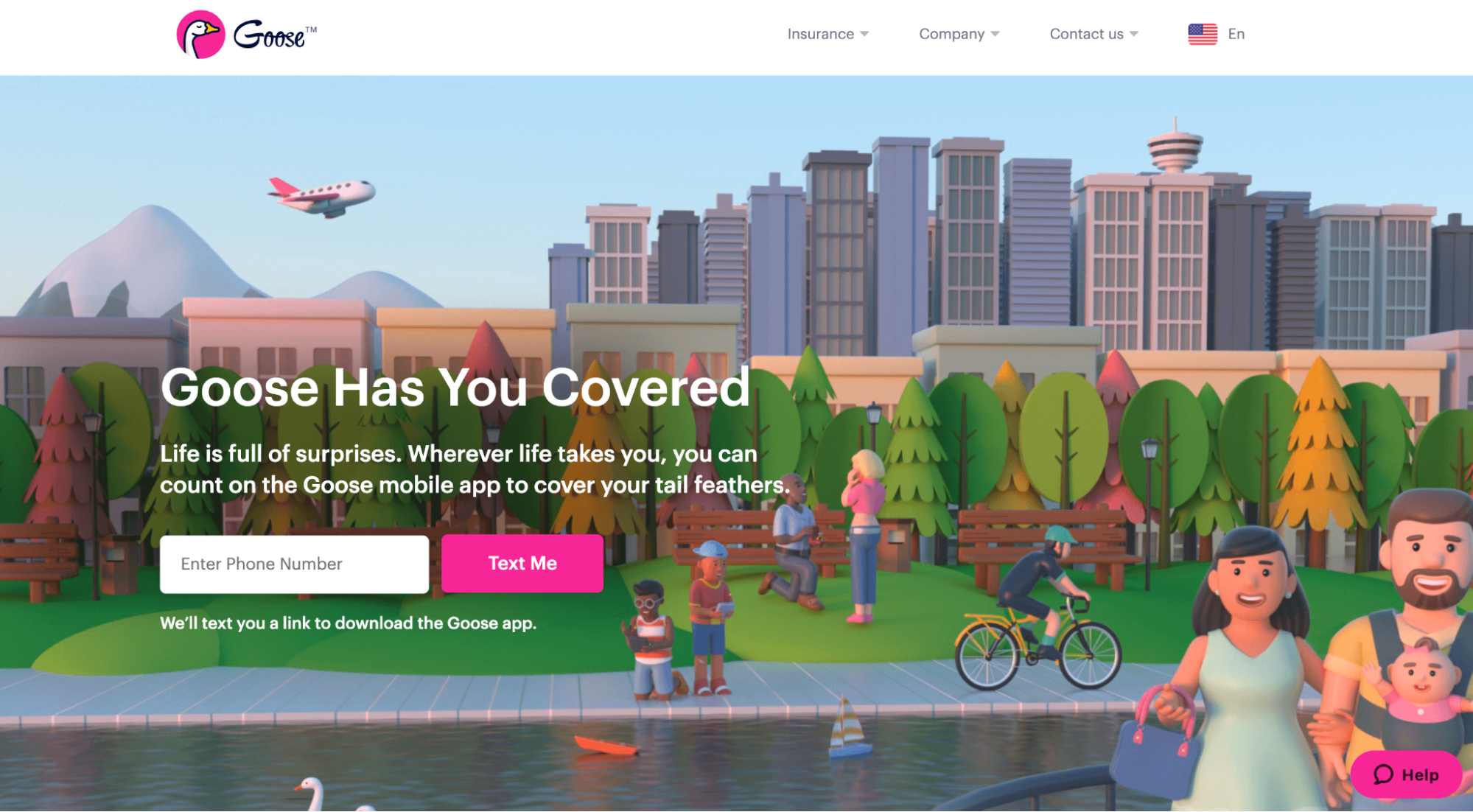 Key Takeaways
After reading this post, it's safe to say that there are two reasons why InsurTech and online insurance companies have been creating such a boom in the insurance industry.
One: They offer innovative and convenient products or services.
Two: They are masters at lead generation.
All of the insurance marketing strategies we've mentioned above can help any insurance company win more leads, improve its conversion rate, and nurture customers for long-term profit.
To sum up:
Cold calling and TV ads won't convince tech-savvy individuals to purchase insurance. Most insurance consumers start their journey online and this is where you should focus your marketing efforts.
Blog content is still king when it comes to lead magnets that bring traffic to your site and motivate the visitor to leave their contact details.
With the staggering cost of advertising via PPC or on social media, email marketing provides a cost-effective way to reach your target audience and increase your leads list.
Educational webinars are a great opportunity to offer valuable content in exchange for people's contact information.
Customer reviews increase trust among website visitors. And when people trust your business, they're more likely to give you their contact information.
Subscribe to GrowSurf
Get our weekly newsletter for our latest referral marketing guides.
Error subscribing! Please try again.