Image source: "Person Pointing Paper Line Graph", by Lukas, licensed under Free to Use

Unless you get really lucky—or already have an established brand people love—it can be next to impossible to make it as a SaaS business.
You have to think outside traditional marketing rules if you want to stay ahead of the competition and win over loyal customers.
To make it as a SaaS business, you need to use proven strategies that support your audience throughout the entire customer lifecycle.
The good news is there's an exact methodology you can use to do just that: growth marketing.
In today's article, we're going to learn what growth marketing is and why brands love it. We're also going to share the top benefits of growth marketing and how to use it to transform your SaaS business.
What Is Growth Marketing? 
While traditional marketing strategies focus on the top of the funnel to drive short-term wins, growth marketing focuses on the entire funnel.
With growth marketing, businesses use data-driven and innovative ways to boost user acquisition, keep customers happy, and create brand promoters.
As a growth marketer, your main strategy is to experiment every stage of the funnel and work closely with your business to gain in-depth insights.
Your ultimate goal should be to improve engagement and conversion metrics at every stage in the marketing funnel. For instance, you might focus on improving your monthly active users, click-through rates, conversion rates, and/or customer lifetime value.
Some of the top components of growth marketing include:
Cross-channel marketing
Cross-channel marketing focuses on understanding the individual user's communication preferences, so you can reach out to them and build your campaigns accordingly.
For instance, the individual user may prefer to hear from you via a combination of push notifications, email marketing, and SMS messaging. Or they may prefer to hear from you via Messenger, Facebook groups, and in-app messages.
To uncover which channels users prefer most, you can use A/B testing campaigns — which we're covering in the next subsection.
Cross-channel marketing also plays a key role in holistic marketing — more on this in a bit.
A/B testing
A/B testing is a method used to compare two versions of a test campaign to see which one gets better engagement.
With A/B testing, the focus is on changing one variable in the test campaign to see which aspect performed better. The variable you change might be your copy, graphics, design, call to action, or another feature.
Growth marketers use results from A/B tests to optimize future marketing campaigns in hopes of boosting activations and conversions.
Customer lifecycle
Growth marketers support users during all aspects of the customer lifecycle, including the activation stage, the nurture stage, and the reactivation stage.
Since every part of the lifecycle plays a pivotal role in the customer experience, growth marketers typically use different campaigns to serve users during each stage.
For instance:
The activation stage: Campaigns focusing on free trials and welcoming/onboarding users.
The nurture stage: Cross-channel marketing campaigns that focus on sales, updates, promotions, newsletters, and more.
The reactivation stage: Re-engagement strategies aimed to reactivate customer retention through loyalty, abandonment, win-backs, and post-purchase campaigns.
How Growth Marketing Can Transform Your Business
Now that we've laid the groundwork, let's take a closer look at how growth marketing can transform your SaaS business.
Holistic marketing strategies make sure no stone is left unturned. 
In a sea of competitors, the only way to stand out is to attack marketing from all sides.
It's about taking advantage of every marketing channel your ideal customer uses. So, if they frequent email, you're on email, too. If Instagram and Pinterest are their second homes, guess what social media channels you'll be using? 
While being a jack-of-all-trades usually isn't ideal, it's a must when it comes to growth marketing.
For instance, if you take a look at Freepik, you'll notice the brand has an email newsletter, an Instagram page, a Twitter page, a Pinterest page, and a YouTube channel where it promotes design tutorials, vector art, and graphic design tools.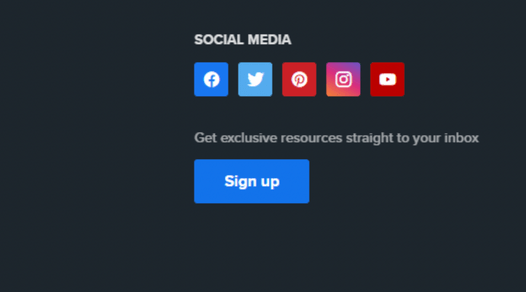 Image Source: "Freepik" ,by Freepik
But Freepik's channels weren't chosen randomly. The choice was based on specific activity and engagement metrics its audience participated in.
In other words, growth marketing is highly customer-centric. It's about showing up for your ideal customer on every channel they frequent. By doing so, you give yourself the best possible chance of meeting customers where they are and building long-term relationships with them.
Make sure to know which channels to use when designing your SaaS website landing pages, email campaigns, and social media promos to target the right customers.
Affiliate marketing strategies promote brand awareness.
The growth marketing strategies you choose will always depend on your goals. But if your objective is to generate high brand awareness, you'll love affiliate marketing.
Growth marketers employ affiliate marketing strategies to spread their awareness efforts across multiple platforms. After all, why just depend on your marketing team when you can outsource brand awareness to established affiliates, too?
By locking arms with affiliate marketers, you not only gain access to their audiences, but you also get to work with marketers who've perfected their messaging.
Affiliate marketers are skilled at drawing audiences in, building trust, and generating high awareness, all of which can lead to more conversions.
Another benefit of working with affiliate marketers? There are affiliate marketers in virtually every industry. So if you have a unique SaaS product, you can still benefit from affiliate marketing.
Growth marketing supports product-led growth initiatives.
As a SaaS business, product-led growth is your top priority. But the question remains:
How can you use your product as a primary customer acquisition channel without coming across as overly promotional? 
The key is to focus on always delivering value. That's why growth marketing pairs so nicely with product-led growth initiatives.
Growth marketing can support product-led growth by delivering value during user acquisition, expansion, conversion, and retention.
Instead of focusing on highlighting product features, growth marketing focuses on the benefits and positive life changes users gain from your product.
From engineering to sales to marketing, the focus is always: "How can we deliver the most value to radically improve our customers' lives?"
When your messaging prioritizes value over anything else, you not only transform your customers' lives but also shapeshift your business's lifecycle, too.
Growth marketing promotes growth hacking. 
Although growth marketing and growth hacking differ in slight ways, the two still go hand-in-hand.
Here's how they differ:
Growth hackers are like expert consultants who give counsel based on specific problems. Their job is to solve problems as quickly as possible, often on a small budget. Speed and problem-solving are their top priorities.
Growth marketers, on the other hand, focus on long-term approaches. Their job is to scale a variety of SaaS growth metrics sustainably.
Think of growth hackers and growth marketers the way you think of ads and organic marketing. While ads drive quick, short-term results, organic marketing drives slow, long-term results.
Here's how growth marketing and growth hacking are similar:
Although growth marketing focuses on driving long-term results, the thought process is still similar. Both processes focus on testing, analyzing, and then making adjustments, so all future campaigns are as optimized as possible.
Here's how growth marketing promotes growth hacking:
Effective growth marketing processes contain the best qualities of growth hacking, such as:
Making decisions based on data-driven metrics.
Thinking outside of the norm to gain sustainable traction.
Testing.
By focusing on the long-term play that comes with growth marketing, you can simultaneously reap the short-term benefits that come from growth hacking.
Data-driven decisions yield better results.
It's no secret that data-driven decisions yield better results.
When it comes to growth marketing, testing steals the show. In fact, testing can become a monthly, weekly, or even daily activity when growth marketing is a priority.
Here are a few reasons why SaaS companies use tests to yield better marketing results:  
to see if an upcoming campaign will gain enough traction
to see if a current campaign is working and why it is or isn't working
to get first-hand answers from their ideal customer about a specific problem
to settle a debate about specific offerings and promotions
to uncover audience pain points and possible solutions
to get ideas and inspiration about future products, features, and campaigns
to learn what kind of messaging aligns with their target audience's preferred communication style
In other words, testing can answer virtually any marketing questions you might have. More than that, testing gives you the insight you need to make marketing decisions in line with your target customer's needs and buying habits. And that's why data plays a pivotal role in growth marketing.
Stack is a great example of a company that has continuously tested to yield to improve its marketing results and its product. Through many iterations, they've been able to identify user pain points when browsing or messaging and, in turn, used these new features to market their Spatial Browser effectively. For example, having multiple messenger accounts open simultaneously is a pain point they identified many users had, so they structured their tool and marketing around it.
How to Use Growth Marketing to Transform Your SaaS Business 
Now that we're clear on the benefits of growth marketing, let's look at step-by-step instructions for transforming your SaaS business.
Step 1: Set Specific Priorities
The first step to using growth marketing to transform your SaaS business is knowing where you stand.
So, think about it; what are your top priorities? What do you want to see happen, and how will you know when you've achieved it? 
In this step, set your top priorities, such as the specific metrics you'd like to hit or sales results you'd like to see.
Step 2: Set Actionable Goals
Refer to your priorities and set actionable goals. For instance, if you'd like to see an additional $50,000 in sales per week, then your goal might be:
"We'd like to double-up on our top-of-funnel and bottom-of-funnel strategies in an effort to gain an additional $50,000 in sales per week."
Step 3: Pick Your Growth Marketing Strategies
Considering your goals, which specific growth marketing strategies would serve you best? For instance, if generating brand awareness is your top goal, then affiliate marketing, content marketing , and holistic marketing might be listed as your top two strategies.
Step 4: Divvy Out Tasks and Assignments 
After finalizing your strategies, meet with your team to determine the next steps, like designing efficient workflows, managing large assignments, and divvying out daily tasks. HR management is an important factor in growth marketing as you need the right people on your team with the right skills to propel your business.
Step 5: Implement Your Strategies 
Follow your plan and implement the strategies on your list. Check-in with each team member about potential pain points and roadblocks and what to do if they occur.
Step 6: Test Your Strategies 
Test your strategies to see if they're working. If you notice any red flags, be sure to pivot when necessary. Take your test results and share them with the team. Brainstorm about why negative results might have happened and learn from them. Also, look at your positive results to see what worked well and how you can apply that to future strategies.
Wrapping Up
Unless you get lucky or you're already a beloved brand, it can be nearly impossible to make it as a SaaS business.
In a sea of competitors, winning over loyal customers means thinking outside traditional marketing boundaries.
That's where growth marketing can change everything.
Growth marketing can transform your SaaS business by:
Meeting customers where they are
Promoting brand awareness using content marketing
Supporting product-led growth initiatives
Promoting growth hacking
Promoting data-driven decisions that yield better results
Building trust and connection with audiences
Solving unique problems that drive growth
Request a demo of GrowSurf
Set up your referral marketing program with software that lowers your customer acquisition cost and saves you gobs of time.