Exploring SaaSquatch Alternatives
SaaSquatch is a serious player in the referral marketing sector, and rightfully so, they have a great product that does great for growing businesses, but it's just not quite right for every company that is looking to build and develop a referral program. If, as it turns out, SaaSquatch isn't the right fit for you there are plenty of different referral marketing software alternatives for you to investigate. One such example is GrowSurf. GrowSurf is an ideal alternative to SaaSquatch for businesses in almost every industry or sector, from B2B to B2C, especially for tech companies. It is the best referral software available to the market and is the perfect solution for those seeking automated growth at a cost that doesn't break the bank.
Company

Best for

Free Trial

Cost

Website

GrowSurf

B2B SaaS, B2C Subscriptions, Financial Services,




Online Education, Online Insurance

Free trial

$775/mo

Visit

SaaSquatch

SaaS, On Demand, eCommerce

No trial

From $1,750/mo

Visit
GrowSurf vs SaaSquatch
| Feature | GrowSurf | SaaSquatch |
| --- | --- | --- |
| Pricing | From $775/ month | From $1750/ month |
| Monthly Contract | ✅ | ✅ |
| Free Trial | Yes | No |
| Customer Success Manager | ✅ | ✅ |
| Ease of Implementation | Hours to Days | Days to Weeks |
| Participant Portal | ✅ | ✅ |
| Landing Page Builder | ✅ | ✅ |
| Email Marketing Automation | ✅ | ✅ |
| Custom Branding | ✅ | ✅ |
| Automated Reward Fulfilment | ✅ | ✅ |
| Analytics Dashboard | ✅ | ✅ |
| Run Multiple Campaigns at once | ✅ | ✅ |
| Fraud Protection | ✅ | ✅ |
SaaSquatch Review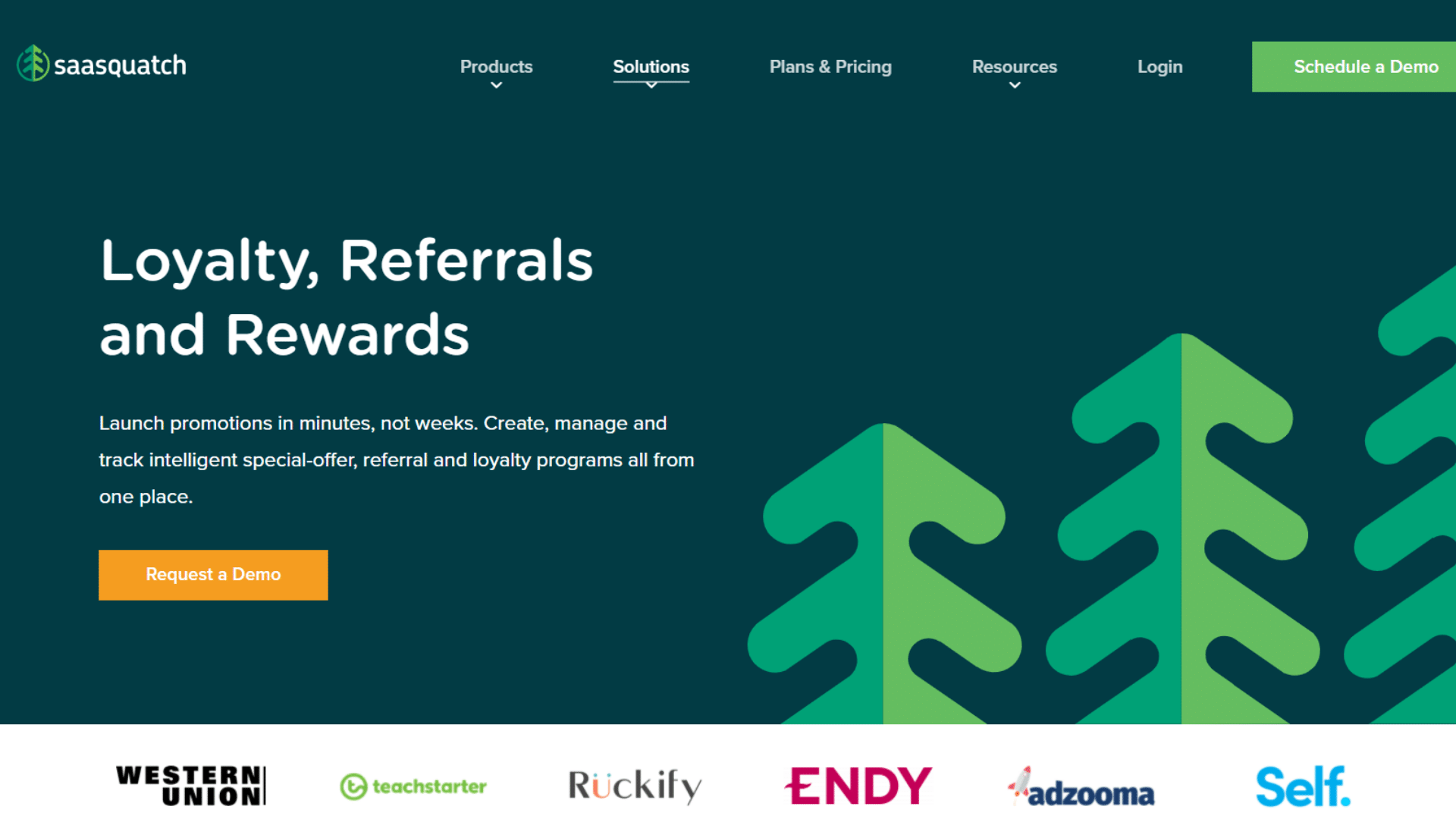 SaaSquatch is a rapidly growing referral platform that was founded in 2013. They seem to focus on working with relatively large SME businesses, with open source information showing that the majority of their clients are 50-200 employees.
It is a well reviewed platform across the likes of G2 and Capterra, with an effective and communicative customer support teams. Many reviews explain that this level of customer support extends into their day to day dealings with SaaSquatch.
Many referral software tools on the market aim to automate much of the onboarding process, making it a relatively impersonal experience for the company looking to build the system. SaaSquatch is commended for their personal approach where in initial conversations and discussions they listen to, get to know and understand the business before pushing their products. This is, it could be said, to be expected from a software tool that starts from $1750 a month. One would expect a fairly substantial level of support and service.
It's also mentioned that, thanks to the customer support team, the onboarding process and integrations were fairly seamless and straightforward. Furthermore, SaaSquatch might be a good approach for companies looking to go all in on their marketing options as they offer; customer loyalty, customer referral, affiliates, partners, influencers and mobile rewards too.
Whilst they offer a solid number of integrations out of the box, some of the most well known marketing tools still require the use of third party links through the likes of Zapier in order to connect. This includes the likes of HubSpot, which many companies are using already. Users also comment that the analytics suite, whilst comprehensive, has something of a clunky UI and makes what should be a simple at-a-glance experience more cumbersome than necessary.
Paying the right price for the right tool is a good mantra for life, but when it comes to business there comes a point where price does matter. SaaSquatch is, putting it simply, one of the more expensive options on the referral tool market. Compared to the likes of GrowSurf (where you're paying $775 a month) you would expect SaaSquatch to deliver a whole other level of value and service. And we're not entirely sure it does.
SaaSquatch Pros
Onboarding is a dream, the dedicated teams make it really straight forward and simply to get started with a new referral program.
The system has a high degree of flexibility so that you can customize your rewards as you see fit.
Analytics, while clunky, does have a high degree of segmentation and event tracking available.
SaaSquatch Cons
The price can't be ignored, $1750 is a high monthly cost whichever way you look at it,
Analytics should be more user-friendly, especially on mobile devices.
Email integration isn't quite as straightforward as it should be, in fact many users commented that the integrations required a software developer in their team to complete sufficiently.
Automation
Successfully automating elements of your business is at the core of unlocking sustainable and reliable growth within your business. Without automation you and your team are left to put hours and hours of work in manually leading to increased costs, timelines and drains on your business. Worse still, these pain points increase ever more as the business grows over time. Thankfully, automation handles a great deal of this for you and your business, and even better, the majority of referral marketing software tools include a suite of automation options.
At a minimum we suggest that you look out for:
A variety of different channels for promotion
Link sending when participants sign up
Notifications to participants on updates
Reward fulfilment and distribution
Resources for participants to use
At it's core, GrowSurf includes a decent variety of inbuilt automations that includes important and weighty tasks such as reward fulfillment, link distribution, automated email campaigns and participant updates. Alongside the standard suite, there are a huge number of additional automation options thanks to the vast set of Zapier, Webhook, Integromat and more API integrations.
SaaSquatch focuses their automation on personalization and individualized datasets. This allows you automation based on previous buying habits. With the program builder you can create new automated campaigns such as; signup reward programs, VIP programs, birthday programs and more.
Analytics
Measuring, tracking and analyzing referral campaigns as they are running is a feature that should be top of anyone's list when comparing different software tools. The ability to track standard metrics should be available out of the box, but also the ability to create custom metrics that are specific to your business. This means that you're easily able to, at a glance, understand how the campaign is performing and if your input is required to improve performance (or enhance an already well performing campaign).
Almost all referral marketing software tools come with an analytics suite out of the box. Some of them are great and offer everything you need from the moment that you onboard, others require you to spend time navigating a trickier system or manage a number of external integrations through 3rd party platforms.
You should be looking for:
A simple to understand and access dashboard that offers campaign overview and more granular detail
Out of the box integrations or simple third party options
Customizable metric tracking
Segmentation that allows you to track groups and individuals.
When working with GrowSurf you're able to track everything including sign-ups, shares, referrals, and more. Once tracking is set up you're able to dive in at a wide or granular level with comparisons of conversion data, sharing channel performance, individual participant data all included out of the box. A nice feature to have that GrowSurf offers is the option to import and export data from other sources, meaning your analytics will always be up to date.
SaaSquatch has a fairly robust dashboard showing various analytics and insights, including showing you which referral programs are having the biggest impact on revenue. Their analytics are delivered in real time which is a nice feature for those really on top of their reporting. Their granular approach allows you to investigate which channels, members or locations are working best for you.
Additional Elements
Integrations

GrowSurf: 28 different platforms
SaaSquatch: 12 different platforms

Customer Support

GrowSurf: Live chat support, dedicated account manager for all plans, and knowledge base
SaaSquatch: Live chat support, launch support, semi-annual review, dedicated success manager at Enterprise level plus.

Cost

GrowSurf from $775/mo
SaaSquatch from $1750/mo

Scalability

GrowSurf: Up to 75,000 participants on the Elite plan with 20 campaigns and 10 team members.
SaaSquatch: Base plan offers up to 200,000 participants, Enterprise and Managed plans scale beyond 1 million participants

Setup

GrowSurf: Entire campaign can be up and running in a day
SaaSquatch: Base plan comes with Pro Implementation (details unclear)
Top 3 SaaSquatch Alternatives
GrowSurf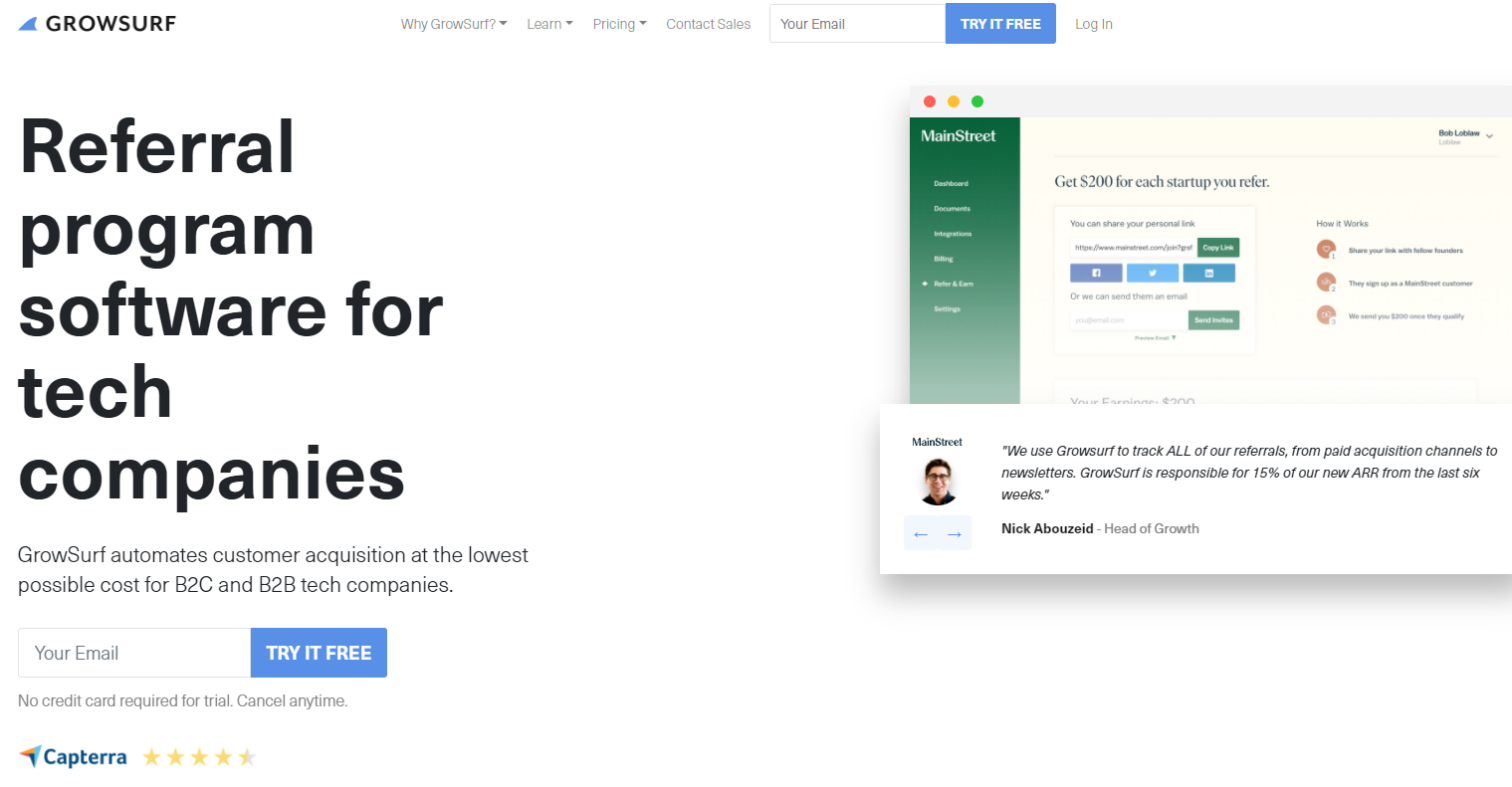 For businesses genuinely looking to automate their growth and achieve passive lead generation, GrowSurf offers a wide range of different, easily accessible, low cost referral automations which work perfectly for B2C and B2B businesses. The tools that are offered by GrowSurf allow companies to develop their customer acquisition channels affordably and in a way that leads to sustainable growth. Launch of referral campaigns is incredibly straightforward and it's possible to have your campaign launched within hours and days rather than weeks. GrowSurf also has one of the widest selections of integrations, clear pricing and offers a completely white-labeled service.
Features
Link creation and distribution is fully automated
All elements can be embedded into your site seamlessly.
Rewards are fulfilled automatically
Full suite of analytics
Comprehensive customer support
Managed service available
Pricing 
Growsurf offers three paid plans:
Startup ($775 /mo, paid annually) that supports up to 10,000 participants
Business that supports up to 25,000 participants
Elite that supports up to 75,000 participants
Request a free demo to learn more.
ReferralRock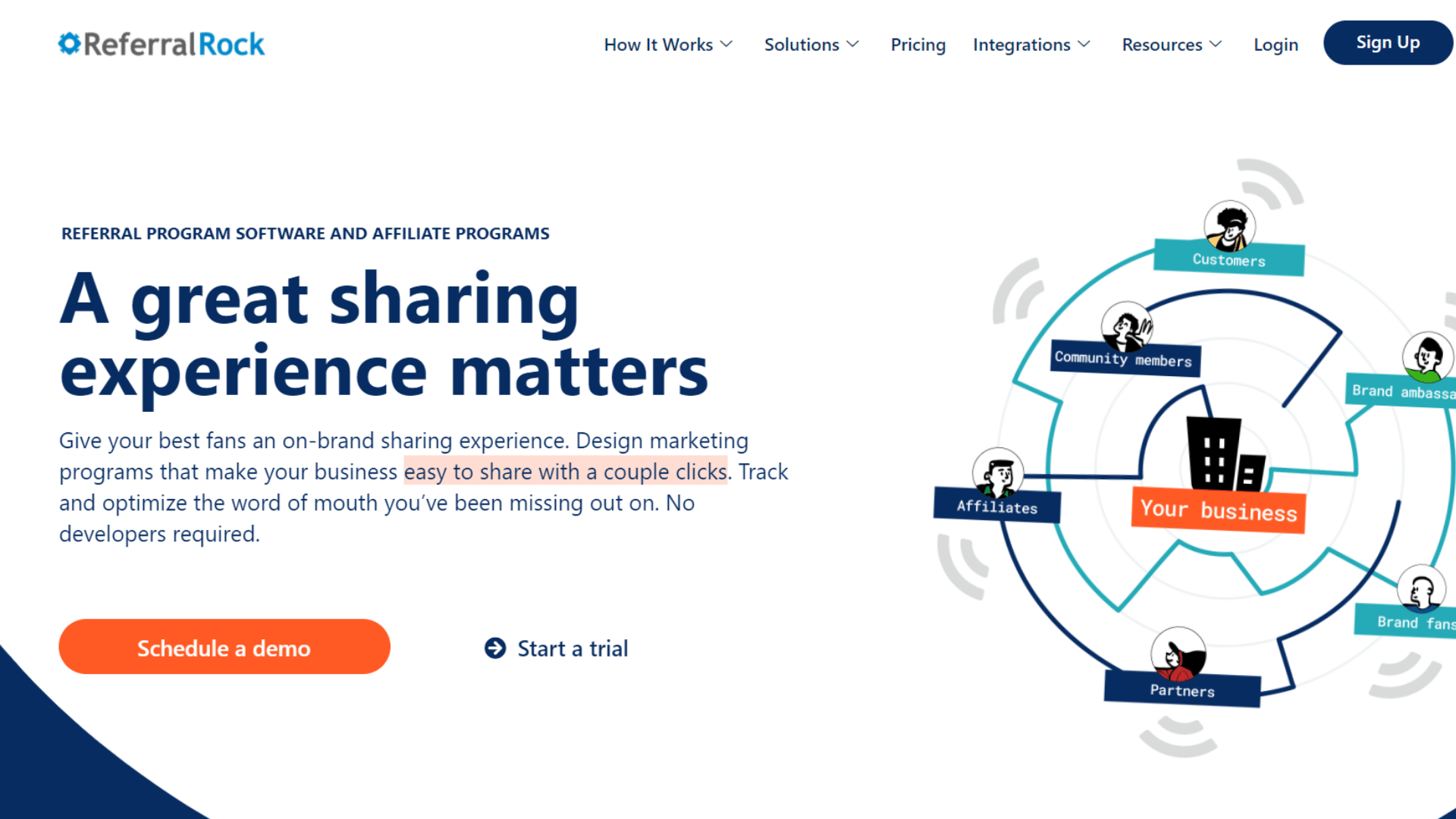 ReferralRock aims to create a fully branded sharing experience for all of your referral participants. You're able to create whole referral campaigns fairly quickly alongside a decent suite of analytics tools. Their setup is straightforward and developer free, with minimal work required. They aim to work with B2C and B2B businesses both in and out of the eCommerce sector.
Features
Refer-a-friend widgets which can be embedded into your website
Membership portal
Gift cards, coupons and in-app reward options
CRM integration
Email integration
Pricing 
ReferralRock offers three paid plans:
Starter ($200 /mo) that supports up to 500 participants, over 1 program
Growth ($400 /mo) that supports up to 5000 participants, over 3 programs
Established ($800/mo) that supports up to 10,000 participants over 5 programs
There is a free trial available for up first two plan options.
ReferralCandy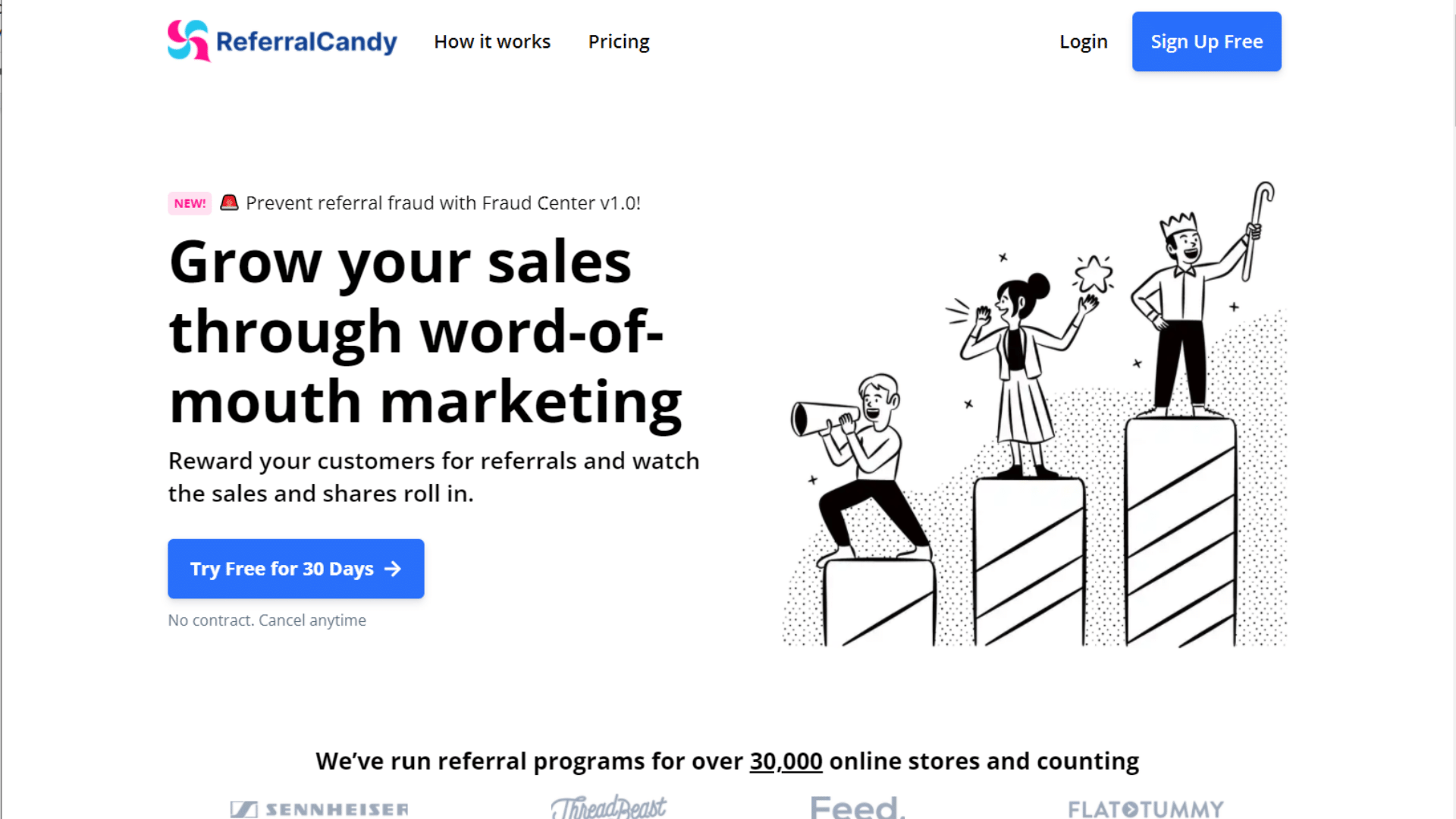 ReferalCandy builds their referral platform on word of mouth marketing. Their platform boasts a strong level of automation where rewards are automatically fulfilled. The analytics dashboard allows you to see all your campaigns at a glance, but be wary of the limited number of campaigns per plan. They also offer a well reviewed fraud prevention feature. Integrations as standard with major names such as Shopify, WooCommerce, Google Analytics and more.
Features
Customizable reward options
Live Chat Support
One Click integrations
Analytics and insights including industry benchmarks.
Pricing 
Premium ($49 /mo plus commission) that supports unlimited customers.
Enterprise ($3999 /mo billed annually) that supports unlimited customers.
Which SaaSquatch alternative is best for you?
Comparing our three suggestions (GrowSurf, ReferralRock, and ReferralCandy), there are certainly some options as an alternative to SaaSquatch. Below we've put the headlines into a quick table:
Platform

SaaSquatch

GrowSurf

ReferralRock

ReferralCandy

Cost

From $1750/month

From $775/month

From $200/month

From $49/month + commissions

Free trial

No trial

14 days

Yes

30 days

Setup Assistance

Yes

Yes

Yes

Unknown

Integrations

12 platforms

28 platforms

15 platforms

15 platforms

Customer Support

Live chat, customer success at higher levels, semi-annual check ins.

Live chat, customer support manager, email support,

knowledge base

Live chat, customer support manager, email support, knowledge base

Live chat support

Rating (overall)*

4.5

4.7

4.5

4.5
* Capterra rating
GrowSurf ticks all of the boxes for the vast majority of companies, from smaller startups to larger established businesses. It is an infinitely scalable platform, implementation is straightforward, campaigns are easy to run, and it is a powerful referral program software that is at an affordable level.
If you're ready to get started, sign up now and your referral program will be running tomorrow!
Request a demo of GrowSurf
Set up your referral marketing program with software that lowers your customer acquisition cost and saves you gobs of time.