How to Get More Referrals From Your Customer Base
Here's a fact:
Your existing customers are a goldmine of opportunity.
And hear this:
They can be an excellent source for acquiring new customers effectively and cost-effectively.
Think about it for a moment: 
Your existing customers have already purchased from you. This means they like your product/service and have trust in your brand.
Happy customers refer their friends to you, they make purchases more often, and they're more willing to spend money with you in the future.
These are all things that will help grow your business exponentially.
But how do you get your customers to refer your business? 
We have eight suggestions for how to get more referrals in the post below!
8 Ways to Get More Referrals Today
Here are some tips to help you create a referral-friendly environment that will encourage people to tell others about your business.
Let's dive in!
Launch a Referral Program
This first tip for how to get more referrals sounds like a no-brainer.
It's simple:
If you want to encourage more referrals and spark business growth, you have to put together a great referral program.
The #1 reason why referral programs work is that people tend to trust the recommendations of their friends and family members more than they trust online ads.
According to the Nielsen Global Trust in Advertising Report, 83% of people in 60 countries said they trust the recommendations of friends and family.
Another reason why you should invest in launching a referral program is that referral programs have a high ROI.
Studies have found that referred customers tend to make purchases more often, are more loyal, and make more referrals. That's precisely why the CLV of referred customers is greater than non-referred customers.
One study by the University of Pennsylvania's Wharton School reported that referred customers generate 25% higher profit margins.
When launching a referral program, choosing a referral program software that meets your needs is critical. Although some companies opt to build their referral program internally, there are many downsides to this approach. For instance, building your own referral system can be time-consuming and expensive, especially if the process drags out for an extended time.
What's more, you might have issues integrating your system with other tools that are critical for managing the referral program.
Choose Your Incentives Wisely
The second tip for how to get referrals revolves around referral program incentives.
In short, incentives are the rewards you give out to your referred customers and those who send the referral. If it's a one-sided referral program, you reward the referrer.
In two-sided referral programs, you reward both the referrer and the referred. This type of program tends to be most effective as it taps into the principle of reciprocity: you give your friends a discount, and they help you earn a cash reward.
The type of reward directly influences the cost of the referral program. For instance, cash rewards can be more expensive than free access to your premium features.
But not all rewards are suitable for a business. You have to make your incentives relevant to your product.
Let's say you're an online insurance platform. Giving out free storage space doesn't make much sense. But giving out discounted services or cash rewards sounds logical.
Another thing to consider is the frequency of the purchase. If customers at your company make infrequent or big-time purchases, some of the best incentives include cash, brand swag, and gift cards. On the other hand, if the product/service you're selling is purchased on a more frequent basis, then free subscription services, donations, and discounts are all great incentives.
Ask at the Perfect Time
Here's another trick that you can try when it comes to asking your existing customers for referrals :
Ask at the right time!
What does this mean?
To answer that question, let's take a look at the Dropbox referral program.
The Dropbox referral program was quite simple: give free space to both the referrer and the referred who converts.
But the success behind their program wasn't just because they chose a suitable referral program incentive.
They knew when's the right time to ask for a referral.
And that's why they made the referral program part of the onboarding process.
So, in addition to some tips on how to get started, Dropbox integrated its referral program in the onboarding process as the second to last step.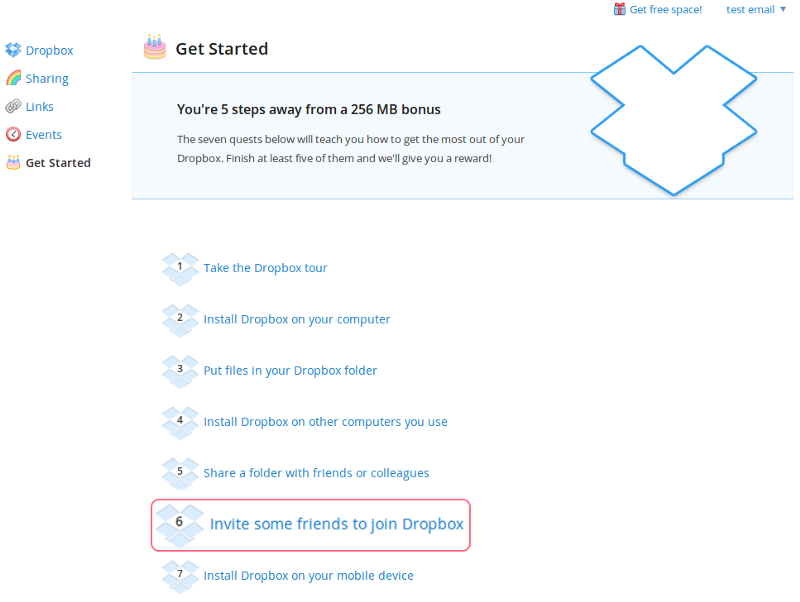 This brings me to my point: the best time to ask for a referral is when your customer is the most engaged – they have just bought your product or are in the middle of signing up for an account.
Thank Customers For Their Referrals
Here's another interesting story by Dropbox and their referral program.
Dropbox would send a "thank you" email to the referrer and the referee after a successful referral.
The "thank you" email would include a CTA that said, "To get even more space, invite your friends or upgrade to Dropbox Plus." 
This subtle CTA would motivate people to refer even more friends in order to increase their storage space.
Ultimately, this created a viral loop that motivated users to refer more people than they would normally do. The final result? Dropbox gained millions of new users! 
On a similar note, consider creating a " thank you" page where your visitors will be redirected to after they successfully submit their information in your opt-in form. A "thank you" page is the perfect place to promote your referral program. Your visitors are already interested in and interacting with your website. They might also be interested in referring your brand to their friends and family and getting a reward themselves.
Promote Your Referral Program Everywhere You Can
News flash:
To guarantee your program gets the popularity it deserves is to tell your customers about it.
The first step is to make it easily discoverable.
Because if customers have to jump from one page to another, scroll through your social media posts, or scan their emails just to locate your program, they'll end up feeling frustrated and opt-out of the process.
But what are some of the best ways to promote your referral program ? Here are a few ideas:
Promote your program in your email signature: Adding a link to your referral program into your email signature will make it very visible and easy for customers to get all the details about the program.
Promote the program on social media: Social media advertising is one of the best ways to increase your reach. There are even paid ads that work on a pay-per-click model that ensures you never exceed your spending limit. You can target your audience more precisely based on device, location, age, interests, job, etc.
Include a CTA in your header and footer: By promoting your program in the header and footer of your site, you'll ensure that it's always visible, no matter which pages your customers are visiting. You can even elaborate on the details of the referral offer.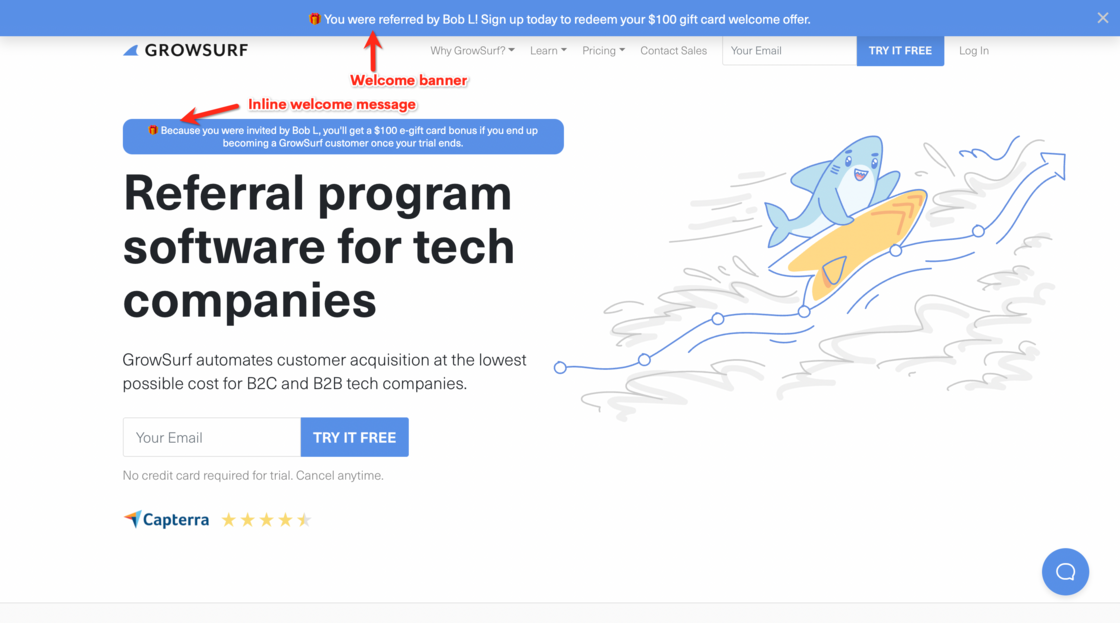 Write a Compelling Brand Story
Have you noticed how Airbnb's content is 100% focused on people?
And when I say people, I mean the people who own the homes and the people who stay in those homes.
Their content focuses on telling stories about how the company is connecting both parties, helping them create unforgettable memories. There's even an entire page on the website titled community stories.
This approach to content is called creating a brand story. In short, a brand story is a written narrative that describes your company and its products/services in an emotionally engaging way.
Established brands use it to differentiate themselves from their competitors. When executed correctly, a brand story can increase customer loyalty and brand awareness.
In fact, a strong brand story can even encourage word of mouth. Customers will better connect with your brand and be more willing to recommend your brand to their friends and family.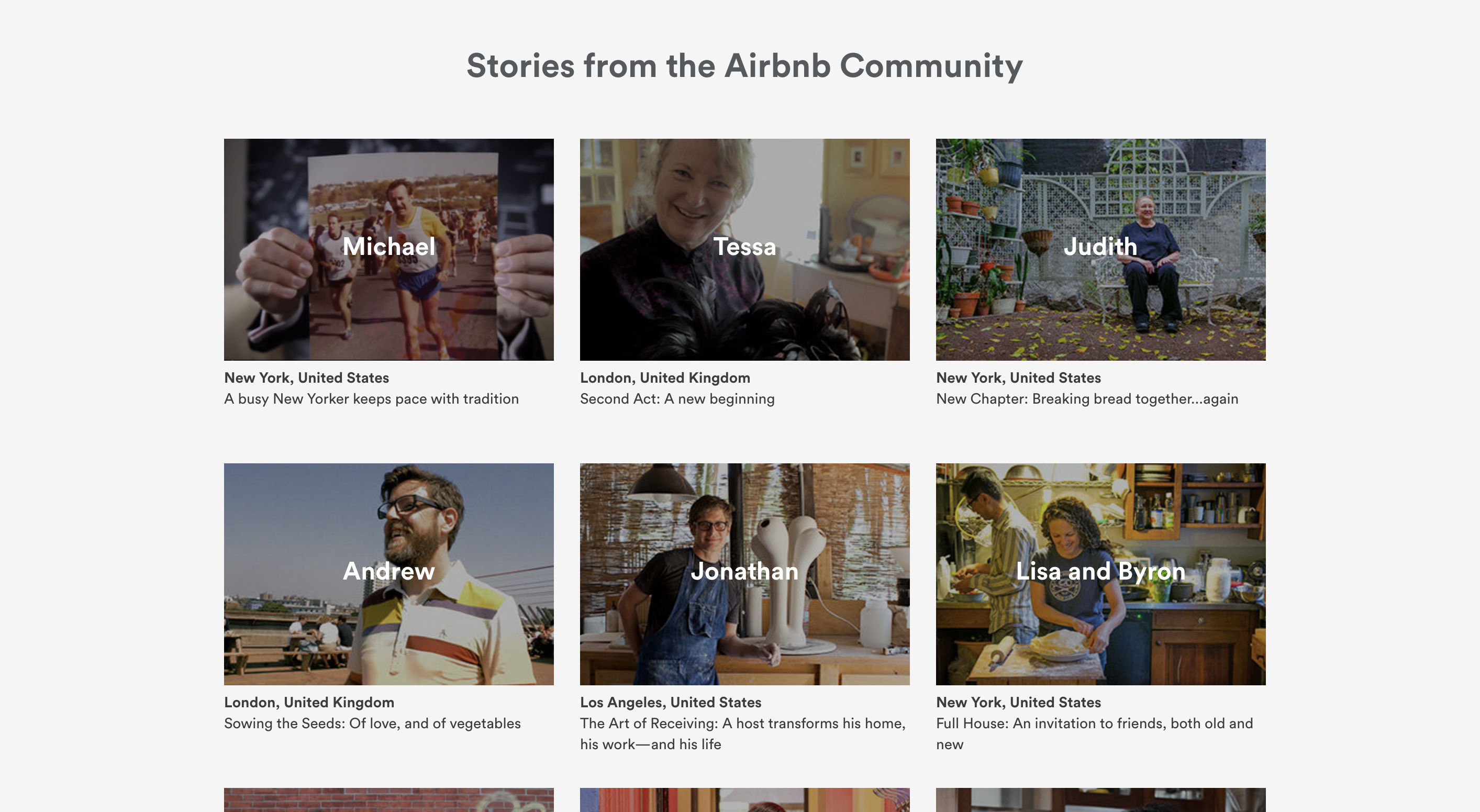 Automate Your Referral Program
There might come a time when your referral program will be challenging to manage. The things that go into a referral program like signing up new customers and tracking referrals and sales might start taking up too much of your time.
That is why you must consider automating your referral program. In short, you'll be using referral program software to perform routine tasks and run all processes.
By automating the entire process, you'll save yourself time and be able to focus on other aspects of your business. What's more, you'll make sure every one of your existing customers hears about your referral program.
A referral program software can automate the following processes:
Capturing new leads: The customer referral software you have in place can be set to capture people's emails and automatically add them to your campaign as new participants.
Emailing new participants: You can easily set specific emails to be sent when certain referral events happen within your campaign.
Promoting the program: You can automate the promotion of your program by sending out newsletters, adding a link to your referral program into your email signature, etc.
Managing rewards: You can choose the type of reward, how many referrals a person needs to unlock their reward, the expiration period of the referral links, etc.
Fraud prevention: Most referral marketing software come with an anti-fraud system that can be automated to detect risky behavior by suspicious participants.
Measuring performance: You get insight info into how well your referral program is doing.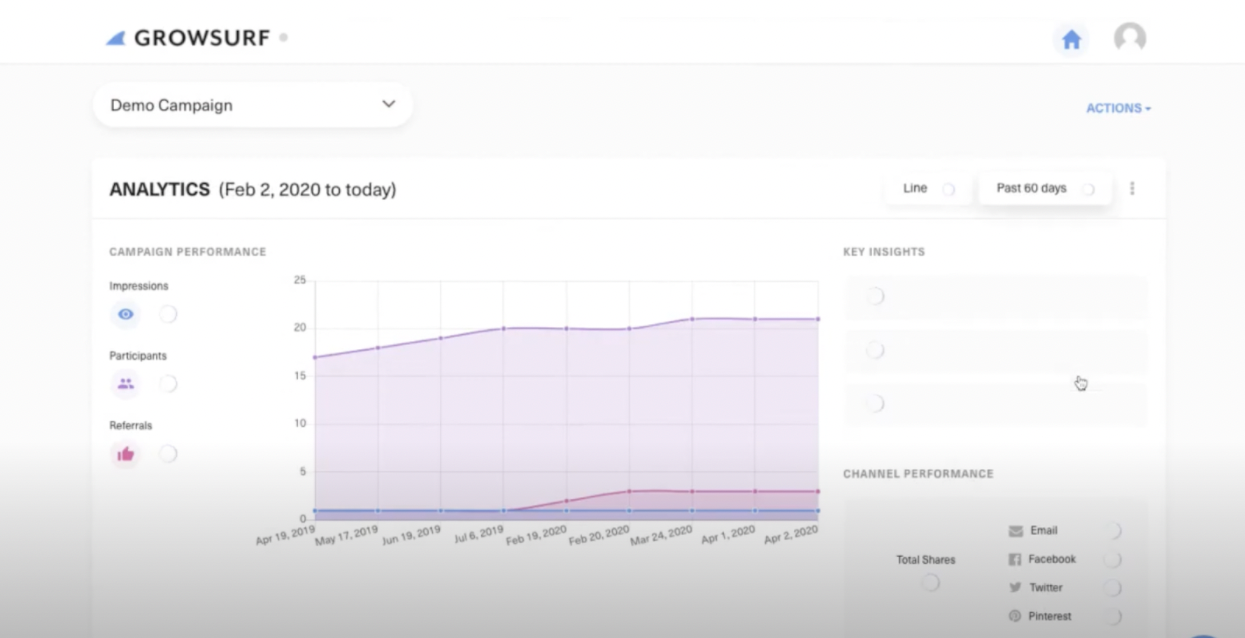 Consider Omnichannel Referral Marketing
The last tip for how to get referrals dives into omnichannel referral marketing.
In case this is your first time hearing about omnichannel marketing, let me explain:
Omnichannel referral marketing involves offering a seamless customer experience on all channels and platforms. In short, you're making it as simple as possible for people to find, join and share your referral program, both online and offline.
We live in an age where people's patience is at an all-time low. If you don't make the process of referral as seamless as possible, customers won't waste time finding their way around.
For example, let's say that a customer notices your referral program on your website's homepage. They can easily share the referral with their friend via email, social media, or direct link. The friend then uses the unique referral code to make a purchase.
Another scenario of omnichannel referral marketing is a customer sending a referral through social media, email, or text message to a friend who makes an in-store purchase.
Let's take Coinbase, the popular cryptocurrency exchange platform, as an example.
The company has included the referral program in the user dashboard. Every time a customer logs into their account, they can instantly notice the link that leads to the program.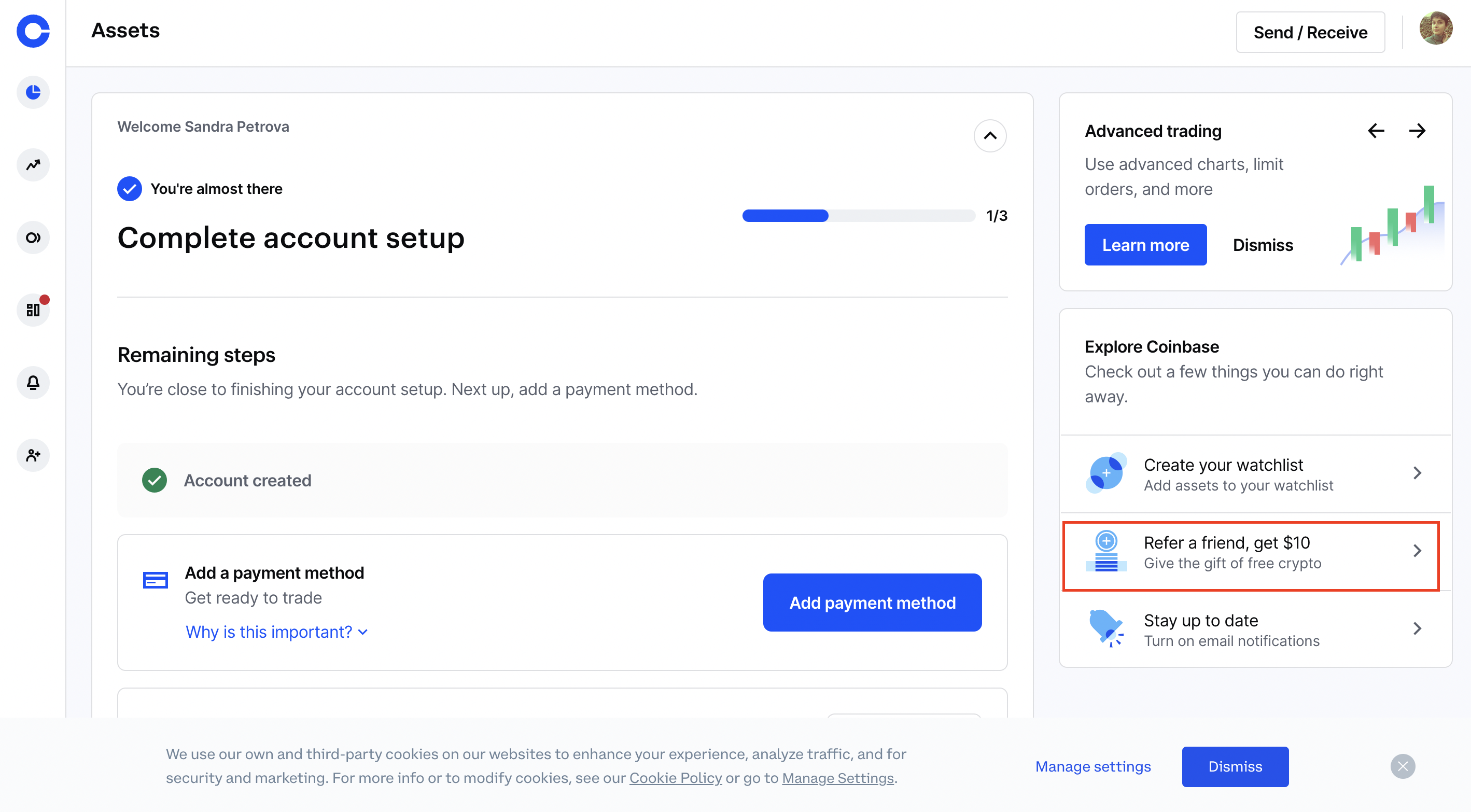 The link leads to a landing page that gives customers plenty of sharing options.
They can send the invite directly to their friend's inbox, copy the unique referral code, or share it via Facebook, Messenger, or What's App.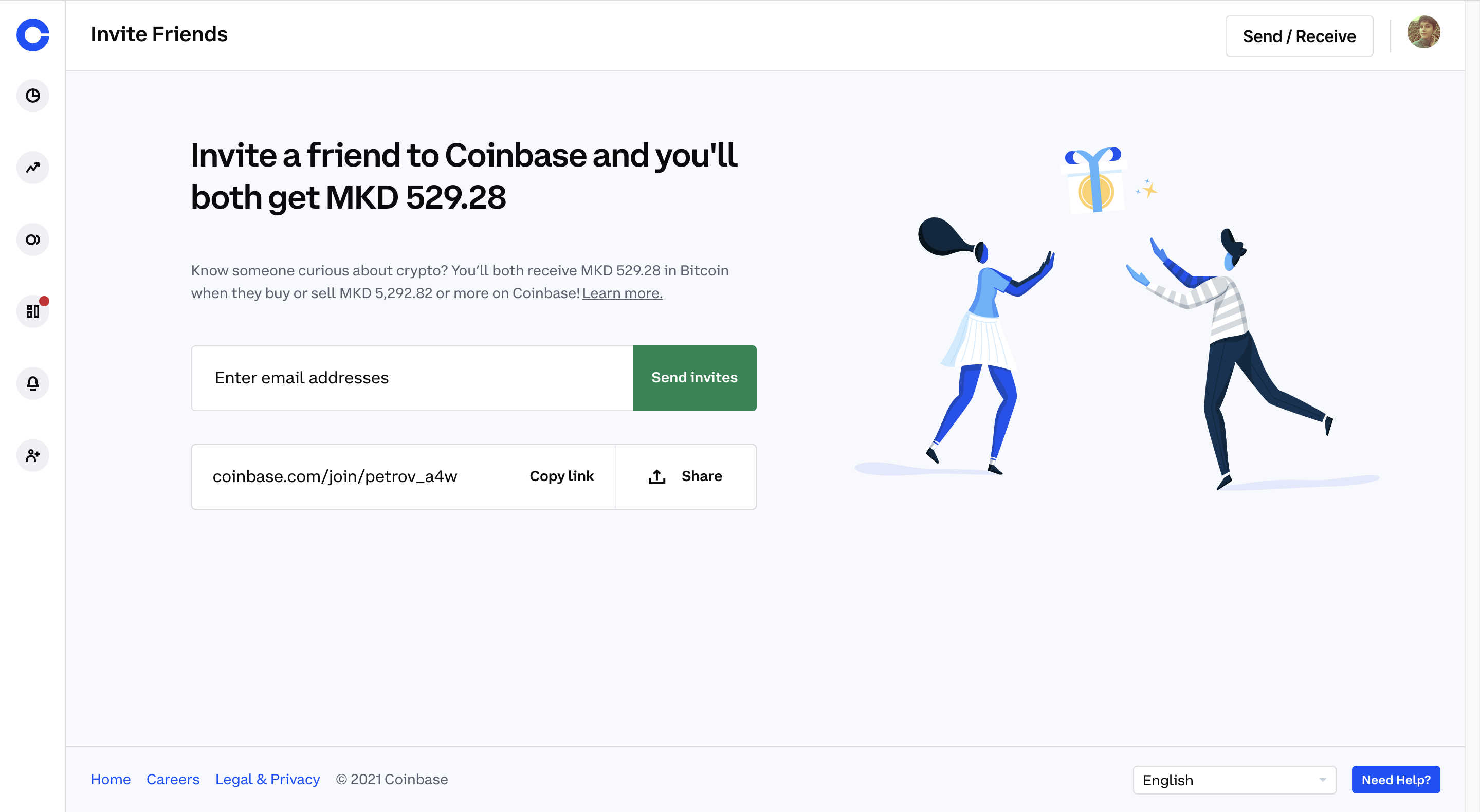 They also promote the referral program via email.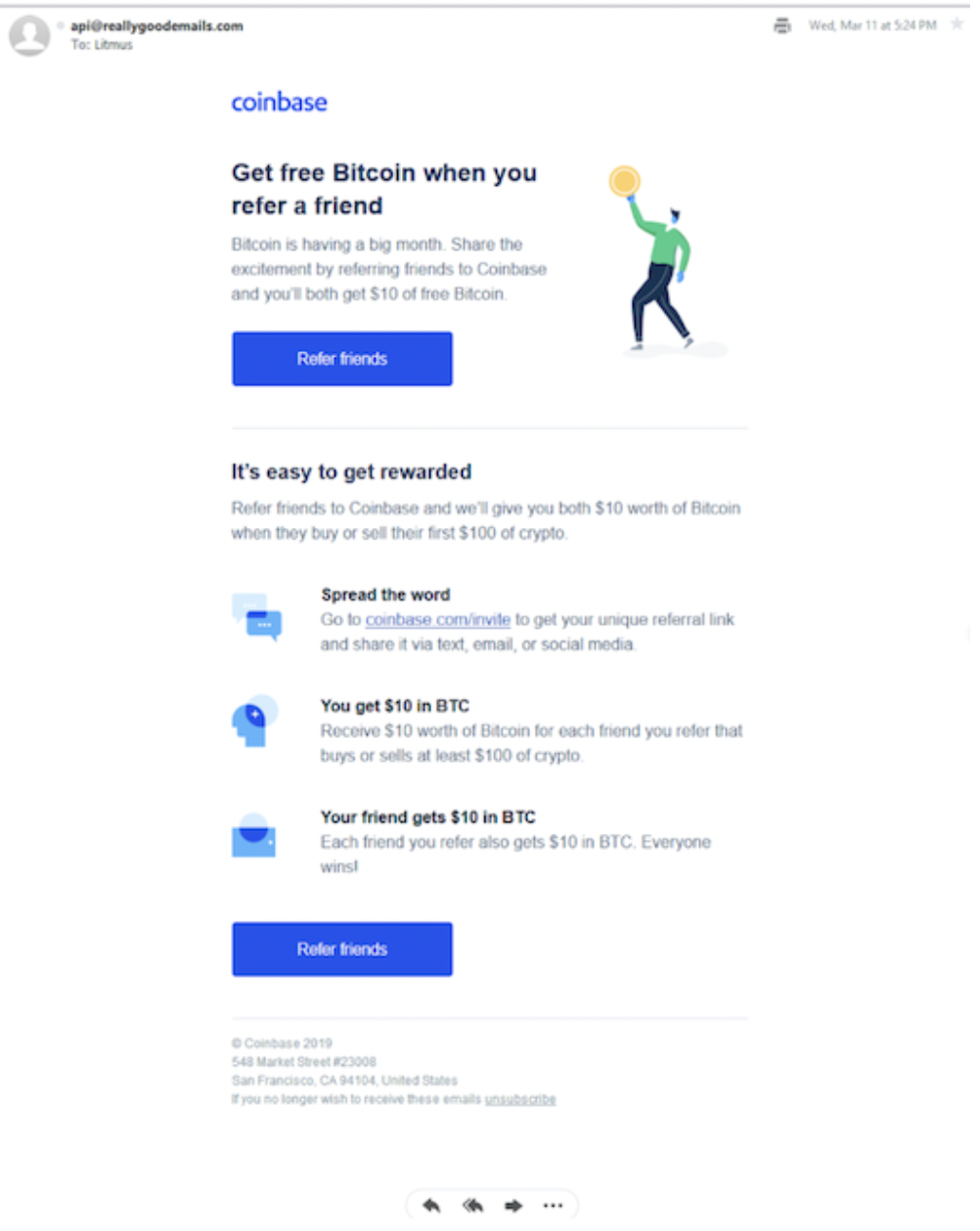 Key Takeaways 
Growing your referral program won't happen overnight. But there's a way to make sure it brings you a steady stream of referrals. The key lies in your existing customers. They're the ones who hold all the power and on which the success of your program depends. Leverage your existing customers by making it easy and enticing for them to refer your program, and they will do the hard work for you.
To sum up:
Your existing customers are a goldmine of opportunity. They can be a great source for acquiring new customers effectively and cost-effectively.
If you want to encourage existing customers to refer your brand to others, creating a great referral program is the first step.
Entice customers to promote more by offering substantial incentives that are relevant to your product/service.
Ask at the right time, for example, when your customer has just bought your product or is in the middle of signing up for an account.
Increase the likelihood of existing customers referring your brand to their friends by making your program easily discoverable.
Create a strong brand story to encourage word of mouth. Customers will better connect with your brand and be more willing to recommend it to their friends and family.
Automating your referral program doubles the chances of your existing customers hearing about the program.
Invest in omnichannel marketing. When you make the process of referring a friend as seamless as possible, customers will be more likely to participate in the program.
Thank your customers for their referrals. This will create a viral loop that will motivate users to refer even more people than they would normally do.
Subscribe to GrowSurf
Get our weekly newsletter for our latest referral marketing guides.
Error subscribing! Please try again.