Referral Marketing for Subscription Businesses
A subscription business is a type of business that bills buyers a monthly or yearly fee for product access. Businesses that focus on this model capitalize on customer relationships, retaining customers and bringing in new ones.
The subscription model is becoming more and more popular in a wide variety of industries like finance, insurance and online education.
Interestingly, 80% of software companies are subscription-based, and 70% of business leaders are optimistic that subscription business will bring them better profits in the future.
As with any other type of business, marketing is an integral part of subscription businesses. A good marketing strategy will help any subscription business establish target buyers and help with overall growth.
Although there are many marketing tactics, such as social media marketing, content marketing and traditional marketing, referral marketing is one of the most common for subscription companies.
What is referral marketing?
Referral marketing is a marketing channel that leverages word of mouth recommendations in order to grow a business's customer base through the network of pre-existing customers.
According to Extole's study, referred customers have a higher retention rate of about 37% and only an 18% churn rate. Referral programs can also give 16% more income than other marketing channels. In addition, they also mentioned that prospects are 4x more likely to buy a product or service referred by a friend.
What are the benefits of referral marketing for subscription businesses?
Referral marketing can be an incredibly effective strategy for subscription businesses. Below are some of the main benefits: 
Increased signups
One of the main benefits of referral marketing is that it can help businesses increase their subscriptions. Having more subscriptions means higher recurring revenue, which should be a primary goal for any business owner.
Studies on referral programs have highlighted that customers referred by a friend are four times more likely to buy. On top of this, B2B businesses that focus on referral marketing experience a 70% higher conversion rate. 
But why is referral marketing so effective for increasing subscriptions?
The simple answer is consumer trust.
Before subscribing to a service, potential customers need to feel as though they can trust the business and what they provide. Arguably the best way to help customers feel a business is trustworthy is by having their friends or family recommend the service.
More exposure
Generally, if a consumer is aware of a brand and has been exposed to it, they are more likely to purchase from them. Oftentimes companies rely on advertising and social media marketing to build brand awareness, but these are not the only options.
Referral marketing is based on word of mouth recommendations, and given that many people rely on recommendations when choosing which item or service to purchase, it can be highly effective. Although social media is effective, people trust their friends' recommendations far more than social media.
Exposure can help establish a better reputation which will often generate excellent results in terms of improved subscriptions and profit. The more exposure a business gets, the more familiar people are with branding and these two things help businesses get more customers and establish a loyal customer base.
Better customer engagement
Customer engagement is important because people value interaction. They are more inclined to buy from businesses they know about and trust. In addition, referral marketing is done with other marketing tactics requiring engaging with audiences like social media, email, and content. 
Improved customer loyalty and retention
Referral marketing can be beneficial for both new and existing customers as it provides incentives to current users and discounts to referrals and new ones, which can strengthen loyalty. On top of that, if they are satisfied with the products or services, they can effortlessly recommend them to others and continue to pay to get more rewards.
Simply having a good referral program can minimize customers' chances of leaving and increase customer retention as there is an established trust and value.
But how can customer loyalty and retention affect subscription businesses? Essentially, this type of business earns revenue through recurring fees, and it can only operate and grow if people are willing to use its service or product continuously. The longer the customers pay, the higher profits they get, which can open more growth opportunities.
Unsurprisingly, statistics from Semrush show around 76% of businesses believe that tracking customer lifetime value is essential in a successful organization. In addition, they mentioned that 58% of customers participating in a referral marketing program purchase from the brand at least once every month.
Typically, customers who feel they play a valuable role in a business's success are convinced to stay.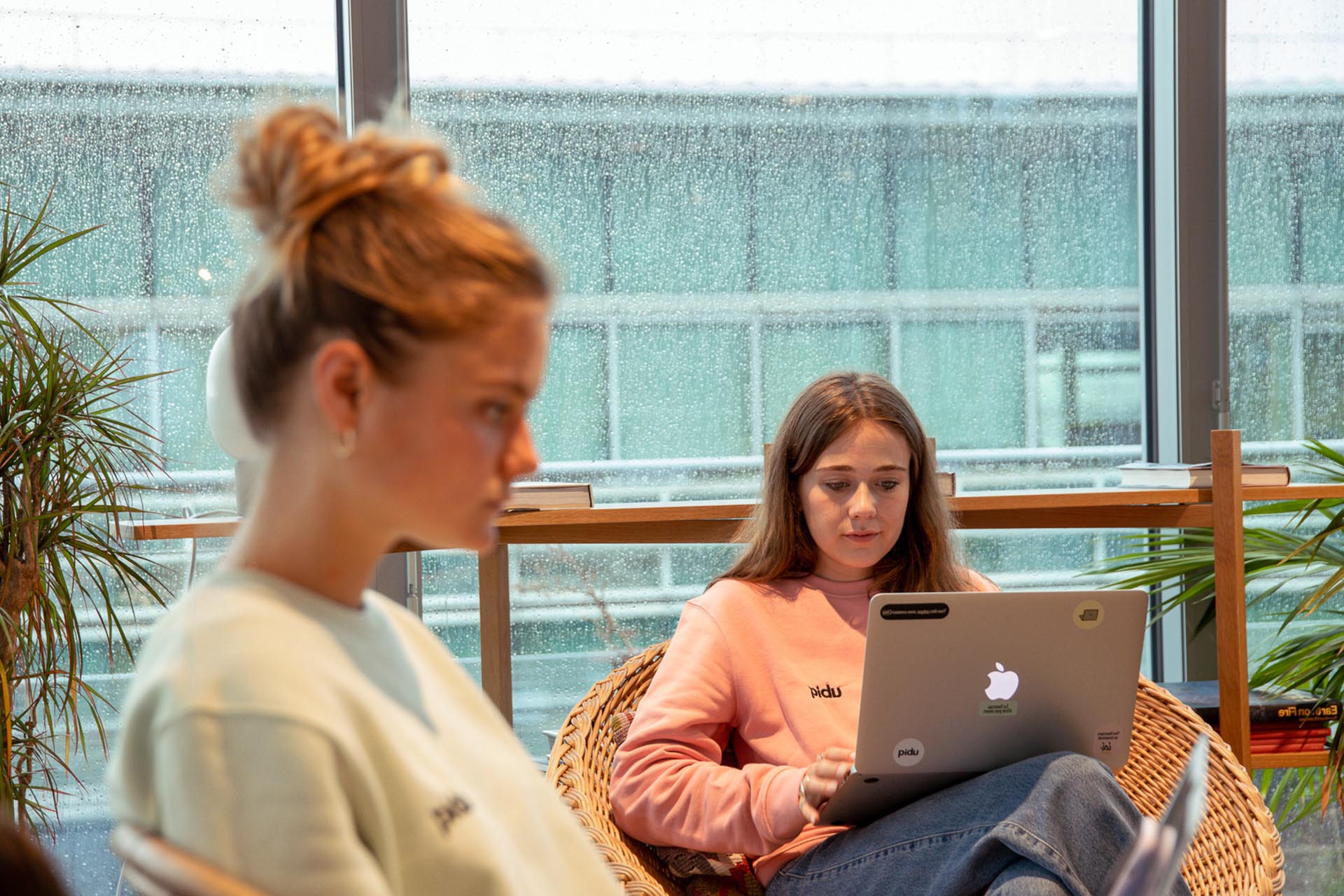 How to Build a Customer Referral Program
A referral program is designed to encourage existing customers to recommend a business or product to other people. In return, they get rewarded by the company whenever they successfully introduce a new customer. Below are the steps to follow to establish an effective referral program: 
Set goals
Goals are essential in any activity, and establishing milestones in place will help determine what steps businesses need to take. Moreover, they are a great way to measure the success of the referral program.
Accordingly, businesses should have a clear purpose for the referral program and its application and the incentives they are willing to give to their customers.
Although businesses should set goals, it isn't easy to think of them. Below are some great ideas to start: 
Use referral marketing to boost customers' lifetime value and loyalty.
Utilize referral marketing to improve the database and create a solid list of suitable customers for the business.
Acquire new customers or retain existing ones by providing special offers based on their needs.
Subscription businesses can also observe their competitors and examine which goal they possibly have.
Customer referral templates
Next on the list is creating and providing referral templates for customers.
Customer referral templates include email content and social copy that businesses can use to ask for referrals from their existing customers. Referral templates also refer to guides that referring customers can use to introduce a company's products or services to other people and gain direct referrals.
Referral templates can save businesses' and referrers' time. By using them, subscription businesses can quickly send emails to their existing customers about the program. In addition, referrers' can promptly share their positive experience with friends by following a script or copy.
These pre-formatted documents can make referral marketing effortless and swift. Aside from that, templates can also be tweaked and personalized by the users.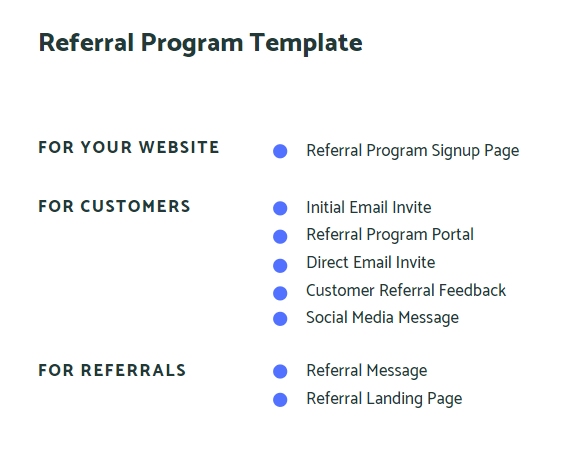 Understand your customers
Businesses can structure better referral programs if they know their customer's demands and preferences. Through understanding customers, companies strengthen their relationship with them. Consequently, they will give good recommendations to more people.
Although this can be pretty challenging, businesses can understand their customers better by frequently engaging with them through various channels. Having Live Chat support on websites, answering social media comments, or sending personalized messages on Messenger are best practices.
By interacting directly with existing customers, businesses can develop new and even better products that benefit buyers and the people they know.
Another way to understand customers is through creating more detailed buyer personas. Possibly, narrowing and being specific with the target audience can help in creating better referral programs. To do this, businesses can research and target the keywords that prospects are likely to use.
Businesses can also put themselves in their customers' shoes. Using customer journey mapping, they can create a comprehensive graph based on their customer's experience before, during, and after purchasing.
Decide on incentives
Incentives are great motivators when it comes to referral marketing. Offering good ones can increase the chances of existing customers to participate in a referral program. In reality, people feel happy when their efforts are recognized and rewarded. Furthermore, they feel like they are growing together with the brand.
Incentives can also help subscription businesses become more visible, and this is especially helpful for those just starting. Research shows that those new and weaker brands could secure referrals after creating and promoting a reward system.
Although businesses have the freedom to choose which incentives to give, they still need to carefully plan and design their system as it can make or break their referral program. One thing to remember is that they should consider customers' preferences at all times.
To create a successful reward system, brands should ensure that the incentives appeal to both new and existing customers. They need to discover the most suitable reward for their audience, which can motivate them enough to secure more referrals.
One more thing to regard is quality over quantity. People are more interested in receiving a special and unique reward than multiple yet unexciting ones. Businesses should provide something that customers can look forward to.
Before deciding on incentives for a referral program, subscription businesses should have a clear idea of how much they are willing to spend. They need to provide a promising incentive without sacrificing profit.
Create referral resources
Referral resources are mediums where businesses' can remind and make existing customers aware of the current referral program.
Some referral resources that businesses can explore and use for their referral program are newsletters, video scripts, blogs, email signature CTAs, email campaigns, and landing pages.
For example, businesses can create an email sequence mentioning their referral programs and the possible reward for existing customers who will participate. In addition, this can be partnered with a landing page that subscribers can share with their friends and help them win referrals.
Businesses can also provide materials that include testimonials and case studies on how they help people succeed, so customers can simply show that to other people as proof that the product or service provided by the business is effective.
Having referral resources will make it easier for companies to attract new customers as it is more accessible to them.
Track referrals
Referral tracking is the process of collecting and monitoring the referrers' data. It starts from registration to producing referral links until a new customer signs up using the referrer's code.  Indeed, tracking referrals is vital for businesses in knowing and understanding how to optimize their referral program.
Tracking referrals can give businesses better control over providing rewards. Moreover, it's a great way to avoid scams and only acknowledge legitimate customers and referrers.
But how can businesses track referrals more effectively? There are multiple ways to do so, and it can be done manually or automatically.
For small and new businesses, manual tracking is the best approach. They can simply create a spreadsheet using Excel or Google Sheets and update it every time someone makes a successful referral. Another way to manually track referrals is to provide forms to your existing customer to fill up whenever they make a new referral. Forms can also be made available to new customers to verify who referred them to the brand.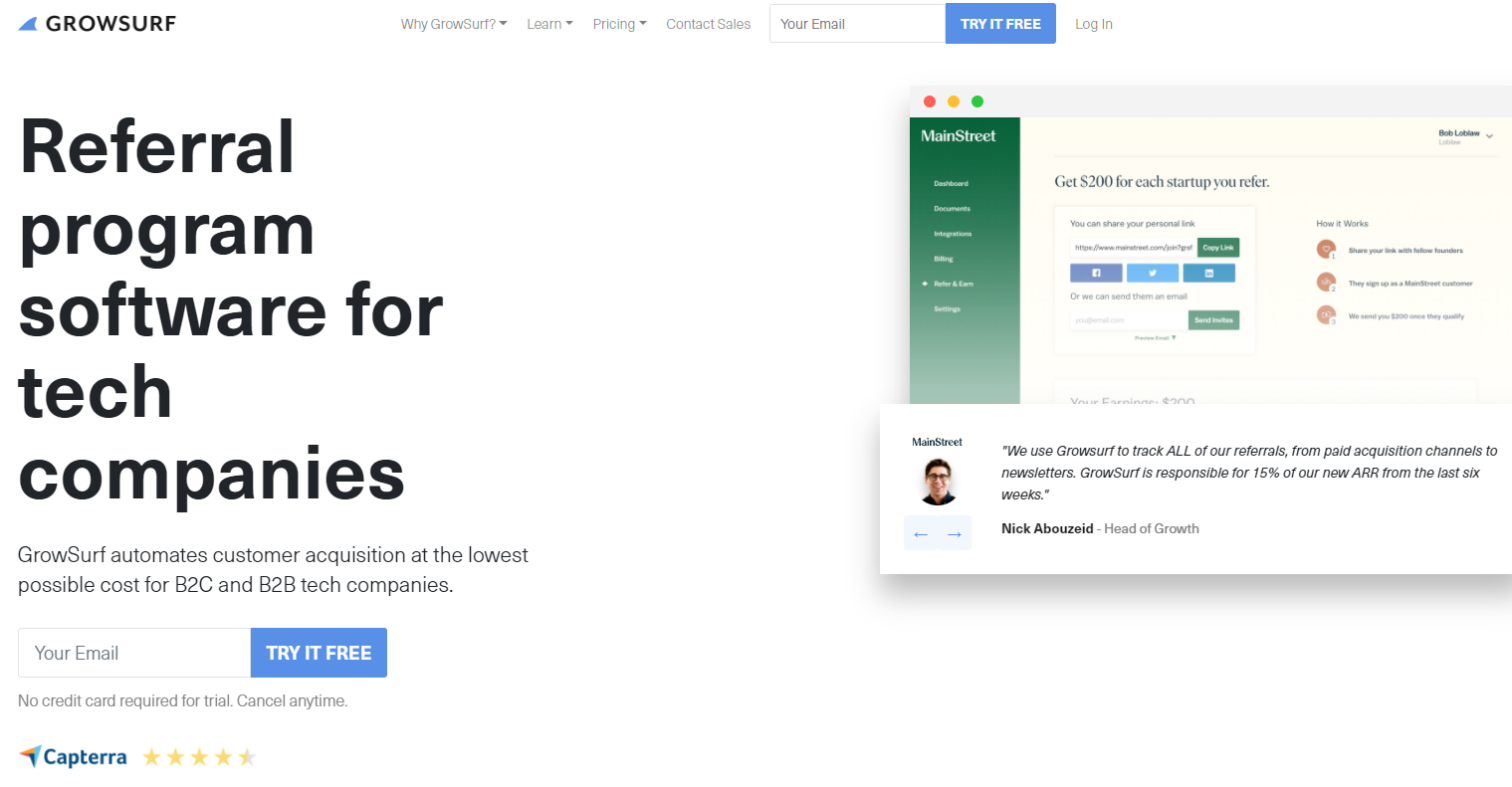 Medium-sized to more prominent subscription companies can benefit from using software to automate tracking and get accurate and real-time results. There are many platforms available out there so they can comfortably pick which fits their style and budget.
For businesses that can't afford to pay for software, Google Analytics is a good option. It's free, and it will let them track conversions and referrals on their website or page.
Follow up and thank customers
Follow-ups and thank you messages are crucial in increasing businesses' sales as it involves engaging with existing customers. As mentioned a while ago, people love brands they can interact with.
Sending a follow-up can make customers feel special and remembered. Businesses can use it to show that they want their existing customers to join the referral program because they know the products and services better than anyone else. On the other hand, thank you messages can make customers feel positive and appreciated. For that reason, businesses can earn their respect and probably retain them.
Although sending a simple follow-up message is okay, people are more responsive if they receive something personalized and unique.
To create better follow-up and thank you messages and secure a reply from customers, businesses can send an email mentioning that they can help their existing customers to get started and are willing to answer any questions. One more approach is to send a thank you message to people interested in the referral program and let them know that someone can accommodate their questions or comments.
Moreover, providing specific information to help customers decide whether to join the program is also an effective method.
Subscribe to GrowSurf
Get our weekly newsletter for our latest referral marketing guides.
Error subscribing! Please try again.
Effective Referral Incentives For Subscription Businesses
As mentioned earlier, one excellent motivator subscription businesses can use to encourage existing customers to join a referral program is incentives.
For some inspiration, below are some websites that nailed the subscription referral campaigns.
Coveroo used its email platform to encourage customers to refer them to a friend. To make their campaign more powerful, they added clickable links for new customers who want to know more about their business. Plus, a summary of what they can get in joining the program.
Another excellent referral example is from Appsumo. The campaign for the referral program shows once subscriber signs in on their website. Existing customers can get $10 that they can spend on the platform for every successful referral. What's more, they included a ready-made email template so people can simply type their friend's email address, and the forum will automatically send the message to the recipient.
Aside from money, there are many kinds of referral rewards that businesses can offer to their customers. Below are some of them: 
Store credit 
Store credit is a good referral incentive that is beneficial for the business and the buyers. It refers to the amount existing customers can collect on their account and use to pay for products or cash refunds.
Many users love this referral incentive as they can use it to pay for new products they like. Furthermore, it reduces churn rates and encourages customers to stay long-term as they can only enjoy the store credit if they remain subscribed.  
Store credits are also beneficial for business owners as they won't need to spend money on this incentive, and they don't need to provide the exact face value of the reward, unlike cash.
Because your referrers will be motivated to keep their account active to get more store credit, they'll keep subscribing and referring.
Free month of subscription
This incentive is pretty much self-explanatory. But basically, existing and referred customers can get a free month of subscription as a reward.
An excellent example of a free month subscription is Krisp Referral Program. For every three successful referrals, Krisp gives their existing customers free months of access to Krisp Pro. Additionally, it also provides new subscribers with one free month of Krisp Pro.
Evernote does the same, but the referrer gets a storage upgrade while the referee gets one free month of premium access.
A free-month subscription is a good incentive because it's a win-win strategy. Businesses can get new paying customers more quickly and affordably. Existing customers can save a month or a few months' fees, and at the same time, new customers may also enjoy a free month to test the product or service and see whether it is suitable for them.
Upgraded plan for a month
One more referral incentive that businesses can apply is an upgraded plan for a month. Existing customers still need to pay for this incentive, but they only need to pay the regular price to experience the higher plan's features for a month.
An upgraded plan for a month is an attractive reward as customers will feel motivated because they pay the same price, but they can enjoy a better service. In the business' case, they still secure the recurring fee and simultaneously get more sales from the referrals.
Who knows, the existing customer might like their experience with the upgraded version and decide to pay for more features.
Golden Rules of Referral Marketing
For brands' efforts to be successful, there are some rules that they must follow.
Ensure customers know about the referral program
Promoting the referral program to existing customers is very important because no one can participate if they don't know it exists.  
There are many easy ways to share the program with people. Businesses can: 
Send users a personalized message.
Create a post about it on their social media.
Include it on their blog post or home page.
Create a CTA partnered with a landing page where customers can see the mechanics.
If the program is visible to more audiences, businesses can attract more customers willing to participate and recommend their products to others.
Make the referral system easy for customers
One way to ensure the success of a referral program is to make it attractive to customers. Try to make a one to two-step referral procedure and eliminate unnecessary rules that might hinder customers from joining the program.
In short, make it as easy as possible. Businesses can provide a link and create a page that customers can share with their friends so they can just show it to them.
Having an easy referral system will be beneficial because it will show customers that they can enjoy rewards through minimal efforts.
To make the referral system effortless, businesses can provide referral templates and create forms.  In addition, creating referral links or codes is also a great way to simplify the process. When explaining the referral system, avoid using jargon.
Offer incentives that customers want
Realistically, people like to join programs that will benefit them. No matter how helpful the products are, the referral program will only be appealing if they can enjoy the reward being offered.
To ensure that customers are satisfied with the incentive, businesses can try different ones and see the conversion. Additionally, directly communicating with existing customers can determine what they want. Providing a survey or sending an email can help.
Key Takeaways
Referral marketing might seem like hard work, but it's easy once the business builds a plan and creates a marketing strategy that they can follow. Moreover, the result of referral marketing can be bigger than the hours put into establishing the program.
Remember these necessary steps when creating a referral program: 
Set goals.
Create and provide customer referral templates.
Understand customers deeply.
Select the right incentives.
Create referral resources.
Consistently monitor referrals.
Send a follow-up and thank you message
Subscribe to GrowSurf
Get our weekly newsletter for our latest referral marketing guides.
Error subscribing! Please try again.