If you've ever had a discussion with an environmentally-conscious individual, you'll know how they always promote repurposing everyday household items for storage, gifting, and decorating.
But did you know that the same thing can be done with your content?
The most experienced marketers don't let their best content wither away. They take its best bits, add a few tweaks, and convert it to a new format, all in an effort to reach a new audience and attract new customers.
Here's how! 
What Is Content Repurposing? 
Content repurposing is a process in which a piece of content, such as a blog post or a video, is transformed into alternate formats like social media posts and infographics.
Repurposing your content means changing the format or medium of your original content to make it more accessible and relevant for different audiences.
For example, you can convert:
Blog posts into videos
Videos into podcasts
Podcasts into infographics
Infographics into ebooks
eBooks into presentations 
The idea behind content repurposing is that people like consuming information in many different ways (text, images, videos). Content repurposing is an excellent way to maximize your marketing dollars by using similar content in various formats. It also allows you to reach new audiences through different channels.
The Distribution Conversion Chart:

One post = 8 Tweets
One post = 5 Linkedin posts
One post = 3 Quora answers
One post = 2 YouTube videos
One post = 1 PDF for download pic.twitter.com/5t2cOdObuO

— Foundation 🎧 (@FoundationIncCo) September 28, 2021
Why Repurposing Content Is Important
Get this:
According to some rough estimates, writing a high-quality 2,000-word post takes around 6 hours from start to finish. The average time to create a YouTube video is around 7 hours for 1–5 minutes of video, while infographics take 3 to 4 weeks on average.
Here's the deal with repurposing content: it saves you a great deal of time (and money) to produce new content. This means that you don't have to write a new blog post, YouTube script, or infographic from scratch. Instead, you can use the information you have in your existing content and expand it or transform it into a new format.
Not to mention that you'll be getting your content in front of a new audience by marketing on different platforms.
What's more, this tactic can positively affect your SEO. Let's say you had a blog post that was bringing you a great deal of traffic, and you transformed it into an infographic. This can significantly boost your organic traffic with minimal investment in time and money.
Also, when repurposing old content, you have an opportunity to update the keywords you're targeting. Maybe the keywords you used in your old content were trending at the time of writing, but now there's a whole new set of keywords that are surging. Reworking your content to include more up-to-date keywords can give your content a boost.
How to Repurpose Content in 7 Steps
By now, you must be thinking:
It all sounds great, but how do I actually do it? Is there some magical tool that can transform my existing content into new?
Although there's no magical tool, there are some great strategies for repurposing content and giving it a fresh new look.
Before you dive deep into the tips below, keep in mind that the best strategies for you will depend on your business, the time and money you can spare, as well as the type of content you need.
Let's get into it!
Identify Evergreen Content
Just like an evergreen song that was written ages ago and still resonates with the audience, evergreen content is a type of content that is continually relevant and remains a "hot" topic for readers over a long period of time.
For instance, let's say that you have a blog on your site titled Top 5 Trends in Referral Marketing for 2021. This is a type of content that will remain relevant all throughout 2021 but not in 2022. This content is seasonal and has a short shelf-life.
On the other hand, let's imagine that you have a post titled The Beginner's Guide to Referral Marketing. This is a classic piece of evergreen content.
Unlike short-lived content that may result in high traffic for a few days or weeks, evergreen content can drive traffic to your site for years.
But not only for traffic, evergreen content is also great for building high-quality backlinks and is great for SEO. Ultimate guides, case studies, list posts, checklists, how-to guides, and other types of lead magnets are all possible evergreen content pieces.
But how do you find which pages on your blog are evergreen?
The best tool for identifying evergreen content is Google Analytics.
Simply open your landing pages report and see which pages are bringing you the most traffic. These are the pages that your visitors enjoy reading.
Once you identify your evergreen content, it's time to repurpose it to fit other platforms. Keep in mind that, in some cases, you might need to update your post with fresh info before repurposing it.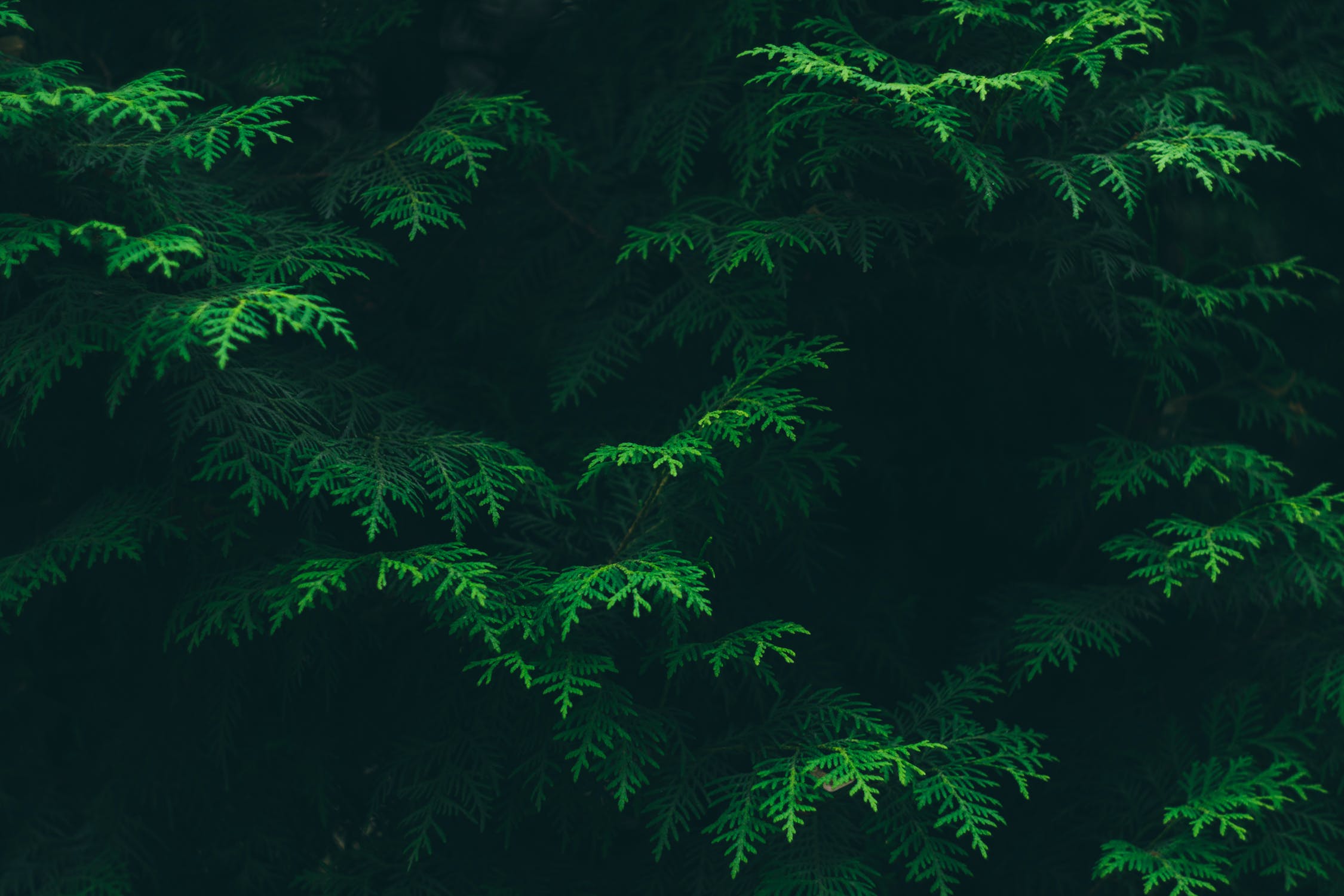 Make Sure the Repurposed Content Fits the New Format
So you've successfully identified your evergreen content. Congrats!
The next step is to adapt the content into the appropriate format.
I know what you're thinking:
Why can't I just use the same content?
Well, let's say that you have a great list post that needs to be transformed into video content.
Reading the post word by word will probably bore your audience in the first 5 seconds. You need to use your post as the basis for your video but tweak it to fit the new format. Shortening the text, adding sound effects and transitions, and telling a few jokes can add flair to your video and make it appealing for your new audience.
Tweaking the content may take you a few hours, which is way less than what would take you to write a video script from scratch.
This is just one example of how you can adapt your content to a new format. The same thing applies to transforming infographics, guides, ebooks, and case studies.
It's simple:
If you want your repurposed content to be as successful as your evergreen content, you must adapt it to the new format.
Subscribe to GrowSurf
Get our weekly newsletter for our latest referral marketing guides.
Error subscribing! Please try again.
Break Large Content Into Smaller Pieces
The good thing about large content like articles and guides is that they can be easily divided into smaller "quickly digestible" pieces of content that you can publish on Linkedin, Twitter, Instagram, etc.
The key to this strategy is to identify the best bits and pieces of your large content (videos, blogs, podcasts) and then publish that on other platforms.  
Let's look at an example!
We've recently published a blog post titled 7 Word of Mouth Marketing Examples to Get You Talking.
This post works well for our website, but short posts tend to work better when it comes to social media platforms like Twitter and Linkedin.
So we broke our long blog post into a Twitter thread and ended up with this: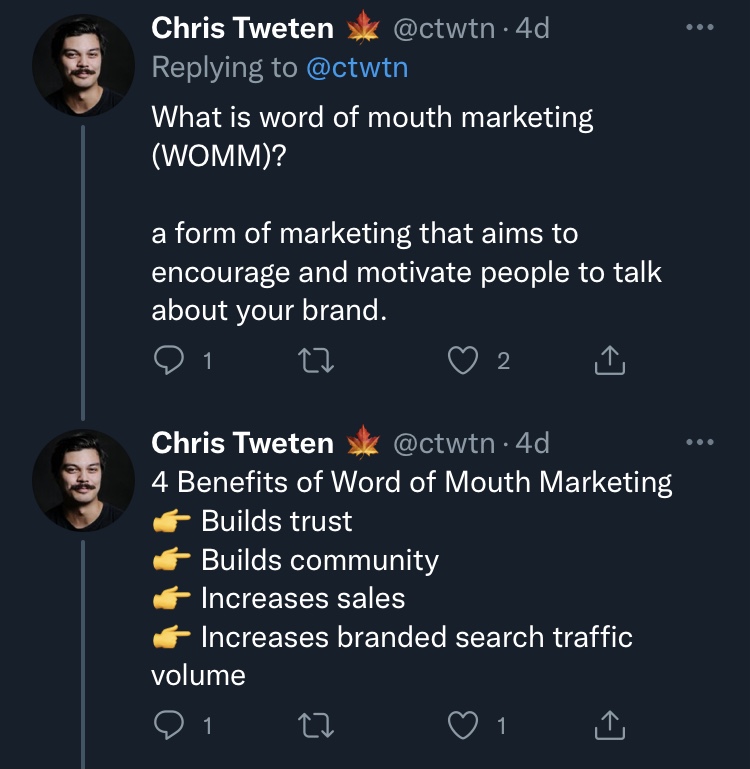 You can see the full thread here.
Convert Your Existing Content Into Visual
Humans perceive around 80% of all impressions using our sight. Even more fascinating is the fact that the brain processes visual information 60,000 times faster than text.
No wonder marketers take advantage of visual content to grow their audience. In fact, 49% of marketers rate visual marketing as Very Important to their marketing strategy.
This brings me to my next tip:
Your blogs and guides don't have to stay in long-form. You can turn them into great pieces of visual content like infographics, pull quote graphics, videos, and other attention-grabbing bites that can give you a boost in traffic.
For instance, infographics can increase website traffic by up to 12% and sales by up to 80%. In addition to infographics, PowerPoint or SlideShare presentations can also be a fantastic way to reach users who prefer easy-to-digest information.
And the best thing? There's no need to create the content from scratch.
For example, let's say that you have a checklist post that your visitors love reading. What you can do is convert your most actionable tips into an infographic. Another idea is to redevelop your guide into a PowerPoint presentation for conferences.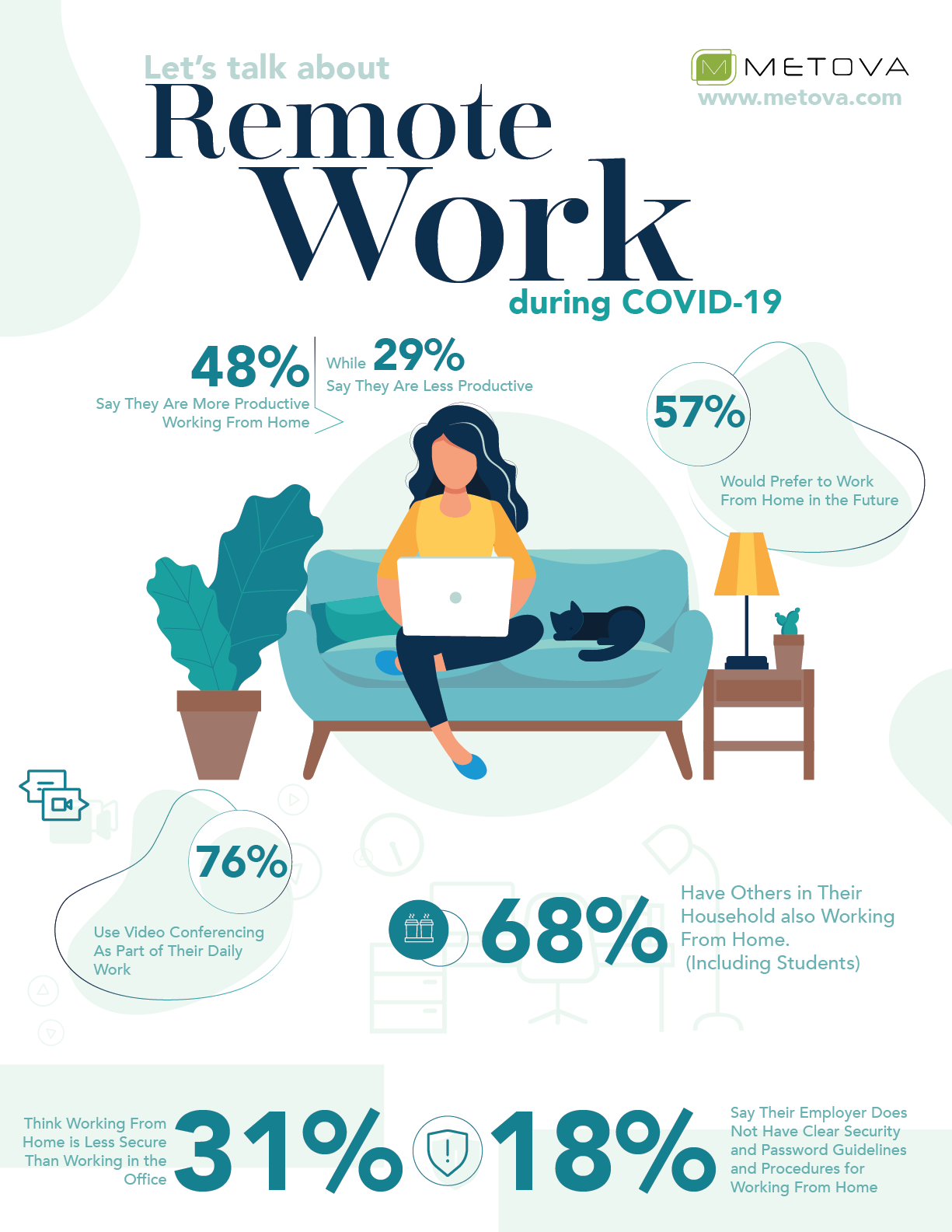 Use Your Existing Content as a Foundation for a Guest Post
Guest posting is an amazing strategy to establish yourself as an authority figure in your industry, promote your brand to a new audience, and connect with other thought leaders in your industry.
So, if you're looking to step up your guest posting game, definitely consider repurposing content for guest posts.
And no, this doesn't mean that you can simply copy-paste your old content into a guest post. This will be considered plagiarism and may negatively affect your relationship with other blogs in your niche.
For example, let's say that you have created a long-form blog that talks about building a story brand for increasing customer loyalty. You can take this post as a foundation but cover the topic in a new way.
You can do so by including new examples and perspectives that you haven't included in your original post. The end product should be a tweaked but unique version of your original post.
Republish Your Content on Popular Blogging Platforms
Here's a fact:
Your content doesn't have to stay only on your site. You can repurpose some of your most visited posts on popular blogging platforms.
This may not be as effective as writing an original post or tweaking your content, as it's basically duplicate content. But sites like Medium and Linkedin Articles can be great for getting additional traffic to your site.
Republishing your content on these platforms is fairly simple. For instance, Medium has an import tool that makes adding your content on the platform easy. All you have to do is copy-paste the article's link and click import. Your post will then be imported on the platform, and you can make changes before publishing.
The entire process takes only a few seconds.
It's up to you to decide whether it's worth the (small) effort.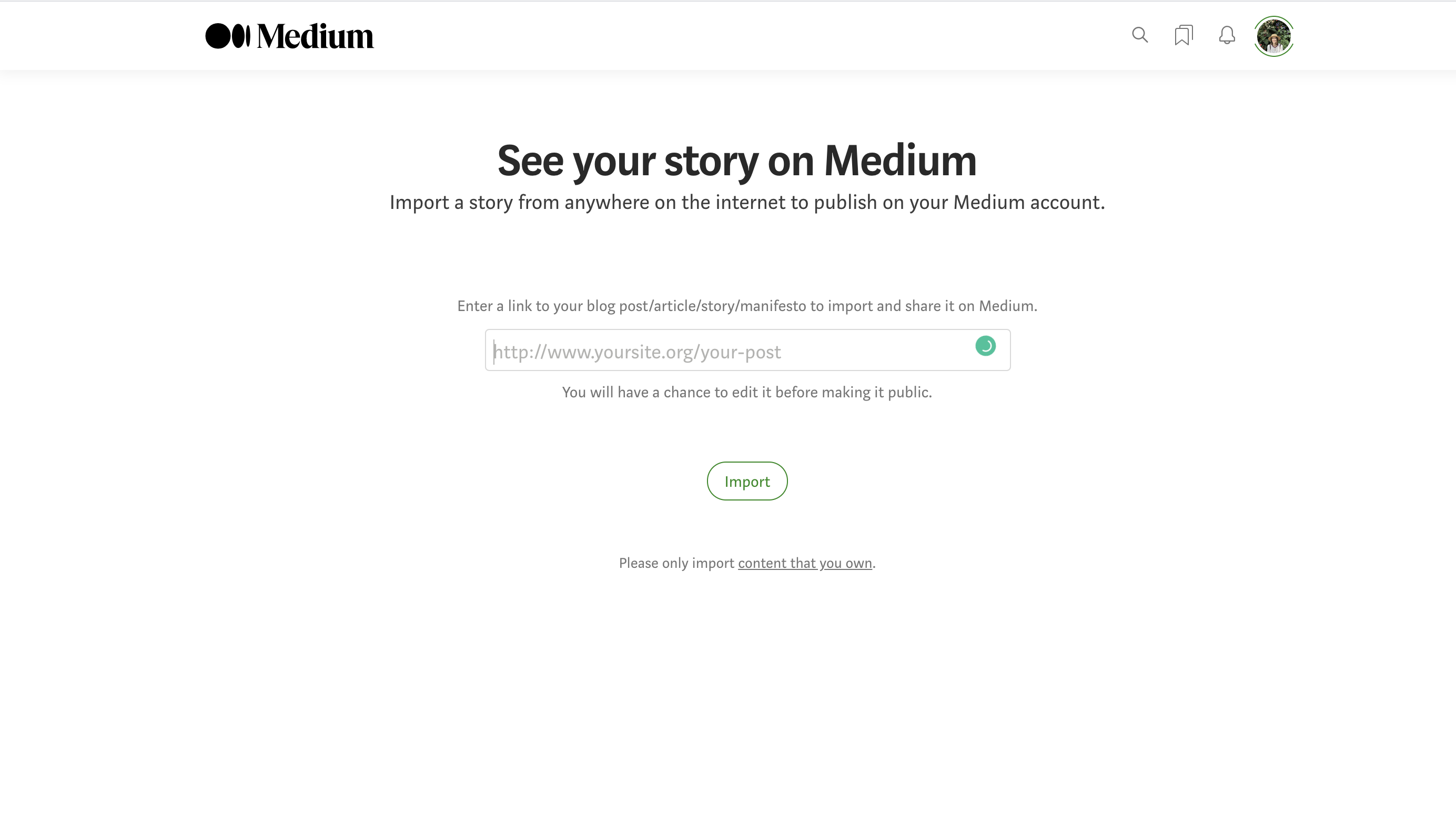 Group Your Existing Content
Similar to how you can take a large-sized chunk of content and divide it into smaller pieces, the other way around also works. You can also take several pieces of similar content and put them into one.
For instance, let's say that you have several blog posts on a particular topic. You can put all these posts together to create an extensive and data-packed ebook to use as a lead magnet.
Here's another idea: you can use your blog posts to create an email series. By doing so, you can deliver interesting and valuable content directly to your users' inboxes.
Another great way to bundle your existing content is to make it easier to navigate from a content hub page, like we did with our articles on referral marketing: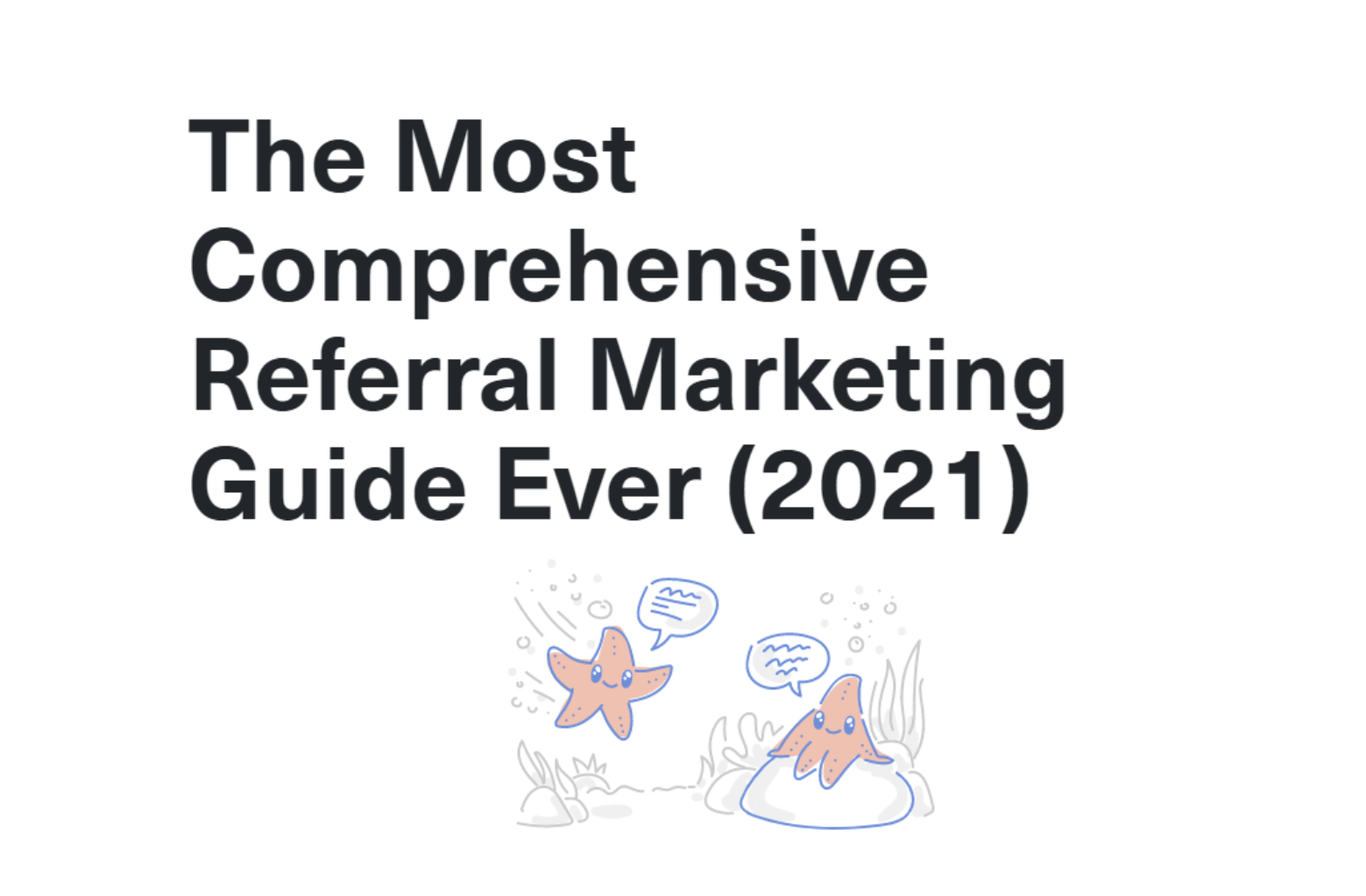 Key Takeaways 
And there you have it! 
The best strategies for repurposing content to grow your business.
Regardless of how you choose to repurpose your content, you can sit back and relax, knowing it will help you reach a new audience and get an SEO boost. To take full advantage of this tactic, consider thinking ahead about repurposing your content and including it in your marketing strategy. Remember: one story can help you create dozens of pieces of content.
To sum up:
Repurposing content is a process in which a piece of content, such as a blog post or a video, is transformed into alternate formats like social media posts and infographics.
Content repurposing saves you a great deal of time (and money) to produce new content and can positively affect your SEO.
The first step is to identify your evergreen content as this type of content is perfect for repurposing.
Your repurposed content needs to match the format you're using.
Another way to repurpose content is by breaking it up into smaller pieces.
One of the easiest ways to repurpose your content is to make your existing content visual.
If you're looking to step up your guest posting game, definitely consider repurposing content for guest posts.
Republishing content on popular blogging platforms can be great for getting additional traffic to your site.
Grouping your existing content is another effective strategy for repurposing content.
Request a demo of GrowSurf
Set up your referral marketing program with software that lowers your customer acquisition cost and saves you gobs of time.