Where to Promote Your Subscription Box
The subscription box model has taken over the eCommerce industry. According to a McKinsey study, the subscription box market was valued at $10 billion in 2019. That is big considering subscription box revenue totaled $57 million in 2011.
And in a world where people have become more accustomed to having their purchases delivered to their front doors due to the pandemic, subscription box businesses are expected to see continued growth in the coming years—as popular subscription box providers like Birchbox, Dollar Shave Club, The Crafter's Box, Winc, and Blue Apron can attest.
In a market that's becoming more saturated by the way, how do you stand out from the competition?
In this blog post, we'll explore the 5 best growth channels that will differentiate your subscription box business from the competition.
But first...
Subscription Box Model: What Is It?
A subscription box business model charges customers on a recurring basis in exchange for the regular delivery of niche products packaged in a box. Most subscription boxes are delivered monthly.
Once your contract is up, you have the option to renew or cancel.
One of the advantages of the subscription box model? Recurring revenue. Since subscribers pay a fee regularly, that means predictable revenue and a positive cash flow for you.
Some of the most popular subscription boxes include Birchbox, Dollar Shave Club, The Crafter's Box, Winc, Blue Apron, and more.
While subscription boxes are the rage these days, you need to use effective growth channels if you want your subscription box service to take off and generate more ROI. Here are the five best growth channels to use for your subscription box service.
1. Influencer Marketing
Is your brand working with any influencers? If you know what's good for your subscription box business, it's time to start now.
Get this: the influencer marketing industry is estimated to be worth 13.8 billion this year (2021). You have to grab a piece of that pie if you want to generate more ROI this year and the next.
As many of us who hang around the socials already know, some influencers have dedicated and engaged followers who hang on their every word.
Say you partner with an influencer whose 10,000 followers fit your ideal customer. If that influencer publishes an unboxing video featuring your products, chances are many of her followers will be happy to take the recommendation.
Influencers build your credibility by way of association. They make your target audience trust you more.
Care for an example? Here's Bald and Strong, a YouTube creator providing content for people embracing the bald lifestyle, featuring Dollar Shave Club's subscription box in an unboxing video.
Bald lifestyle. Dollar Shave Club. Now that's a great fit.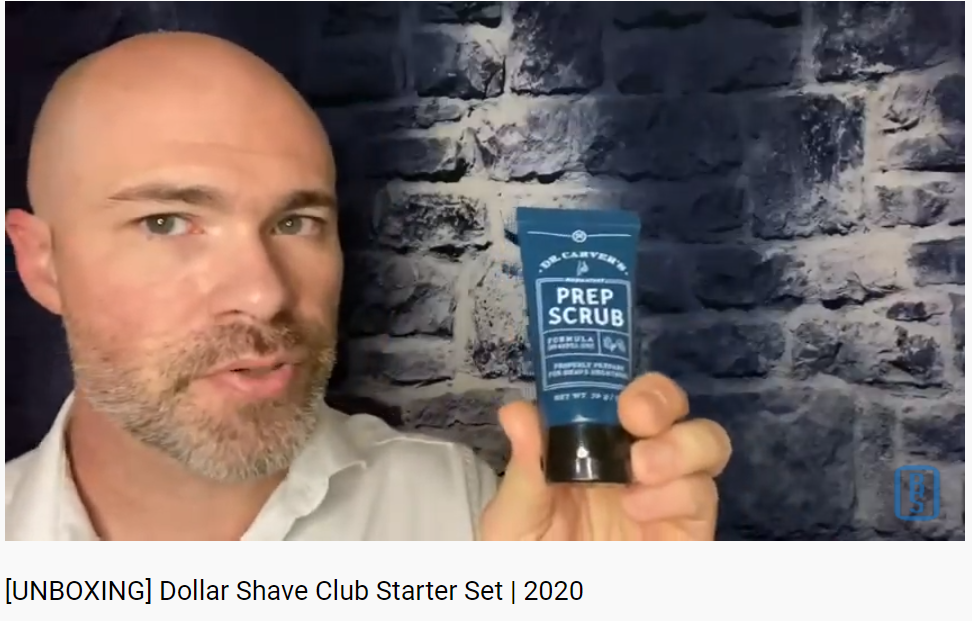 Aim for the following goals when you seek partnerships with key influencers:
A partnership of shared values.
Authenticity (don't partner with influencers whose messaging doesn't align with yours)
A targeted audience (their audience should match your target customer)
Incentivization. Create a referral scheme that rewards influencers for signing up other influencers.
2. Word of Mouth via Affiliate and Referral Marketing
Want to gain and build a following for your subscription box business? Make people talk about your brand.
There are many ways to trigger word of mouth. But you can give it a kick in the pants by providing incentives. You can launch an affiliate or referral program, for starters.
Many people confuse referral programs with affiliate programs. After all, while they have the same goal (customer acquisition via referrals), they have fundamental differences in terms of execution.
The fundamental difference between the two? The role of the people sending referrals.  
Referral programs leverage existing customers or users to acquire new customers via referrals in exchange for referral rewards.
Affiliate programs, on the other hand, leverage third parties or affiliates (any individual or organization) to acquire new customers via referrals in exchange for a recurring cash payout.
While affiliate programs and referral programs have their differences, they have similarities too.
GrowSurf CMO, Chris Tweten sums them up in the following tweet: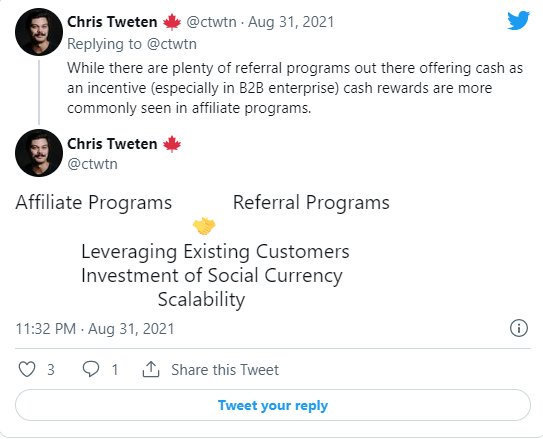 If you want to use either or both strategies in your subscription box marketing campaign effectively, understanding both differences and similarities is key.
So, which customer acquisition strategy will work best for your subscription box marketing campaign? Here's a nice breakdown to help you out: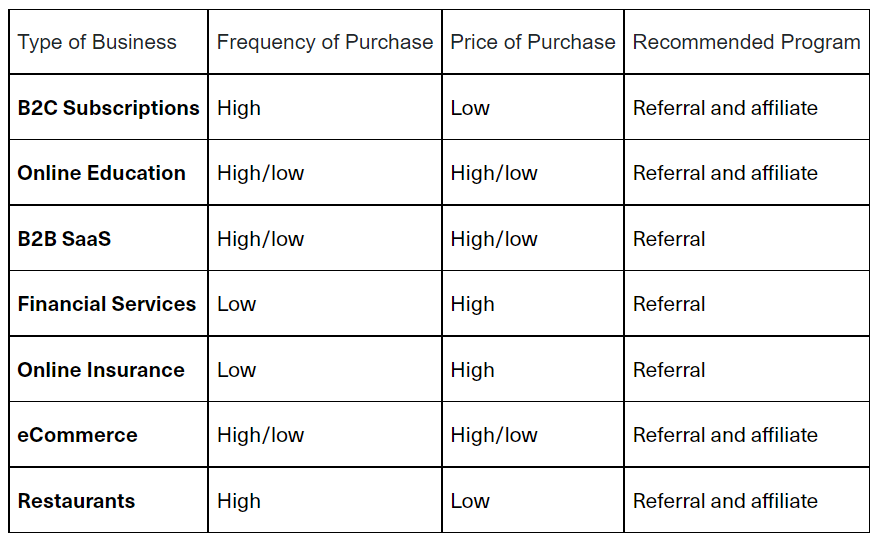 If there's a key takeaway from the above table, it is this: affiliate marketing relies on expertise while referral marketing relies on personal connections.
3. Email Marketing
Email marketing is a great opportunity to connect with an engaged audience with minimal investment.
In fact, businesses generate $42 for each dollar spent on email marketing—an amazing 4,200% ROI. So, it's no wonder 64% of small businesses are using email marketing to reach customers.
When you have an email list, you can send marketing messages that are personal, anticipated, and relevant. They already signed up, so they're more likely to pay attention to what you have to say and will want to hear more.
Here are some tips to maximize the benefits of email marketing:
Craft a great email copy. Use simple, clear language and highlight the benefits of your offerings.
Create a powerful CTA.
Make it easy for them to subscribe to your newsletter. you can use lead magnets to make them subscribe.
Send content they need and want. Relevant content will keep them coming back.
Segment your email list into specific and targeted groups.
Test, test, test
Leverage referral marketing
This email by Stitch is a terrific example of how to do email marketing. The message itself is straightforward, relevant, and engaging. The CTA is hard to miss. And it's as good a time as any to send a referral program invite.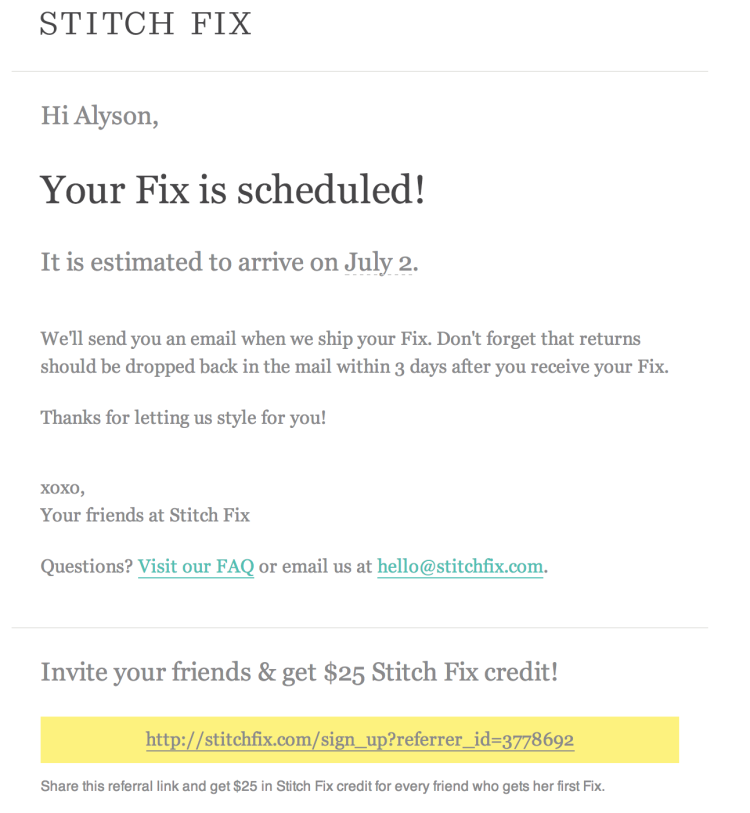 4. Community Building
Want to generate more attention for your subscription box business?
And turn customers into lifelong brand advocates?
Build a community.
Why? Because growing a business is about connecting and building relationships. And nothing helps you do that better than finding and connecting people who share the same interests and core values.
Studies show that 95% of purchases are driven by our subconscious. In other words, you're not just selling products. You're also selling an identity, a feeling, and most of all, a sense of belonging.
People don't just see products, they seek connection.
Why do the most ardent Lego users attend Lego conventions every year? And why do Harley Davidson owners form groups and ride cross-country to raise funds, participate in events, and more?
Robert Cialdini, best-selling author of Influence: The Psychology of Persuasion, says that this tendency to buy to fulfill an innate desire for belonging is driven by the unity principle.
In his book Pre-suasion, Cialdini writes: "The unity principle is based on the concept that people, by human nature, like to be included in groups, belong to something and share a common identity with others."
So, how do you build a community around your subscription box service, and ultimately, your brand?
Get clear with your 'Why'
First, get clear with your purpose. You can't build a community if your brand doesn't have a clear purpose they can get behind. According to a global study, customers are 4-6 times more likely to buy from purpose-driven brands.
Once your customers have a purpose they can identify with and support, empower them by making them feel they're part of your brand story. And you need to empower your members and make them feel they're a part of your brand story.
Plant seeds of engagement within the community
Chances are, your customers will form communities even without your involvement. But you can spur on community building by creating opportunities for interaction.
You can build or join social media groups about your brand and participate in the discussions and help out.
Organize events and conventions. Organize photo challenges or contests. Or you can create branded hashtags to spark conversations among your target audience.
The key is to make them feel welcome and rewarded for being a part of the community. That way, you can turn casual fans into engaged followers, resulting in more purchases and referrals.
Owlcrate, a monthly subscription service that delivers newly published books and bookish goodies, created the branded hashtag #owlbabble to give their customers and advocates a place "where we all come together to get nerdy."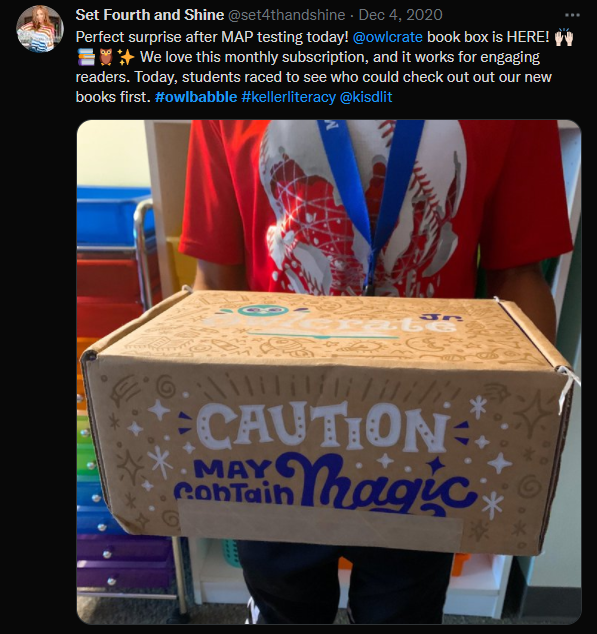 Owlcrate knows nothing reinforces community building better than face-to-face interactions  Here's a photo of an Owlcrate meetup in Vancouver.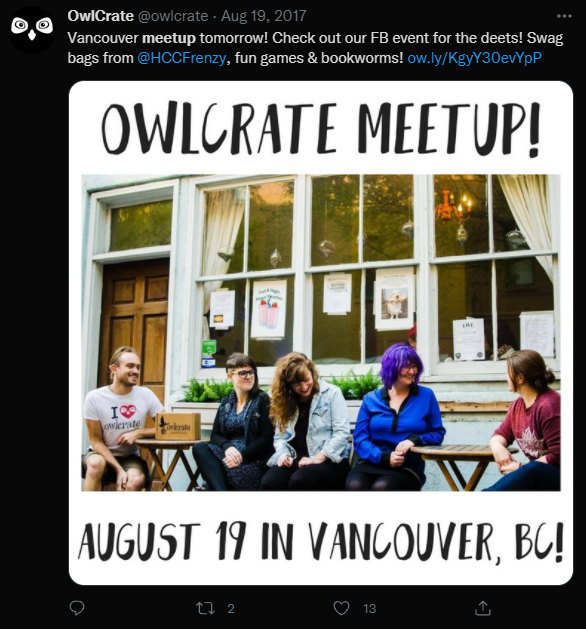 5. SEO Blogging
In an era where people spend most of their time on social media, why blog at all?
Because if you want to know how to make french toast, or how to lose your belly fat, or how to write a cover letter, chances are you're going to seek the answer through Google. And more often than not, you'll find your answer in a blog post.
Simply put, blogging creates the best opportunities to create relevant content for your target audience. No wonder 77% of bloggers are saying blogging drives results.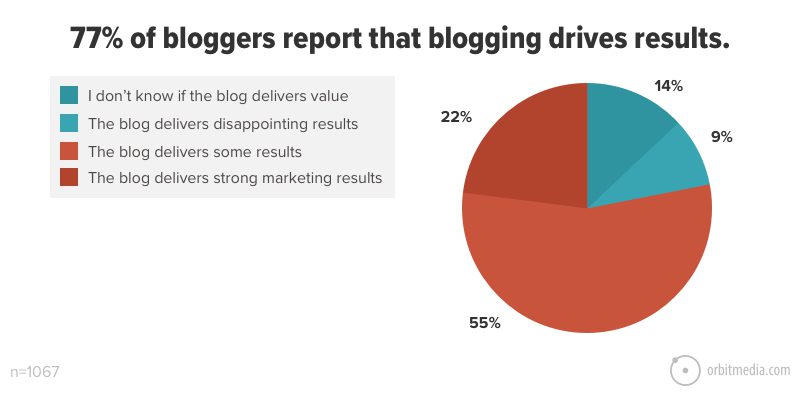 [ Source ]
But for your blog to drive traffic to your website and drive sales, you need to make sure that they get on the front page of Google search results.
Not going to be easy. According to a 2021 report, a whopping 7.5 million blog posts get published daily.
This is where SEO blogging can help.
Stephen Hockman of SEO Chatter defines 'SEO in blogging' as " the practice of optimizing a blog's content, HTML code, and site structure for search engines."
In other words, SEO blogging is the practice of making blog posts rank higher for specific keywords on search queries.
So how do you rank for keyword phrases that will drive qualified traffic to your site, and as a consequence, increase your subscribers?
Do some keyword research! The goal is to optimize your blog posts for keywords your ideal customers will use to find you. If you're selling wellness boxes, for example, you can use keyword phrases like "wellness subscription box," "self-care subscription box," or "wellness kit."
But don't rely on guesswork alone. Using tools like SEMrush, KWFinder, Google Keyword Planner can help you find keyword variations your ideal customers are using. Going for popular keywords is not always the best course of action. To have a better shot at getting on the first page of search results, target long-tail, low competition keywords instead.
Here are other SEO tips to help your blog posts rank higher:
Do all of the above consistently and your blog will drive qualified traffic and increase your subscription sales soon enough.
Why Referral Marketing is Perfect for Subscription Boxes
As mentioned in the introduction, the subscription box industry is growing competitive by the day.  The best way to cut through the noise is to turn trust into a competitive advantage.
But with so many competitors vying for your target audience's attention, how do you get potential customers to trust you over the others?
This is where referral marketing for subscription businesses can help.
If you can't get your target audience to trust you, why not leverage the trust they have for someone they know (supposing that 'someone' is one of your best customers)? After all, 92% of consumers trust recommendations from friends and family over other forms of advertising.
Once referral marketing has tapped into that trust, amazing things will happen, including:
Increased signups
More exposure
Better customer engagement
Improved customer loyalty 
The last part (improved customer loyalty) is especially crucial when you're running a subscription box business. While having a predictable income is great, customer churn poses more risks to businesses using a recurring revenue model. If customers choose not to renew their subscription, your profits will fall.
Referral marketing, if executed well, gives you a safety net to protect you from the devastating impact of customer churn. According to studies, referred customers make significantly more repeat purchases, are 3 times more likely to send referrals, and have double the lifetime value of non-referred customers.
Last but not least, referral marketing, if done right, can supercharge customer acquisition at low costs. This is a big advantage for subscription companies as much as it is for SaaS companies. Remember, building a subscription revenue stream is expensive, and in a business model where the value of the subscription is realized over the customer's lifespan, hitting your ROI targets gives you the breathing room to improve your customer acquisition efficiency.
Key Takeaways
Make no mistake—subscription boxes are here to stay. But if you want to gain a competitive advantage in a saturated market, you need to execute a growth campaign that scales your business in a sustainable way. And you need to use the right growth channels to pull that off.
To recap, the top 5 growth channels for scaling a subscription box business are:
Influencer marketing
Email marketing
Community building
SEO blogging
Affiliate and Referral marketing (especially referral marketing)
Subscribe to GrowSurf
Get our weekly newsletter for our latest referral marketing guides.
Error subscribing! Please try again.