Image source: "Photo Of Woman Leaning On Wooden Table", by fauxels, licensed under Free to Use


Creating a software-as-a-service (SaaS) platform that people love and offer excellent customer service is just half the battle. The main challenge is to make your audience aware of your product and improve brand reach. After all, what good is your service if your target market doesn't know about it?
There's no doubt you can use numerous marketing channels to promote your services, such as inbound and outbound marketing, paid and unpaid channels, and more. However, if you want to take your SaaS marketing and distribution to the next level, it's time to build a SaaS partner program.
In this blog post, we'll look into what a SaaS partner program is, its types, and how you can build one, along with some examples you can learn from.
What Is a SaaS Partner Program?
A SaaS partner program, also known as channel partnerships, involves partnering with third parties (businesses or current customers) who agree to promote your software to new audiences and rewarding them every time they bring a new customer. The reward can be anything—from cash rewards and sales commission to tangible incentives.
You can also partner with another well-known company to share common customer bases, boost your brand's reach, and create a customer exchange channel that'll be useful for both partners equally.
Some major SaaS brands, like HubSpot, SEMrush, Zendesk, and Databox, launched their partner programs at their early stages, which helped them scale their business, accelerate growth, encourage user retention, and increase revenue.
There are numerous types of SaaS partner programs, such as: 
Referral partnership: In this type, users of your software refer other people to it in exchange for a commission, in the form of discounts, credits, or percentage of sales.
Affiliate partnership: This is one of the most commonly used Saas partner programs. It involves partnering with experienced and new bloggers , website owners, and content creators to promote your product.
Reseller partnership: In this type, your business partners with agencies, consultants, and managed service providers (MSPs) who sell your product in their software marketplaces, alongside other programs.
Agent or broker partnership: This type involves agents or brokers making meaningful connections with potential customers and promoting your service to those likely to buy it.
Integration partnership: Integration partners are those whose products integrate with your own. They list your service on its marketplaces and earn rewards when anyone buys from there.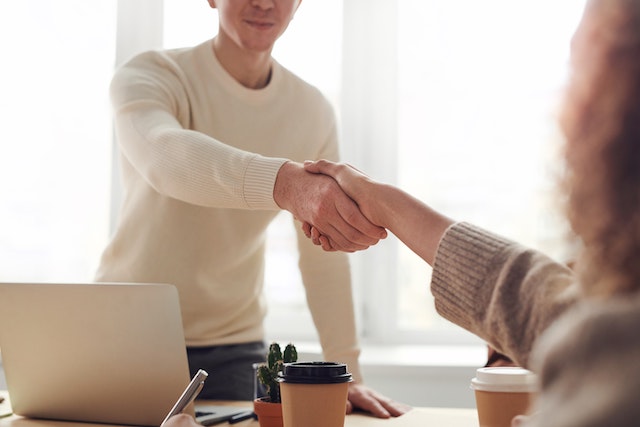 Image source: "Man and Woman Near Table", by fauxels, licensed under Free to Use
How to Build Your SaaS Partner Program?
Now that you're aware of what a SaaS partner program is and its different partnership types, let's get into creating one for your SaaS brand.
Choose the Partnership Type
First, you need to decide what type of partnership program you should choose for your SaaS business. You have multiple options at your disposal, including referral, reseller, affiliate, integration, and agent or broker partnership.
The program you choose usually depends on various factors, including:
the size of your SaaS company
available resources and time
how much you're willing to invest
your goals
…and more. It's also essential to understand what will be expected from each model, what benefits it will provide, and how long it can take to start seeing results.
Find SaaS Partners
Once you decide on your partnership model, it's time to identify the right SaaS partner.
Decide what types of partners are best suited to promote your SaaS product. For example, content creators might be the best choice at the top of the funnel stage as they have a large following and speak directly to your audience. Or, you can partner with agencies that have existing clients and want to market your product alongside their services.
Ask yourself the following questions: 
Should the partner have a minimum (or maximum) audience base?
Would a local, regional, or national partner help you achieve your objectives?
What advantages will a partner bring to your business? 
Whatever type you choose, make sure it suits your business needs. Also, determine your partner's goals, needs, and challenges so that you can cater to them. Further, your partners should get all the support from other customer-facing teams, such as Success and Support, and have access to the markets you want to enter.
Reach Out to Partners
After you've shortlisted a few potential SaaS partners:
Contact them and discuss your partnership goals.
Communicate what you and your partner can offer each other, the long- and short-term benefits of the partnership, and the kind of partnership you're looking for.
Listen to your partner—what challenges they face, their previous partnership experiences, and more.
Don't forget to inform them of the incentive you are offering in exchange. This will set clear expectations, resulting in a seamless beginning of your partnership.
Since you'll be dealing with multiple partners, you can recruit an entire team responsible for handling and managing these partners.
Select the Right Partner Incentives
An incentive is the most crucial for the success of your partnership program. It not only motivates your partners to help you grow but also makes them feel a valuable part of your team.
But, what kind of incentive can you offer them?
Of course, money is the most common and motivating reward you can offer. However, it should be something that your partners care about and increase in value as they promote and sell more of your SaaS products.
These can be: 
Sales commission—either a fixed amount or percentage of each sale.
Sales performance incentive fund.
Tangible incentives, such as a free trip, online shopping gift card, or an expensive gadget.
Extra promotion of the partner's product or service.
Co-marketing or lead generation opportunities.
Take the Xero partner program, for instance. Their reward program is divided into tiers—Partner, Bronze Partner, Silver Partner, Gold Partner, Platinum Partner, and Group Platinum. As a partner moves up the levels, they'll unlock new benefits. In short, the more sales a partner brings to the business, the more they are rewarded. When they go up to the top level, they receive up to a 30% discount on Xero subscriptions.
Set Partnership Goals
Finding the right partner and incentivizing your partner program is just the beginning. It's also crucial to establish and track the goals of your partnership. Because without measuring, you won't be able to understand if your program is a success and how much return it provides on your investments.
Make sure your partnership goals are SMART—specific, measurable, attainable, relevant, and time-bound. Here are a few examples: 
Increase monthly revenue within (given vertical) by X%.
Acquire at least X new customers in the (geographical area) yearly.

Share Partnership Agreement
Once you're ready to set up a SaaS partnership, it's time to create a channel partner agreement. Both parties must sign the partnership agreement before getting started with the program. It is a blueprint of your and your partner's expectations from the partnership. It states the following:  
Mutual goals of you and your partner.
Incentives.
How partners can and can't promote and sell your SaaS products.
Benefits and resources each partner brings to the table.
Responsibilities of each party.
What happens in case of contract breach.
Further, different partnerships will require different sections in the agreement. For example, a referral partnership agreement is less complex than an integration partnership agreement as there's a lot of information to cover.
Onboard Partners Properly
Now that you've signed an agreement, it's time to onboard your new partners the right way. Just like you plan out an employee onboarding process as a part of employee recruitment, partner onboarding can also go a long way in welcoming them and ensuring their journey is positive and stress-free. In short, it can make them feel happy and valued.
Train your partners on how to use your product and represent your brand to potential customers. Also, communicate the key selling points, brand standards, and messaging. You can also introduce them to a partner portal that can help track their progress in real-time.
Remember: Each partner's goals, needs, and challenges are different. It's best to create a personalized onboarding plan for each partner.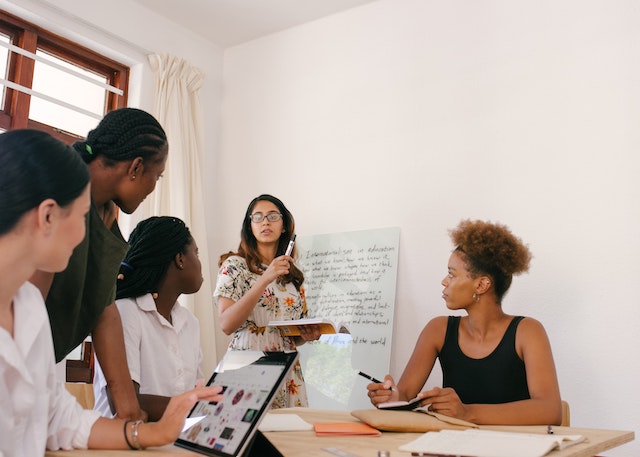 Image source: "Woman Discussing in Front of Other Women", by RF._.studio, licensed under Free to Use
Use a Partner Software
Are you having trouble managing multiple partnerships? Try partner relationship management software.
A partner relationship management software (PRM software) is a tool that helps simplify the processes of onboarding, monitoring, and managing relationships with your partners. Plus, you can integrate it with your current tools and workflow.
Some of the tasks a PRM software can assist you with include: 
Tracking each sale associated with your partnerships.
Automatically rewarding partners for their sales on time.
Automating repeated tasks.
Finding suitable partners.
Communicating with partners via Slack, social media, email, video calls, or phone meetings.
Gathering feedback from partners via surveys or during one-on-one check-ins.
Sharing resources and branded sales assets with partners.
Tracking and measuring the success of each partnership in real-time.
SaaS Partner Program Examples
If you're looking for some inspiration, check out these four successful SaaS partner programs:  
Slack
Slack follows an integration partner program that enables its customers to use apps within Slack. Some of their partners include Google, Zoom, Google Cloud, Salesforce, and Oracle.
Slack allows teams to use these crucial work-related apps within its interface. This means users don't have to switch between different apps to tackle multiple tasks, which boosts their productivity and efficiency.  
However, not everyone can join it just like that. You have to fill out an application to become a Slack partner. Currently, Slack works with over 1000 SaaS companies, clearly showing the importance of integration partnerships.
Shopify
The Shopify partner program is all about helping Shopify merchants grow their online businesses. If you're an online seller and need help reaching more customers, making your e-commerce store easier to navigate and browse, or converting more visitors into paying customers, this program can be your best bet.
Its features include: 
Monday
A work management and collaboration platform, Monday's partnership program has become popular because of its constant innovations. Currently, there are five different models within the program: Channel partners, Referral partners, Tech partners, Strategic alliances, and Academic partners.
Each model has its own set of requirements, marketing and sales materials, support systems, and processes for commissions. Some models also enable you to freely access a partner community and an online certification program to learn about the platform.
Cloudways
Cloudways is a website hosting platform with an agency partner program that comes with a tiered structure.
As agents and their clients spend more on hosting plans, the agents receive more and more partnership benefits. These perks include a dedicated partnership manager, onboarding discounts, priority for client support, co-marketing opportunities, growth bonuses, and early access to features. The company also ensures all agents have access to a detailed partnership guide, learning materials, and in-depth training sessions.
Wrapping Up 
Whether you're a small SaaS startup or a large software enterprise, building a partner program can help in generating leads, increasing sales, and ultimately facilitating company growth. However, to reap its full benefits, it's crucial to find and onboard the right partners, set up your partnership goals, and establish a reliable and intuitive system and tools for the job.
Sure, different online marketing strategies can help you take your SaaS product to the next level. But, it's always best to leverage multiple avenues as well—and the SaaS partner program is one of those. While an effective affiliate or referral program can help you meet your revenue goals, integration partnerships can present your SaaS product in front of a new audience.
So, what are you waiting for? Follow the above steps and start building those meaningful SaaS partnerships from today.
Request a demo of GrowSurf
Set up your referral marketing program with software that lowers your customer acquisition cost and saves you gobs of time.