Image source: "People Having a Meeting", by Diva Plavalaguna, licensed under Free to Use

Refer-a-friend campaigns are one of the most profitable marketing strategies for acquiring customers.
Get this:
83% of people trust the recommendations of friends and family.
Referred customers are 4.5 cents per day more profitable than other customers.
The lifetime value of referred customers is 16% higher than that of non-referred customers.
The referral programs at Dropbox and Paypal are the best proof of the effectiveness of refer-a-friend campaigns.
But how can you replicate their success? What are some of the best refer-a-friend campaign ideas you can implement at your company today? 
We'll dive deep into this topic in greater detail below.
Refer-a-Friend Campaign Best Practices 
The harsh truth is that not every referral campaign will be a success.
To be successful, you must have a good product or service and a good base of satisfied customers.
But even if you have all of that, there's always the risk of the campaign being a total failure.
That's why you need to learn the best practices for creating and managing a referral program.
To establish and maintain a successful refer-a-friend campaign, be sure to follow these best practices:
Decide on the type of the referral marketing campaign. There are different types of refer-a-friend programs, including one-sided, double-sided, and milestone rewards. Will you be offering rewards only to the referring customer, or to both parties? Will you offer rewards for every single referral?
Select the referral program rewards. Not every referral program incentive would work for your customers. The best incentive depends on the nature of your business and your customers' preferences. For example, you can't be offering service upgrades if you're an eCommerce business. Choosing the right incentive is critical as it can motivate customers to share your brand.
Make the referral program easy to find. You want customers to be able to find the referral program on your website. If the home page doesn't provide a link to the referral program, customers will never know it exists.
Make the referral program easy to share. Customers should also be able to refer their friends in as few clicks as possible. Let them choose from a variety of marketing channels and give them a unique referral link to share with their network.
Ask customers to refer a friend at the right time. The ideal time to ask customers to refer a friend is when they're already engaged with your brand. And when's that? It can be when they're in the middle of signing up for an account or have just bought your product.
Promote your program. The best way to ensure your customers know about your referral program is by telling them about it. For example, consider promoting your program on social media, in the header and footer of your site, or via email.
Use referral marketing software. Choosing a referral program software to help you manage your campaigns is critical. You'll be able to track all of your referrals, from paid acquisition channels to newsletters. You'll get to A/B test your program and campaigns, customize them to fit your brand, and access valuable customer analytics.

Request a demo of GrowSurf
Set up your referral marketing program with software that lowers your customer acquisition cost and saves you gobs of time.
Referral Campaign Ideas for Your Next Campaign 
Below, we round up nine of the best refer-a-friend ideas for your next campaign. Read them closely and see which one of these strategies makes sense for your business.
Invite Your Best Customers to Join
The best customers to promote your refer-a-friend program are your most loyal customers.
But how do you identify your best customers?
They are the people who make frequent purchases, engage with your brand on social media, and write positive reviews on third-party sites.
So, once you create your program, make sure your best customers hear about it. For example, you can create refer a friend email that you'll send to your most loyal customers where you'll explain the inner workings of the referral program.
Collaborate With Charities or Non-Profits
Did you know that people are more likely to buy from a company that's perceived as morally good?
Consider using this strategy to acquire new users and convince them to refer more friends. At the same time, you'll associate your brand with a good cause.
How this strategy works is that instead of rewarding the referrer, you donate the money to a nonprofit organization, or even a local business or a school, in the referrer's name.
You'll be surprised to see how many people want to refer your brand if that means they're doing something good.
Create a Refer a Friend Giveaway
Giveaways are another great strategy for driving referral subscribers. They can effectively grow your brand by using word-of-mouth marketing tactics to increase leads and sales.
The key lies in offering a referral incentive that your subscribers actually care about.
You can inform people of your giveaway by sending them an email with a link to the referral content landing page. Or, you can share the giveaway on social media platforms like Twitter and Facebook.
Participants who will perform the required action—in this case sending a referral link to their friends and those friends convert—will enter the giveaway.
Offer Two-Sided Rewards 
In one-sided referral programs, only the referrer receives a reward for referring a company to their friends and family. Two-sided incentives reward both the referrer and the referred for successful referrals.
For example, the referrer may get a $50 cash reward, and the referred customer will get 10% off their first purchase.
Two-sided incentives are often the best type of incentive as they motivate the referrer to promote a brand to their network and the referrer to accept the invitation.
Offer Tiered Incentives
Tiered incentives are another great reward. And they're fun!
In a nutshell, you're offering different rewards at different levels. As the customer reaches a higher level, they unlock a new reward.
For example, if the customer sends a referral to three people, they get free stickers. If they refer 15 people, they get a coffee mug and a T-shirt for sending 20 referrals.
The best thing about tiered incentives is they keep participants motivated to move up in the referral program, constantly challenging them to earn even greater rewards.
Give a Higher Reward for the First Referral
Here's another idea for your next refer-a-friend campaign:
Offer a higher reward for the first referral.
In short, offer customers a larger "signing" reward for the first referral they make. For example, offer three-month free access to your premium service for the first referral. The customer will get 5% off on their monthly plans for all subsequent referrals.
Offering a higher incentive for the first referral motivates customers to join the program. Once they start receiving rewards, the chances of them participating in the referral program in the future are higher.
Exclusive Membership Programs
For some people, the best incentives are those that money can't buy, like exclusive membership programs. Depending on your type of customer, this might just be the incentive you need.
These incentives work like magic because they make customers feel valued. On the plus side, customers are motivated to refer even more customers as you're giving them the VIP treatment.  
For instance, you can offer access to a closed event you're organizing or early access to your product to early adopters.
Personalize Incentives
It's simple:
Personalization leads to a better customer experience.
Personalization in marketing refers to tailoring communications and experiences to individuals based on their unique needs, interests, and preferences. Personalized marketing also makes your message more memorable, increases loyalty, and drives engagement, among other benefits.
One example of personalization is sending customers a well-timed thoughtful offer. For example, if you know your customer's birthday is on April 25, you might send them promo codes for discounts to reward them on this special day. You might even offer them substantial rewards for promoting your brand with their friends.
Personalization can ultimately result in a more enthusiastic customer base likely to promote your business to friends, family, and coworkers.
Partner with Influencers 
In short, influencer marketing is a digital form of word-of-mouth marketing. Your brand is partnering with influencers to promote your product or service with their extensive base of followers.
You can work with different types of influencers, like YouTube, TikTok, podcast, or Instagram influencers who have large audiences on social media platforms.
Influencers are often perceived as gurus in their niches, giving them an edge and confidence when promoting a product to their followers.
For example, the influencer can promote your referral program with their followers and, in return, receive payment for the collaboration with your brand. The payment can be in cash or something else like free product samples or free access to your service.
Referral Campaign Examples
Below, we're sharing some of our favorite refer-a-friend campaign examples and why they are so effective so you can apply similar strategies to your own program.
Google Workspace
A great example of offering cash rewards for successful referrals is Google Workspace. It's also a great example of giving tiered rewards.
Customers simply need to share their unique referral link and promotion codes with their network. For each successful referral, they receive a cash reward. The cash rewards vary depending on which plan the referred person subscribes to.
Here's how much referring customers can earn:
Business Starter: USD $8 per user
Business Standard: USD $15 per user
Business Plus: USD $23 per user
Robinhood 
Robinhood is an example of offering early access to your service for early adopters. This type of strategy works like a charm because of two reasons:
People like gamification.
The FOMO effect. When people feel they might be missing out on something, they're compelled to take action.
Before they launched their product, Robinhood managed to build a waiting list of one million users.
How did they manage this?
Here's how their marketing trick worked:
Robinhood invited potential app lovers to gain invitation-only, early access to its private beta. There was also an element of gamification. To gain access to the beta, people had to refer the company to their friends and family. Those who referred the most customers climbed higher on the waiting list.
Uber 
The ride-sharing app offers two-sided rewards. Each customer receives a personalized referral code when they create an account. Every time a new account is created using a customer's referral code, both parties get their next Uber trip free of charge.
Vena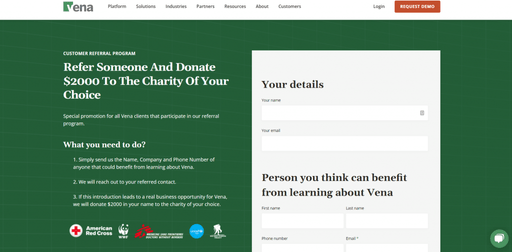 Image source: "Vena Referral Program", by Vena

Vena, a business management software company, is a great example of a referral program that instead of rewarding customers, it donates to a charitable cause.
Their referral program works like this:
If a client refers a business lead that converts into a successful sale, Vena will donate $2,000 to a charity of the referrer's choice. This is a great way to associate your company with a good cause. And the best part is that people love buying from companies that are perceived as morally good.
Evernote
Evernote, a note-taking software, rewards customers with points every time they make a referral. Customers can then redeem these points for free access to the software's premium features.
What's more, if the referred customer upgrades to Evernote Premium, the referring customer will receive additional points.
Evernote currently has 100+ million users, 13 million of which are referred customers.
Final Word
Refer-a-friend campaigns are a great way to grow your user base. They're also a fantastic way to drive word-of-mouth growth. With the help of a referral program, you can get new users signed up and using your product or service faster than ever before.
Let the refer-a-friend campaigns we mentioned in this post inspire you to create your own referral program and win new loyal customers. Learn from some of the best players in your industry and create a winning referral campaign that will join the ranks of other successful programs like those of Dropbox and Paypal.
Good luck!
Request a demo of GrowSurf
Set up your referral marketing program with software that lowers your customer acquisition cost and saves you gobs of time.